---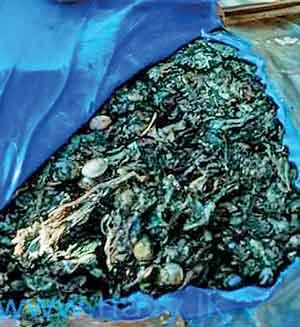 The Navy seized over 52kg of Kerala cannabis, during a special operation conducted in the sea area off Uduthurei in Vettrilaikerni on Saturday.

Sri Lanka Navy had been conducting regular operations to prevent illegal drugs being smuggled to the island via sea routes. During a similar operation carried out on the Naval intelligence information in the sea area off Uduthurei in Vettalakeni, naval patrol crafts attached to the Northern Naval Command spotted a suspicious dinghy abandoned and those in the dinghy were fleeing. Subsequently, the Navy recovered 13 bundles of Kerala ganja packed inside two gunny bags in the dinghy. Accordingly, the haul of narcotics and the dinghy were taken into custody.

The Navy together with the Police STF-Jaffna had already launched an operation to nab the suspects who had fled. During this operation the Navy was able to seize approximately 52kg of Kerala cannabis. The street value of the seized cannabis was estimated to be about Rs. 7.8 million. The stock of cannabis and the dinghy was handed over to the Jaffna STF for further investigation.

Meanwhile, the Navy had seized over three tons of Kerala cannabis during the past period to date during this year.
This haul of the contraband was taken into Navy custody by following proper hygienic and decontamination procedures due to COVID – 19 global pandemic.