---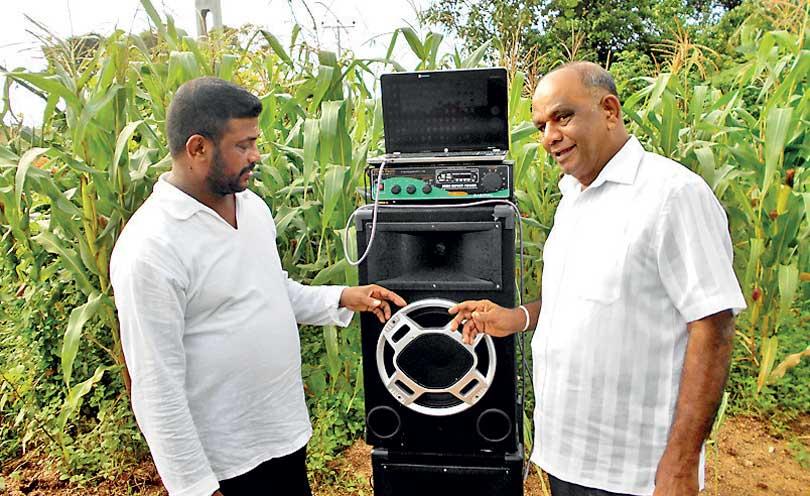 By Dayarathna Embogama
An engineer in Anuradhapura has invented a device that could chase away wild elephants using sound waves. The engineer, Manathunga Deepthi Jeevakantha de Silva, 42, is a resident of Oyamaduwa in Anuradhapura.

He described his new creation as follows:

" I studied at Anuradhapura Central College and worked in several places in Sri Lanka after reading for the G.C.E. ( O/L) and ( A/L) examinations. Later I got the opportunity to go to Dubai and obtained a licence in aircraft maintenance from a private institution three years later. I was employed there in the aircraft maintenance field for three years. After electric trains were introduced in Dubai, I worked in that field too as an engineer. During that time, I developed this equipment," he said.
He explained that he made the device for driving away wild elephants while he was in employment and obtained a patent for it. In order to invent this machine, he has studied the behavioural habits of the wild elephants in Africa and Asia. He had found that the elephants in Sri Lanka were an intelligent species. They used their brains unlike the other elephants in the world. They know how to damage posts erected for electric fencing.

He said, "I understood that it was in Sri Lanka that the cleverest elephant can be found, and I also studied as to why the electric fences have become a failure. High cost and maintenance problems were the reasons for the failure. When it comes to maintaining this new invention, it is cost effective,"

Having studied the behaviour of these animals, he understood that that they were afraid of some sound waves and that they would try to avoid such waves due to the cacophony of sound which was not a disturbance to other animals. He said that the sound of this machine remains within the earshot of 100 or 150 metres of humans beings and I ½ to 2 kilometres of the elephants. Due to this unbearable noise, the elephants leave the area believing that it is not a place for them to roam on. He explained that this device has to be taken into the jungle affixed to a vehicle of the Wild Life Conservation Department.

The inventor of this appliance said that they drove away the elephants on Wednesday (25) using this instrument and it had proved successfully.

He has tried to contact the Minister in charge of wildlife regarding his invention and it was in vain. However, he had contacted the Anuradhapura District Parliamentarian, Muthukumarana who helped him to come to Sri Lanka by paying for an air ticket costing Rs.108,000.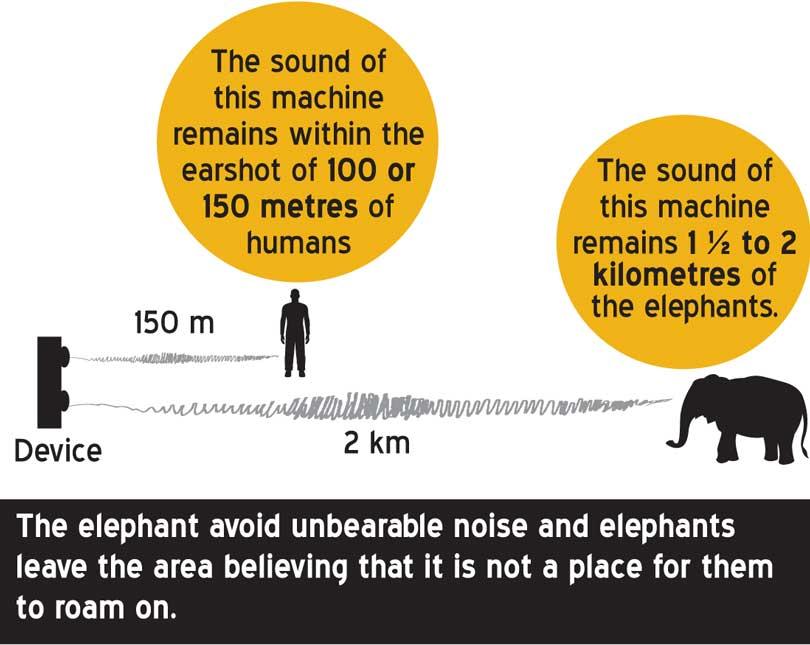 He elaborated that the reason for inventing this gadget was a solution to the human-elephant conflict because many elephants as well as humans lose their lives.
In this regard, Anuradhapura District Parliamentarian (UPFA) S.C.Muthukumarana said he had no personal contact with inventor Jeevakantha de Silva earlier, but he appreciated the proposal put forward by him because the major problem faced by the farmers in the dry zone is the elephant- human conflict. The parliamentarian had provided him facilities to come back to Sri Lanka from Dubai. He said that this type of equipment could be given to the farmers through the government institutions.

It is said that the farmers in Parangiyawadiya, Diyatittawewa, Walahawiddawewa, Dematawewa, Dekethipothana, Meeminnawala and Kumbukkewewa have fixed electric fences at their own expense, but the elephants have broken these electric fences and wreaked havoc on their cultivations.
The villagers said that the new device that was used recently to drive away elephants was very successful.
I was employed there in the aircraft maintenance field for three years. After electric trains were introduced in Dubai, I worked in that field too as an engineer