---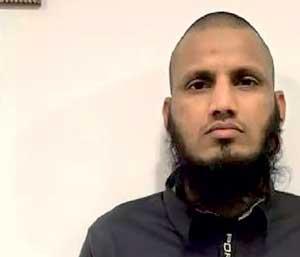 By T.Farook Thajudeen

Drug kingpin Mohamed Najim Mohamed Imran alias Kanjipani Imran challenged his detention order made by Colombo Additional Magistrate claiming that his detention was illegal.

At the outset of the inquiry into a motion filed in court on behalf of Kanjipani Imran challenging the detention, President's Counsel Thirantha Wallaliyadda appearing with Senior Counsel Methsiri Paranavithana, R.A.P.Ranawaka Anoj Hettiarachchi and Amila Indika contended that the detention of Imran is illegal as the "B" report filed in court was defective. Therefore to detain a suspect on such an erroneous report itself is faulty.

However the Counsel said he will not make any submissions in court at this stage until the respondent parties are present in court and pleaded to issue notices on the Director of Colombo Crime Division and on the Attorney General ordering them to be present in court during the inquiry into the motion filed by his client.

Colombo Additional Magistrate Kanchana Niranjala De Silva issued notice on the Director of the Colombo Crime Division to appear in Court on July 24 and reserved to consider the issuing of notice on the Attorney General for July 19.

The Colombo Magistrate Court had earlier allowed the Colombo Crimes Division to detain Kanjipani Imran for three months under the Prevention of Terrorism Act (PTA). He was wanted by the Police in connection with three manslaughter charges, 15 attempted murders and illegal drug smuggling charges.

He was arrested at the Bandaranaike International Airport when he attempted to board a flight to the Maldives on arrival at the Airport from Dubai on flight LZ 547 after the UAE authorities deported him and three others from Dubai. They were arrested along with Drug Kingpin Makandure Madhush in Dubai by law enforcement officers. The CCD had obtained clearance from the Defence Secretary to hold the suspect for three months to question him under the PTA.

The Police also arrested Imran Anushka Kaushal alias Gandara Janga, Amila Sampath alias Rotumbe Amila and Anderson Fernandez. While Fernandez was released after questioning, Gandara Janga was remanded till April 2.
The Colombo Magistrate Court had earlier allowed the Colombo Crimes Division to detain Kanjipani Imran for three months under the Prevention of Terrorism Act (PTA)