---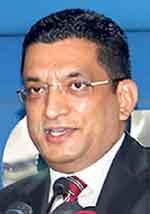 By Sandun A. Jayasekera
The judicial system in Sri Lanka was one of the most backward sectors that had failed to acclimatise with the modern technology and as a result a backlog of hundreds of thousand court cases remained stacked in courts, Justice Minister Ali Sabry PC said.

A minimum of ten years was taken on average to conclude a criminal case in a High Court in Sri Lanka which was unacceptable, he added.

Addressing a ceremony held to mark the launching of a website for the National Authority for the Protection of Witnesses and Victims (NAFPWV) of Sri Lanka Minister Ali Sabry went onto say that laws delays has become one of the most pressing issues in the administration of justice in Sri Lanka.

"In Sri Lankan courts, there are more than 5,000 cases unconcluded for more than 20 years. This is an extremely unsatisfactory performance. The only solution to minimise or prevent laws delays is to apply modern technology to the judiciary and do away with outdated and antiquated pieces of legislation and replace them with appropriate laws," Minister Ali Sabry stressed.

The improving of infrastructure, setting a timely and adequate judge to population ratio and increasing of courts and judges are also extremely vital for a sound judicial administration and to prevent laws delays, he emphasised.
Minister Ali Sabry noted that the Justice Ministry had already taken measures in this regard and introduce hearing of cases in a virtual format and to recruit magistrates and added renovation and construction of new courts were continuing.

The government has set aside Rs. 16 billion to build the Colombo Court Complex for which the foundation stone was laid recently.

The Justice Ministry has also intervened to ease a huge backlog that remained at the Government Analysts Department, he said.