---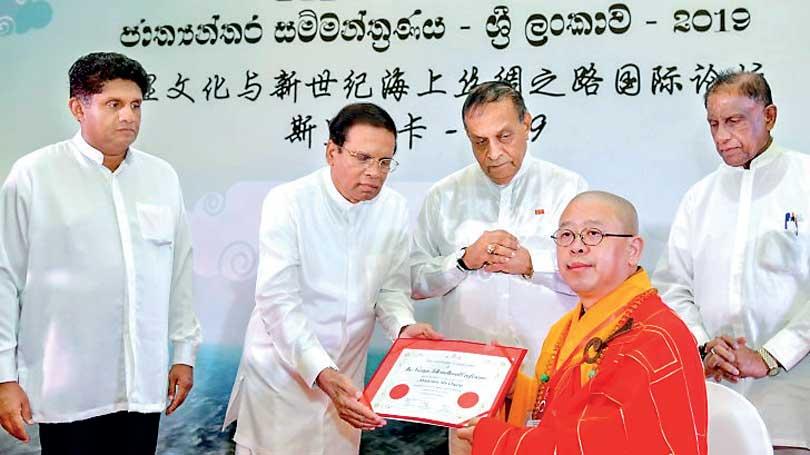 By Sandun A Jayasekera
An International Conference, "The voyage of Faxian and the Silk Route" organized to commemorate the 1620th anniversary of the traveller-scholar Chinese Buddhist monk Venerable Faxian's (also known as Fa-Hien) visit to Sri Lanka was held under the patronage of President Maithripala Sirisena at BMICH on the 28th instant.

Considered as the landmark event of Sino- Ceylon relations, the arrival of Ven. Faxian is believed to have taken place in 410 AD.

Between A.D. 399 and 414, the Chinese monk Faxian (Fa-Hsien, Fa-Hien) had undertaken a trip to India via Central Asia to study Buddhism, locate sutras and relics and obtain copies of Buddhist books that were unavailable in China at that time.

According to historical records it is said that the monk had stayed in Sri Lanka for two years visiting several places of worship and studying Buddhist literature. The monk's visit was also instrumental in the renaissance of Buddhism in Sri Lanka and China.

The first ever conference organised by the Longhua Institute in Sri Lanka, Ministries of Housing, Construction and Cultural Affairs and Buddha Sasana and Wayamba Development was attended by Council representatives of the Shanxi Province-birth place of Ven. Faxian, delegates of Buddhist organisations and Faxian research centres.

A commemorative stamp was issued by the Department of Posts to mark the event.

The President handed over certificates to the winners of the art competition held in parallel to the anniversary.

President Sirisena and the Chairperson of the Faxian Cultural Association in Linfen in China exchanged mementos at this event.

Mahanayake of the Asgiri Chapter the Most Ven. Warakagoda Sri Gnanarathana Thera, the Mahanayake of the Amarapura sect Most Ven. Kotugoda Dhammawasa Thera and Maha Sangha, Shi Chun yi Thera, Shi Chang Zang Thera, Speaker Karu Jayasuriya, Ministers Gamini Jayawickrema Perera, Sajith Premadasa, Abdul Haleem, the Chinese Ambassador to Sri Lanka Cheng Xueyuan and the Chairman of the Longhua Institute in Sri Lanka were among the distinguished gathering.
The monk had stayed in Sri Lanka for two years visiting several places of worship and studying Buddhist literature