---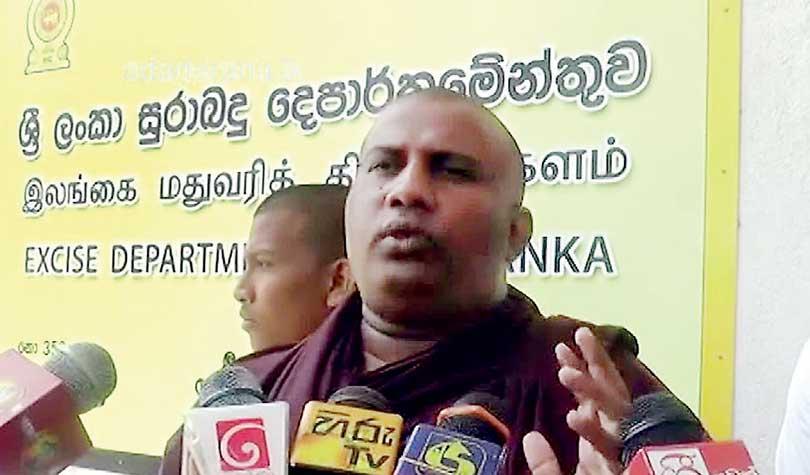 By Kurulu Koojana Kariyakarawana
Nawa Sinhala Ravaya Organisation yesterday warned the Excise Commissioner General that all corrupt Excise officials who were dealing with chemical toddy manufacturers would be exposed, if the latter failed to take proper action against them even now.

Handing over a complaint to the Excise Commissioner General H G Sumanasinghe at the Excise Department Headquarters in Rajagiriya, General Secretary Nawa Sinhala Ravaya Organisation Magalkande Sudaththa Thera demanded that all permits issued for the manufacture of vinegar be revoked.

The thera pointed out that many artificial toddy manufacturers (also popularly known as 'chemical toddy' which is highly poisonous and harmful to consumers,) used it in the illegal trade under cover of manufacturing vinegar with permits issued by the Excise Department.

Since the toddy industry in Sri Lanka is dying a natural death as there is very low supply of natural toddy countrywide for the production of vinegar and for the liquor industry, many interested parties try to produce toddy artificially to meet these demands.

The thera said artificial toddy is made with just water, sugar, yeast as well as by adding hazardous material unsuitable for the human consumption like urea, ammonia and used batteries, which results in what is ultimately called 'chemical toddy'. Having obtained permits to prepare vinegar from the Excise Department many unlawful parties manufacture this artificial toddy and thereby earn millions of rupees.

He said since the multiple deaths due to illicit liquor poisoning in Banduragoda, Mirigama a series of raids had been carried out in the last couple of months where over 200,000 litres of chemical toddy had been seized.

"In many of these instances we have realized that the culprits were operating with the blessings of certain top excise officials, maybe having paid them large sums of money to turn a blind eye towards the illicit trade". We request the incumbent ECG Mr. Sumanasinghe to act according to our demands and take relevant steps to put an end to this illegal trade of manufacturing vinegar using artificial toddy and revoke all such licenses issued.

"If not we will take steps to expose a list of corrupt excise officials who had been dealing with these chemical toddy manufacturers in the future," Sudaththa Thera warned.
The thera also said that there were efforts being made to issue excise licenses to four large scale liquor manufacturers in the run up to the Presidential Election and such activity should be ceased with immediate effect. Meanwhile, attempts made by the Daily Mirror to contact Excise Commissioner General H G Sumanasinghe for comment were
unsuccessful last evening.
If not we will take steps to expose a list of corrupt excise officials who had been dealing with these chemical toddy manufacturers in the future