---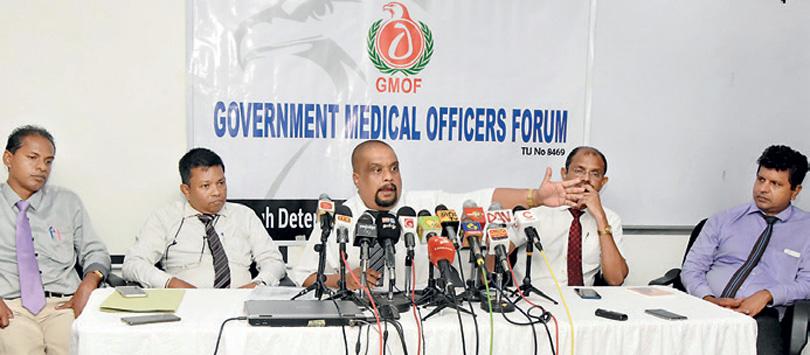 Pic by Nimalsiri Edirisinghe
By Chaturanga Samarawickrama
Referring to the strike launched by the doctors in the Kalutara District, the Government Medical Officers Forum (GMOF) yesterday said it showed that Health Minister Rajitha Senarathne was weak to some extent because he has failed to prevent the strike.

The Government Medical Officers Association (GMOA) doctors attached to government hospitals in the Kalutara District launched a strike at the premises of the Kalutara hospital on June 24.

Speaking at a news briefing at the Sri Lanka Press Institute (SLPI), GMOF President Dr. Rukshan Bellana said Minister Senarathne did not make any force to the Director-General of Health Services over the strike.

"That is why we think the Minister is weak to some extent. Even with or without the instructions from the minister, the Health Services Director-General should have taken action without remaining silence," the Dr. Bellana further said.

He said the Minister should take disciplinary action in his capacity against the higher officials who are carrying out illegal activities in his ministry.

"The Health Services Director-General was appointed by the Cabinet. He is responsible to inform the Cabinet about these illegal activities and to inform the media. The Director General should also take responsibility to find out whether the officials adhere to the establishment code, trade union act and to medical ethics. He hasn't done anything so far," Dr. Bellana said.
He said during the tenure of Former Presidents Chandrika Bandaranaike and Mahinda Rajapaksa, not a single doctor launched any strike.

"But after forming Yahapalana Government, Minister Senaratne did not take concrete actions. Which considering all actions, the Health Services DG should immediately resign from his post for not taking action against the doctors who engaged in the strike," he added.
Minister should take disciplinary action in his capacity against the higher officials who are carrying out illegal activities in his ministry