---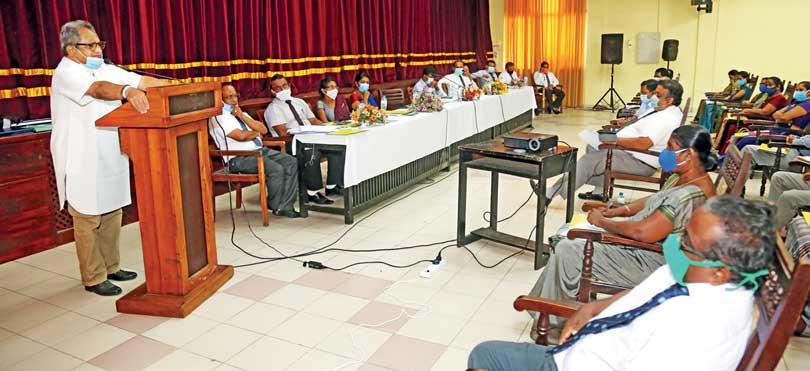 By Ajithlal Shantaudaya and Kusal Chamath
Governor of Sabaragamuwa Province Tikiri Kobbekaduwa stressed the need to revive the education sector as early as possible giving priority to school education.

The Governor addressed a seminar organised by the Ministry of Education at the Sabaragamuwa Provincial Council auditorium to discuss on steps to be taken to reopen the schools in the country.

He pointed out that 161,390 students out of the total student population of 400,000 in the Ratnapura and Kegalle District, did not have television, radio, internet and telephone facilities and that their education depended entirely on the class room school system. He stressed that the administrators, principals of schools, the heads of universities and the higher education institutes and the teachers in the education sector should put their heads together and revive the school system in schools and educational institutions.

The seminar had been organised by the Ministry of Education to gather information relevant to reopening of schools at provincial level.

"COVID-19 should not be allowed to cripple the country's education sector. It is not possible to allow children's education to grind to a halt until the last Corona infected patient is going to be discharged from hospital. However, the precautions and preventive measures laid down by the health authorities should be strictly adhered to. Schools and all other education institutes should reopen, subject to the guidelines of the health authorities. Reopening of schools should be in phases starting with Advanced Level classes" he said.

The Governor further said the school education in the country that faced serious crises during the 1971 and 1988 insurrections and the 30- years -of war in the North –East, remained undisrupted, should not be allowed to be crippled due to the present COVID -19 pandemic.

Secretary to the Ministry of Education N.H.M.Chitrananda said the government had focussed attention on starting the schools with higher classes and that a circular in that regard would be issued during this week.

Addl. Secretary (Education Development) to the Ministry of Education- Hematha Prematilleka said steps would be taken to issue a package of nutritional food, valued at Rs.1000, to all the undernourished schoolchildren.
Secretary to the Ministry of Education Services Ranjith Chandrasekara, Director of Education , Sabragamuwa Province Sepala Kuruppuarachchi, Chief Secretary Ranjani Jayakodi, Secretary to the Provincial Ministry of Education Rukmani Ariyaratne, Provincial Director of Health Services Kapila Kannangara and several other senior officials participated.
COVID-19 should not be allowed to cripple the country's education sector. It is not possible to allow children's education to grind to a halt until the last Corona infected patient is going to be discharged
from hospital