---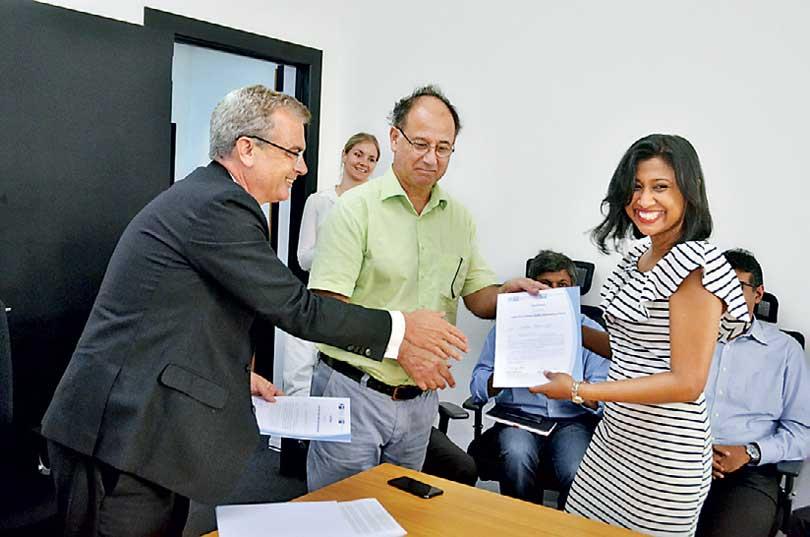 The Delegation of German Industry and Commerce in Sri Lanka (AHK Sri Lanka) in cooperation with the Deutsche Gesellschaft für Internationale Zusammenarbeit (GIZ) GmbH coordinated for the first time in Sri Lanka the AdA International Basic – Train-the-Trainers course, which was conducted by ISO certified trainer Edwin Lemke from June 17 to 22 , a statement said.

This marks another milestone in the company's endeavours towards strengthening the vocational education sector in Sri Lanka.The Train-The-Trainer Course, or "AdA International – Basic", which is the highest international certification for apprenticeship in-company trainers accredited by the Association of German Chambers of Commerce and Industry (DIHK) was conducted by AHK Sri Lanka in cooperation with GIZ.

The workshop was designed for in-house trainers, mentors, as well as individuals that are interested to obtain a certified qualification as in-house/company trainer. The course is an effective preparation to train apprentices and included topics such as teaching methods for breaking down complex tasks, learning styles, apprenticeship structure, and much more. The training was carried out by Mr. Edwin Lemke, who is an experienced and well renowned trainer in this field, who made use of an optimizing and activating method mix. The course was well received by the participants from companies such as Dimo, Nikini, Kramski, Ceylon Oxygen, Hellmann MAS, Leema, CINEC and CGTTI. Future courses and follow-ups are already in planning.

The AdA-International is mandatory for companies that wish to train apprentices abroad according to the German standard. Dual vocational training is the prime factor for German companies to secure a strategic and leading position in the global market. Highest standards of vocational training "Made in Germany" are a key factor for the high competitiveness of German companies and conducted essentially to the lowest youth unemployment rate in Germany. A highly professional vocational training boils down to the trainer. In-house trainers have to form a solid foundation and to be skilled in the intricacies of educating their apprentices and trainees. Well trained in-house trainers are a key to success to inspire apprentices and to increase efficiency in a sustainable way.

This AdA (Train-the-Trainer)-course is primarily tailored for in-house trainer qualification, that is to train and produce competent and high-quality trainers. In Germany, this model is guaranteed by the Ordinance of Trainer Aptitude (AEVO) and the 79 Chambers of Commerce and Industry. Because of the German pedigree, the vocational training is carried out by the German Chambers of Commerce abroad (AHK network) in 142 offices around the world. As the training is based on the German statutory law AEVO, it is perfectly appropriate for dual vocational training.

Currently, AHK Sri Lanka certifies the Automobile Mechatronics 3-years course offered by DIMO Academy for Technical Skills (DATS). For the future it is planned to extend these certifying activities which guarantee that German standards are kept in regard to quality assurance, transparency and competitiveness. For this purpose, the AHK Sri Lanka introduced an AHK VET Council in the beginning of the year and formed relevant working groups.

The Delegation of German Industry and Commerce in Sri Lanka (AHK Sri Lanka) is part of the German Chamber Network abroad of more than 140 offices around the world. The Delegations of German Industry and Commerce represent the interests of German businesses in their partner countries. One interest of a fruitful and sustainable bilateral cooperation is vocational education and training.
The workshop was designed for in-house trainers, mentors, as well as individuals that are interested to obtain a certified qualification as in-house/company trainer