---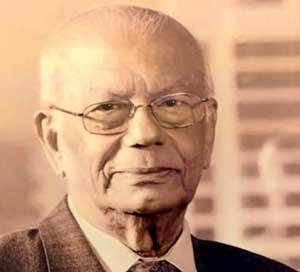 Former Sri Lankan High Commissioner to the United Kingdom and well-known business personality S.K. Wickramasinghe passed away last Thursday. He was the eldest son of the doyen of modern Sinhala literature Martin Wickramasinghe.

Mr Wickremasinghe was the former Chairman of several blue-chip companies including CIC/Chemanex, CTC, Commercial Bank, NDB, Sri Lankan Airlines, and Senkadagala Finance. He was also the Deputy Chairman of Singer Sri Lanka.

He was an old boy of S. Thomas' College, Mount Lavinia. He joined the British company, Imperial Chemical Industries (ICI), in 1951, after he graduated from the University of Ceylon, and ended up as its Chairman
in 1966.

Mr. Wickramasinghe was married to the late Damayantha, the daughter of Mr and Mrs H.A.J. Hulugalle. He served as the Chairman of the Martin Wickramasinghe Trust as well.

The funeral of Mr. Wickramasinghe took place at the General Cemetery Kanatte on Saturday.