---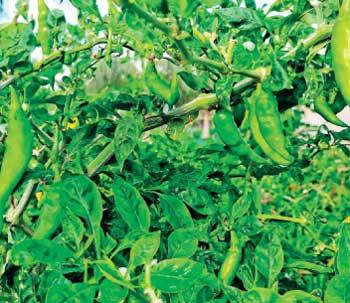 By Hiran Priyankara Jayasinghe - Puttalam
The price of green chillies in the Norochcholai Economic Centre has shown a sharp decline much to the anxiety of the vegetable farmers who reaped a bumper harvest in the Yala season.

Farmers pointed out that the price of green chillies had declined from Rs.1, 000 last week to Rs.300 yesterday.
Meanwhile, the traders said the large stocks of green chillies arriving from the vegetable farmers in the Kalpitiya area had resulted in the price drop.

They pointed out that the price of several vegetables too had declined.

Deputy Director of Agriculture Tharangika Shamali said the farmers in Kalpitiya had cultivated more than 500 acres of green chillies and had reaped a bumper harvest.