---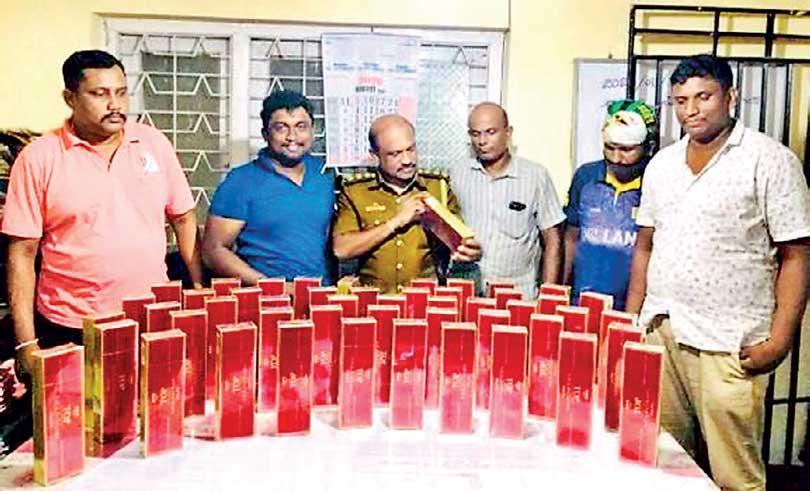 By Kurulu Koojana Kariyakarawana
The Pugoda Excise Station officials seized a stock of counterfeit cigarettes worth Rs.650,000 smuggled in from China in Veyangoda yesterday along with two men who were in possession of the stock.

The Excise sleuths on information received had raided a location at Veyangoda to arrest two men who were in the possession of 50 cartons of a Chinese brand of cigarettes, which contained 10,000 sticks in them.

Excise Spokesman Deputy Commissioner Kapila Kumarasinghe told the Daily Mirror the arrested suspects were aged 26 and 27 years and the stock of illicit cigarettes had been brought in from Katunayake.

The Excise officials suspect the two men had received the consignment from someone who had recently arrived in the country from China.

The seized cigarettes had a street value of Rs.650, 000 and the suspects had defrauded a large sum of money as tax revenue to the government.

The suspects were produced before the Assistant Excise Commissioner P.B Dharmakeerthi, who imposed a fine of Rs.250,000 on each suspect.

OIC Pugoda Excise Station CI Viraj Jayasuriya and the team are conducting further investigations on the instructions of Additional Excise Commissioner Wasantha Dissanayake and Excise Superintendent Gampaha Lakshman Perera.