---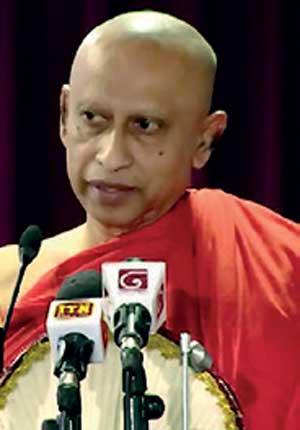 By Nadeeka Daya Bandara

Anunayake of the Malwatte Chapter Ven Dr. Niyangoda Sri Vijithasiri Thera said yesterday proposing two states in Sri Lanka by the UK's Conservative Party in their Election Manifesto was not at all suitable for that party.

The Anunayake Thera said that the proposal put forward by the Conservative Party was a serious matter and that he vehemently rejected the proposal.
He added that Sri Lanka, as a member country of the Commonwealth Nations, is associating with Britain for a long time.

"Conservative Party which is the oldest party in Great Britain has mentioned about their policies regarding Sri Lanka as well in their Election Manifesto. They have mentioned in it that there should be two states in Sri Lanka as a solution to the alleged crisis situation among several communities here according to their stance based on some basic theories on the reconciliation in the world, stability and justice".

Anunayake Thera emphasized the fact that there is no such chaotic situation in Sri Lanka because all ethnic communities are living peacefully and therefore he rejected their proposal at once.