---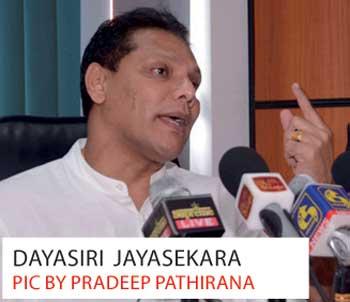 By Sandun A. Jayasekera
General Secretary of the SLFP, former Minister Dayasiri Jayasekara yesterday said the Elections Commission (EC) has the power to conduct the Parliamentary polls on a staggered basis or on district wise if the country's situation does not warrant the election on a single day following situation created by the
COVID-19 pandemic.

The only legal requirement to hold the election in several days is that counting of votes has to be done on a single day, Mr Jayasekara added.

Mr Jayasekara told the media that with the Western Province and Puttalam District identified as high-risk areas, the EC has no problem in holding the polls in the other 21 districts on a single day giving more time to the four high-risk districts to recover.

"In India, the largest democracy in the world with over 1.3 billion population holds all the major elections on a staggered basis running for several weeks. Counting of votes starts on the completion of voting,"
he said.

Section 113 of the Parliament Elections Act No. 1 of 1981 clearly says that this is possible, it states, "If at any time after the President has ordered or fixed the date for an election, it is shown to his satisfaction that in any electoral district owing to any cause whatsoever no election has been held in pursuance of such Order be may at any time by notice in the Gazette issue another Order that an election shall be held in that district," he pointed out.
The problem is that conducting the general election on a staggered basis would further extend the day to elect a new Parliament.

Commenting on the opposition parties' demand to reconvene Parliament to pass funds to run the state machinery, Mr. Jayasekara said though the opposition demands to reconvene Parliament to pass funds after April 30, the President has the power to obtain money from the Consolidated Fund under clause 3 and 4 of paragraph 150 of the Constitution and added President Gotabaya Rajapaksa very clearly told the EC that he did not want to reconvene the old Parliament.

"Besides, President has the power to reconvene Parliament for an issue related to the imposition of emergency under the Public Security Act only," ´he said.

However, Mr, Jayasekara admitted that a Constitutional crisis has already been created as Parliament cannot meet on June 2 as required by the law and it would be further aggravated if the election could not be held on
June 20.