---
Says there is nothing the EC can do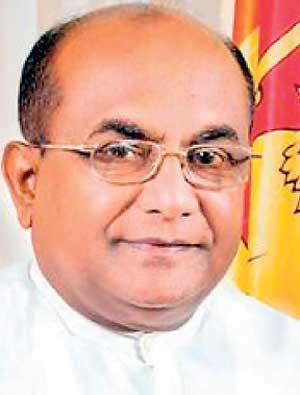 By Lahiru Pothmulla
The Sri Lanka Podujana Peramuna (SLPP) yesterday alleged that Elections Commission (EC) Chairman Mahinda Deshapriya was helping to get the presidential election delayed.

He said on Monday that the Commission was ready to hold the Provincial Council (PC) elections by October 15 if the President obtains an opinion from the Supreme Court on holding the elections under the previous electoral system.

MP Mahinda Yapa Abeywardena told a media conference that there was nothing the EC Chairman could do.

"The EC Chairman says PC poll could be held. What I have to say about him is that he is a 'little liar' in this country. He cannot do it. He is only helping to get the presidential poll delayed," he said.

SLPP General Secretary Sagara Kariyawasam said there was no legal possibility to hold the PC election.

"There are laws which should be drafted with regard to the PC Amendments Bill. Only the parliament has the authority to draft laws not the EC," he said.

Meanwhile, MP C.B. Ratnayake said a general election could be held following the presidential election.

"The President says a new government will be established in five months. Yes, this can be done if the presidential election was held on time. Then we can hold a general election and create a stable government," he said.
There are laws which should be drafted with regard to the PC Amendments Bill. Only the parliament has the authority to draft laws not the EC