---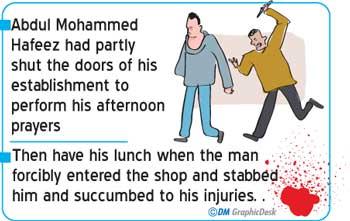 By H.M. Dharmapala
The owner of a building materials shop near Waidya Road in Dehiwala was stabbed to death by a man who broke into his shop on Monday (24) afternoon, police said.
63-year-old Abdul Mohammed Hafeez had partly shut the doors of his establishment to perform his afternoon prayers and then have his lunch when the man forcibly entered the shop and stabbed him.

A bystander had rushed him to the Colombo South Teaching Hospital but he succumbed to his injuries.

The victim was a father of three and a resident of Ibrahim Placein Nedimala.

It was reported that the alleged killer had fled towards Dehiwala along the Galle Road carrying the knife in his hand.

The Dehiwala Police, who are investigating the crime, have obtained CCTV footage from establishments in the vicinity and are hopeful that it would help them get an idea who the assailant was.