---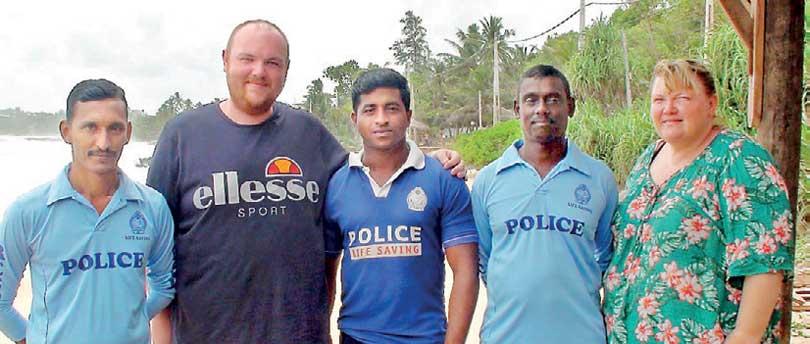 By Aneesha Manage
A British woman and her son were rescued from rips and strong waves in the sea off Medilla in Tangalle by police lifeguards on Wednesday.

The Tangalle Police Division Lifeguard Unit rescued the duo identified as Samantha Fen (49) and her son Steve (31). They had found accommodation at a hotel in Medilla.
"The family members have encountered this ordeal when they had gone for a bath in the Medilla beach. They had been driven by rough sea waves and had found it difficult to swim ashore. Three police lifeguards in the area had immediately called over and rescued the tourists crying for help," the police said.

Tangalle Division Swimming and Lifeguard Unit OIC Sergeant Nimal Dissanayake (56291) together with PCs Anura (55986), Viduranga (86381) and Kaushalya (70153) had rescued the duo. This unit is administered by DIG H.H. Chulasiri under the observation of Tangalle Division SP Y.L. Leelawansa.