---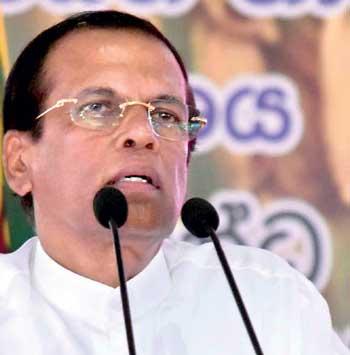 By Sandun A. Jayasekera
President Maithripala Sirisena has withdrawn the Cabinet memo he submitted with Minister Vajira Abeywardena last week seeking approval to make permanent the personal staff of the President, Priunnecessary publicity.
The final Cabinet meeting of the Yahapalana Government was held at the Presidential Secretariat after the meeting was advanced to Monday from today due
to poya.
President Sirisena said he would withdraw the memo submitted last week requesting the permanency of personal staff to ministers as the proposal leaked and received adverse public and me Minister, Ministers and Deputy Ministers, saying the move gained media attention.

If approved, the Treasury would have incurred an additional cost of nearly Rs.180 million annually and would have added an extra cadre of public servants out of the standard recruitment procedure and government regulation.

Another risk was the entrance of a set of public servants who do not have minimum qualifications as almost all recruitment to the permanent staff of politicians have been made on
political affiliation.