---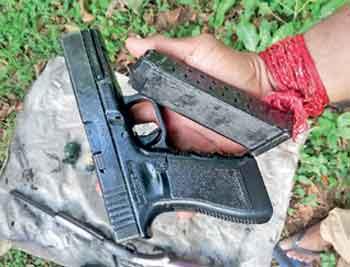 By Darshana Sanjeewa Balasuriya
Police have arrested two close associates of notorious criminals, Wele Suda and Army Sampath in possession of heroin. Sumeera Madhusanka alias 'Railpare Sumeera', a close associate of criminal of organised crimes Army Sampath was arrested by the police in Kotahena yesterday morning with 1.2 grams of heroin in his possession. Meanwhile, a close relative of 'Wele Suda' was also arrested in Meegoda with 06 grams of heroin.

The STF, meanwhile, recovered three firearms including a Glock 17 pistol manufactured in Austria belonging to imprisoned criminal Amith Sanjeewa alias 'Kalupe Amith' from Meetiyagoda on Tuesday.

A locally made 'Galkatas' gun and a 12-bore shot gun, two hand grenades (SFG 87) and ammos were among the recovered cache of weapons.

The Glock 17 firearm was being used only by the Army and Police Special Task Force (STF) personnel, it is said. The raid was carried out by a team led by CI Nadeeka Silva on the instructions of the STF Commandant.