---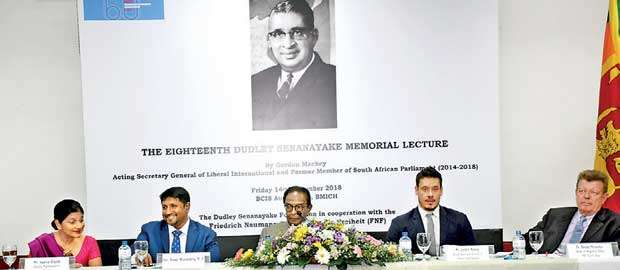 pix by Kushan pathiraja

The 18th Dudley Senanayake memorial oration will long be remembered by all who heard the impeccable eloquence of the speaker, Gordon Mackay, who will be remembered for his speech and for his suave debonair presence, all of which, had a remarkable impact on all who heard him.

Gordon Mackay is the Secretary-General of Liberal International, a prestigious post for one so young, and a former member of the South African Parliament from 2014 to 2018.

He has moved on from Parliamentary politics to a wider aspect of politics in the international sphere, which keeps him in touch with Parliaments and politics in all parts of the free democratic world where liberal democracy plays a prominent role.

He is just 37 years old, so his present experience of being the Secretary General of Liberal International, will endow him with a multitude of experience, which will undoubtedly stand him in good stead in the future, helping him to face challenges and overcome them, whether in his country or in other parts of the world.
There was pin-drop silence as he spoke and what warmed the hearts of all of us who were admirers of the late Dudley, who was an irreplaceable statesman.
"God probably broke the mould after creating him," he said in his opening remarks. He said that among the reasons, which inspired his entry into politics, was reading the speeches made by the late Dudley Senanayake.

He spoke of the attainment of freedom in South Africa, following the first historic democratic election as being a cathartic and freeing experience, of Nelson Mandela, the architect of this intellectual freedom, who had developed a deep commitment to justice, fair play, an unwavering belief in democracy, the rule of law, freedom of speech and a deep desire to achieve ethnic amity.

A quote from the late Senanayake, which he said has come to define his own personal brand and belief in Liberalism, is as follows:

"The words progressive and reactionary are being bandied about on the floor of this House. What is the criterion by which a measure is judged progressive or reactionary? As there cannot be freedom without economic well being, there cannot be real freedom without individual and political freedom as well."

This line he said stood out for him and made it possible for him to finally commit fully to Liberalism and the pursuit of liberal values.

By linking individual freedom to economic freedom, he said the late Dudley Senanayake played a vital role in developing his thinking, around societal redress and redistribution and gave him the intellectual framework in which to decide on what the role of government is in society.

So, he said in a practical sense it was the late Dudley Senanayake, who inspired his entry into politics first as a city councillor, and later as a Member of Parliament and member of the shadow Cabinet, and infused his thinking with ideas of social and Progressive Liberalism.

He also explained Liberalism, its objectives, values and achievements, regretted that although we have a great need for intellectual giants and leaders of the deep integrity of the calibre of the late Senanayake today, the entire world seems burdened with small-minded, self-interested and petty political leadership.

The welcome speech by the Chairman of the Dudley Senanayake Memorial Foundation Minister D.M. Swaminathan was also good, bringing back memories of this much loved Leader as the Speaker related many anecdotes about Dudley Senanayake, focusing on his simplicity, including that, when even as Prime Minister, he preferred to drive his own little Triumph Herald rather than in luxurious limousines with security.

The other brilliant speech that evening was the vote of thanks by State Minister of Defence Ruwan Wijewardene, the grand nephew of the Late Dudley Senanayake, who prefers to go on in his own steam and be recognized for his own worth, rather than riding piggy-back on the Senanayake name to fame and power.

This has endeared young Ruwan to one and all, and he has certainly inherited this trait of simplicity from the late Dudley Senanayake.
It is indeed an honour for our country, that a young leader today like Gordon Mackay was inspired to enter politics by the words spoken by the late Dudley Senanayake, so many decades ago.

He reminded the audience of the democracy and freedom regained in 2015, the benefits to the people with land returned, prices of medicines reduced, insurance for school children, housing schemes, salary increases and many other benefits while stating that there was a lot more that needed to be done.

The Dudley Senanayake Foundation is ever grateful to The Friedrich Naumann Foundation for their partnership with the oration through the years and for the most eloquent, distinguished speaker they got for the oration this year.

It must be recalled that the Resident Representative of the Stiftung, Mrs Sagarica Delgoda was arrested, remanded on false charges and harassed, during the tenure of the last regime.

But this has fuelled her even further, with the strength to fight for and keep the candle of Liberal Democracy alight in our country. Her arrest caused the pull out of all German NGOs here who only returned to continue their good work after the change of Government.

I was glad to see the prefects of S Thomas' College Mt. Lavinia at the oration.

The late Dudley was a Head boy, Cricket Captain, took part in other sports and was proud of his school.

I'm sure that the Thomian Prefects would be equally proud of Dudley Senanayake, an old Thomian, whose example has inspired young politicians in other parts of the world.

It is indeed an honour for our country, that a young leader today like Gordon Mackay was inspired to enter politics by the words spoken by the late Dudley Senanayake, so many decades ago.