---
Traditional Japanese therapy helps open doors for the visually impaired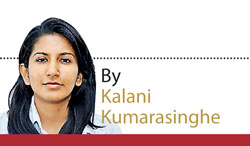 In 1992, Sanjeewa Adhikari, at the age of just 20 years, suffered an accident which left him visually impaired. Undeterred, Sanjeewa continued his higher studies, where he entered the University of Sri Jayawardenapura, Colombo with a Bachelor of Arts special degree in Political Science. In 2004 Sanjeewa received an appointment as a development officer of the Department of Social Service. In recognition of Sanjeewa's determination and spirit, he was presented with the opportunity to follow a Shiatsu therapeutic training programme for the visually impaired in Japan, with the assistance of the Japan International Cooperation Agency (JICA). Following a comprehensive training, Sanjeewa returned to the island where he started his career as an instructor at the Vocational Training Centre in Seeduwa. He has trained nearly 20 visually impaired who are working as Shiatsu therapists in several institutes and clinics.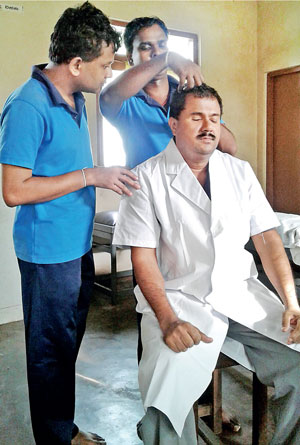 Through Parliamentary Act No 09 of 1992 to establish a fund for visually impaired persons, the government has initiated various services in support of disabled persons. One such initiative, the Visually Handicapped trust fund is implemented by the Ministry of Social Services. The mission of this fund is to provide services needed to the visually handicapped, for rehabilitation and to provide relief. It is evident that authorities are attempting to create equal opportunities for visually impaired persons. However Sanjeewa laments that even with such assistance some of his trainees find it difficult to lead a comfortable lif e with the ever-increasing expenses.

"There are several vocational training facilities in Sri Lanka for the visually impaired, sponsored by the Ministry of Social Services. There are several programmes launched by the Social Services Department to assist those like us. For women, there is a programme to train them in handlooms and textile weaving. For men, the programmes include training in local manufacturing products such as coir products. The Shiatsu therapeutic massage training programme was introduced as a vocation for visually handicapped men, as it is an age old medical tradition practised by the blind in Japan. But in Sri Lanka, this tradition is unfortunately perceived with negative connotations,"
Sanjeewa revealed.


At the Seeduwa Training Centre where Sanjeewa imparts his knowledge to those who are similarly disadvantaged, groups of four to six undergo a Shiatsu training programme annually. "With the batch who just completed their training, I have served as an instructor for 15 therapists. Some of them are employed at institutes while some practise this therapy on their own," Sanjeewa said.

Dhanushka Prabath, another visually impaired Shiatsu therapist who completed training under Sanjeewa, says that even though their training was completed, their career is full of challenges. "We have learned that in other countries such as the United States or even China, this form of therapy is a well respected one. However in Sri Lanka, people have a bad perception of it. People have confused our tradition with other massage techniques. But the Shiatsu therapeutic massage belongs to a branch of oriental medicine. It is used to alleviate many ailments in the body and also used for relaxation. It can be performed while the patient is clothed and in an open space," Prabath said. Prabath with the assistance of a colleague who completed the Shiatsu training programme conducts this therapy for a nominal fee every day, at the Nawala Jogging path.

However Prabath did not fail to mention that taking approval from authorities for his practice at the path was not easy, as they suspected his therapy to be a hoax.

The ethical form of therapy is practised by 15 visually impaired individuals who have been trained through the Department of Social Services, at various locations. However the challenges that await these victims of fate do not stop with their handicaps. They too have to deal with meaningless stigma and disapproval of society over things they have little or no control over.
Those who wish to contact these healers with kind hearts can contact Prabath on 011-2721586 or Sanjeewa on 0714451862
---
What is Shiatsu therapeutic massage?
Shiatsu is an age old Japanese healing therapy. It has the ability to cure specific injuries as well as the general symptoms of poor health such as headache, shoulder pain, back and lower back pain. It is also a way of providing deep relaxation therapy to alleviate mental stress.

It has been helpful in treating ailments such as fatigue, headache, constipation, insomnia and many others.

In Japan, Shiatsu is a common and age old practice for the visually impaired. The form of therapy naturally favours the blind because of their advanced sense of touch. When mastered under proper guidance, the blind can practise it as a form of self-employment, which helps them earn a living and provides them an opportunity to contribute to the society.

The core principle of Shiatsu is the vital energy ['Ki' in Japanese] that flows throughout the body in connected channels called 'meridians'. Ki can stop flowing freely owing to many reasons, producing symptoms that can then be healed by Shiatsu.