---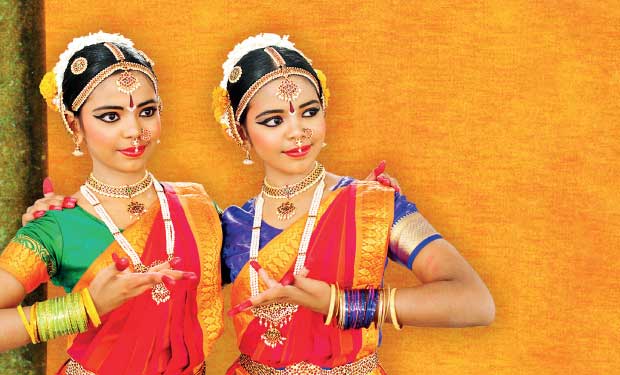 Miyuni Thisanaya and Thenugi Dilanya Jayasinghe
Young twin dancers, Miyuni Thisanaya and Thenugi Dilanya Jayasinghe presents Bharathanatya recital at 6.00 pm on Friday, August 4, 2017 at the Bishop's College Auditorium.
The chief guest of the evening of dance is award-winning actress Swarna Mallawarachchi and the guest of honour is Sandamalie Aviruppola, principal of Visakha Vidyalaya and Vidyajyothi (Prof.) Nimal de Silva, Emeritus Professor of Architecture, University of Moratuwa.
Interestingly, the guru of Miyuni and Thenugi, Aloka Kumbukage herself is one of the twins who presented her Arangetram with her twin sister. The twins started their training in the traditional Indian classical dance at the tender age of seven.
"Their mastery of the dance forms steeped in traditions of India and Hinduism is not the talents alone of the duo but also the result of the practice of such qualities as perception, duty, patience, keenness and a good mental discipline which would be obvious in the evening of August 4 on stage," the Guru Aloka Kumbukage noted in a word of well wish.
Presently studying at grade seven at Visakha Vidyalaya, Thenugi and Miyuni are multi-talented excelling in academic and extra-curricular activities. They both had passed Grade Five scholarship examinations and they are members of the school chess team since grade two, and captained the team in 2014 and 2015. The twin sisters also have represented Sri Lanka at international chess tournaments and at present they are internationally rated chess players. Tenugi participated at the 19th Asian Schools Chess Championship in 2014 in Taiwan and both have participated at the 10th Asian Schools Chess Championship in 2012 and the Commonwealth Chess Championship held last year. They are also talented artists winning prizes at both school and national level. Thenugi and Miyuni are daughters of Ishani and Sagara Jayasinghe, a renowned architect and a lecturer in architecture attached to the University of Moratuwa.