---

Armed with a pen which is said to be mightier than a swords, the gentleman fighter M. J. M. Zarook affectionately known as 'Zorro' bid adieu to journalism in 2009 after a service of more than five decades and he died on July 27 this year.

Today marks the 40th day death remembrance of veteran journalist and journalism Guru Mohamed Jameel Mohamed Zarook. Fondly and popularly called 'Zorro' not only by peers and friends in the journalistic circle but even by judges and lawyers, the beat he mastered in English journalism made Zarook a treasure for those in the profession or vocation. This was a known fact by both the journalistic and legal fraternity.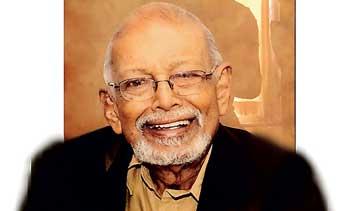 Former Attorney General and reputed criminal lawyer C. R. De Silva once said, "Zoro is an asset to English journalism and any media organisation". This was very much true with the vast knowledge Zorro possessed on judiciary and courts reporting. He proved this many a times while heading the legal desk of the Daily Mirror. As the Daily Mirror's Legal Editor one of the responsibilities Zoro was bestowed upon was to go through letters of demand sent to the newspaper. Zorro had a rare instinct to identify the 'real' letters of demand and those bogus ones sent just to scare us and the newspaper editors. But he always made it a point to thoroughly go through the newspaper reports and the related letters of demand. He would often shrug and say, "just forget about it he or she is trying to scare us". But there were instances where he would caution us with danger signal and would say "This of course we have to be careful". But he always had 'tricks', legal points and golden advice even some lawyers could not have thought of. In that way 'Zoro' avoided many court cases that would have cost the newspaper company millions.

Meek and humble Zorro, who always denounced any forms of extremism and violence, was a true patriot and was concerned about the series incidents of racial disharmony in recent past. Whenever there was trouble in the country he would call and discuss it and would say something like, 'Damn shame men. I don't know why we have to fight like this in this country,". Few days after the Easter Sunday attacked he talked for a long time and Zorro sounded distressed and worried.

Starting his journalistic career in April 1954 under the Editor Tori de Sauza at the now defunct Times of Ceylon, Zorro soon came to be known among his readers for his precise and accurate reporting on court cases. One of the landmark cases he reported was S.W. R. D. Bandaranaike's assassination trial which became a sensation among the readers. Reporting on judiciary and legal matter--a subject which many think is boring or requires special skill became a subject of interest because of Zorro. His court reports in the Sun newspaper were so interesting, doyen of journalism, D. B. Dhanapala, the Managing Editor of Dawasa group invited Zorro to pen a series of light-hearted article from courts for the women's magazine 'Vanitha Viththi'.

One of the exceptional qualities of Zorro was respect for every human being. Often he went out his way to make a number of calls or going through the rainbow pages to find the correct spelling of a name that was to appear in the newspaper. "You should never misspell a name," was a golden rule that he bestowed on us. This was for a judge of a court, lawyer or even the witness or a suspect in a case.

After Times Group was closed, in 1985, Zorro joined the Lake House or Associated Newspapers of Ceylon Limited where he had a longer stint as a journalist and a teacher for many budding journalists. Retiring from the Lake House, Zorro in late 1990s joined Wijeya Newspaper's Midweek Mirror which was planning to be expanded to a daily newspaper as 'Daily Mirror'. His main task at the Midweek Mirror was to groom a troupe of court reporters to cover various courts. With little or no legal background Zorro strongly convinced us that journalist should not be a lawyer to be a legal reporter. He said what is important is interest in the subject. Even after his retirement from journalism in 2009, we would often call him whenever we were stuck with a legal jargon or simple word for a complicate legal terms and procedures.

For his longstanding service to journalism in 2008, Zorro was given the Life-Time Achievement Award at the annual journalism awards ceremony conducted by the Editors' Guild of Sri Lanka, the Newspaper Society of Sri Lanka and the Sri Lanka Press Institute.

We wish Zorro Jannathul firdhouse.