---
Fiji's Judiciary welcomed in another addition to its rank following the swearing in of High Court Judge Yohan Liyanage yesterday at the State House.
Justice Yohan Liyanage is from Sri Lanka and was officially sworn in by Fijian President Major-General (Ret'd) Jioji Konusi Konrote.
Mr Liyanage began his legal career after completion of legal studies with First Class Honours at Sri Lanka Law College. In 2003 he was admitted as a Legal Practitioner in the Supreme Court of Sri Lanka.
In 2004, Mr Liyanage joined the Attorney General's Department in Sri Lanka as a State Prosecutor and later appointed as a State Counsel.
He worked eight years in this capacity before coming to Fiji. He was a member of prosecution teams in many landmark cases in Sri Lanka.
In 2011 he joined the Fiji Judiciary as a Resident Magistrate and in 2013 was appointed to the Office of the Chief Registrar in Fiji.
He is currently the Chief Executive and the Chief Accounting Officer of the Judicial Department. He also serves as the Secretary to the Judicial Services Commission and the Regulator of Legal Practice in Fiji.
He was instrumental in introducing video recording of court proceedings to Fiji, reforms to courts transcribing system, court hearings through a video link from Corrections facilities, regularized judicial services to all outer islands including Lau and Lomaiviti.
Chief Justice, Anthony Gates was present at the swearing-in ceremony.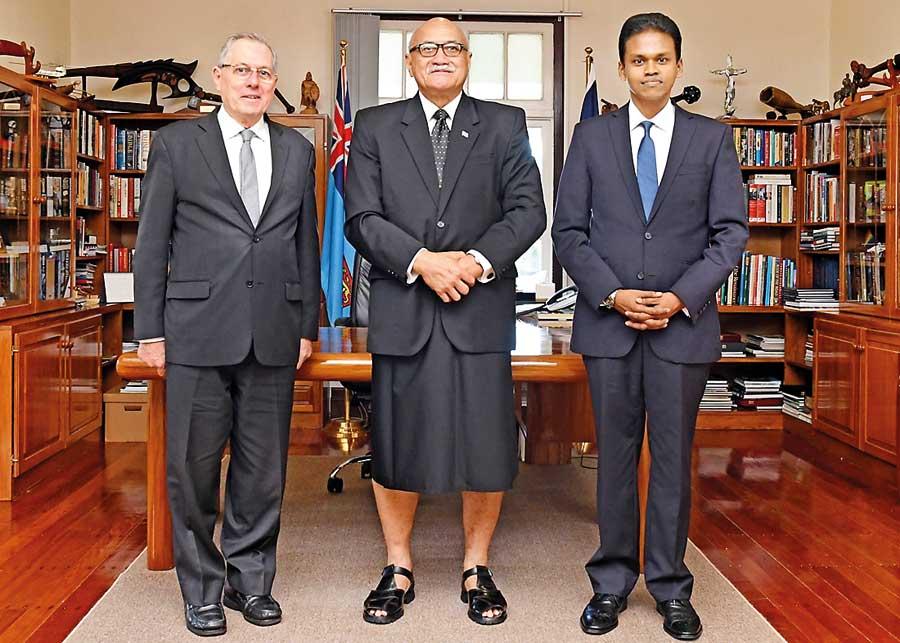 From left Chief Justice of Fiji, His Excellency the President and Mr. Yohan Liyanage