---
Chandarbhanu Samaraweera's Who's Who of Sri Lanka Vol. 01 gave us a fine mosaic of biographical sketches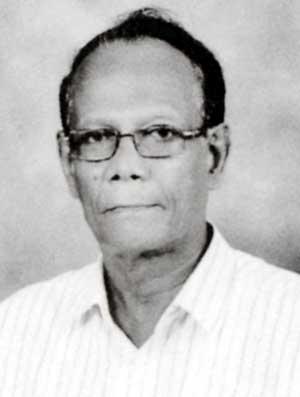 Chandarbhanu Samaraweera'
across a mindboggling cross-section of Sri Lankan society. He has followed up now with the second volume, which lives up to readers' expectations.
Indeed, it is hard to imagine anyone who'd be disappointed with this copious volume running into 732 pages. It contains biographical details of 406 people.

Even though each person is rarely given more than two pages, the author manages to pack a great deal of detail into each biographical sketch, and at the end of 732 pages, you are left wanting to read more.
Famous names, from the distant past or within living memory, abound. But the book's fascination and value lie in the crowded gallery of relatively obscure personalities it presents. Some of them may even have achieved national fame in varying spheres such as sports, business and politics, over the last few decades, but with the swift passage of time, with new events and personalities appearing all the time, tend to be forgotten. Who's Who brings them back to life vividly.

Among the list of the famous, one can put names such as Joe Abeywickrema, Prof. Stanley Kalpage, Jabir A. Cader, Reggie Candappa, Chitrasena, Dr E. W. Adikaram, Roy Dias, Sugathapala de Silva, M. H. M. Ashraff, Gen. Denzil Kobbekaduwa, Richard de Zoysa, Dr Siri Gunasinghe, Mudliyar Amarasekara, D. M. Colombage and Geoffrey Bawa.
No assumptions made here that even half of these names would be known to Sri Lankan under 40, even though quite a few of them were living and making news in their spheres in the 1980s, 90s and even later.
The loss of reading habit and the dominance of breaking news since phones became the prime tool of information, supplanting newspapers, would mean that there are millions of Sri Lankans to whom these names wouldn't ring a bell.
"The loss of reading habit and the dominance of breaking news since phones became the prime tool of information, supplanting newspapers, would mean that there are millions of Sri Lankans to whom these names wouldn't ring a bell"
The author takes a very democratic approach in selecting his personalities, including names of those who have distinguished themselves in fields as diverse as a law practice, journalism, teaching, medicine, the civil service, administration and other non-glamorous professions as opposed to sports, the performing arts, literature, music and those activities more likely to get into the news frequently and remain within memory.


Even in those spheres, many forgotten names have been resurrected. Batting star Roy Dias, who retired in 1989, for example, would be familiar enough to the sixties' generation, but how many thirty-somethings or forty-somethings would have heard of him?

If we go back to Devar Surya Sena, the radical musical researcher who was already away from the limelight for several decades when he died in 1981, even the 60-70s generation would be puzzled by his name.
No need to go that far. Even the name of singer Pandit Amaradeva, whose fame as a household name lasted till his demise in 2016, may not ring a bell to the twenty-somethings of today.

If that's the fate of the famous, little need to be said about those who distinguished within more prosaic spheres,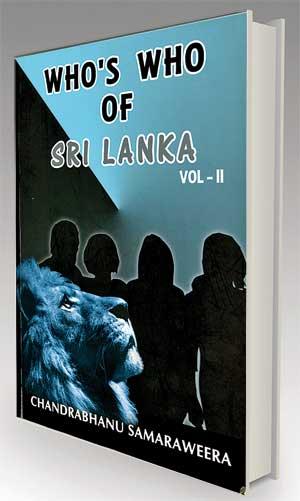 regardless of when they were born. But for this book, chances that the general public would have heard of Sago Jayawickrema, Tamara Joachim, Y. C. Chang, Cora Abraham, Rev. Dharmavihari, James Bulner, Prof. D. V. A. S. Amarasekara, Rex. I. De Silva, Thomas de Samprayo, Olga de Livera, Dr Siva Chinnathamby, Dr Wimala de Silva, Church Lotus and K. G. Karunathilake are remote.

To be honest, even I hadn't heard of many of them – leafing through these pages, I discovered that Sago Jayawickrema (1911-1983) was a remarkable cricketer who captained the SSC from 1940 to 50. His overseas career was remarkable, scoring 56 and 130 during the first unofficial test in India in 1932. Elected captain in the next unofficial test played in Calcutta in 1940, he scored 138 and held a strong Indian team to two draws in Colombo in 1944/45.

Musician Tamara Joachim's brilliant career as a keyboardist began in the 1980s when she won the Best Electronic Organist in South East Asia award and was trained in Tokyo to teach classical, jazz, pop, rock, Latin and keyboard improvisation. Supreme Court Judge Thomas de Sampayo (1855-1927) was the first Lankan to try and introduce a sentencing policy, and also the first to advocate a policy of rehabilitation and treatment rather than punishment.
We also learn that Dr Wimala de Silva, founder principal of Devi Balika Vidyalaya (Castle Street Girls' School) was also the first woman to be appointed as vice-chancellor of a Sri Lankan university. The scholar-monk Ven. Hisselle Dharmaratane Thera (1914-1972) was a pioneer in the teaching of Tamil in Buddhist pirivenas, and also translated into Sinhala three Tamil epics.

Cartoonist and musician James Bulner (1926-2000) is another interesting figure to emerge from these pages. His created memorable cartoons such as 'Banda' for the Observer and produced serialised comic strips of Dr R. L. Spittel's book The Savage Sanctuary and Leonard Woolf's Village in the Jungle.
A seemingly endless gallery of such fascinating and forgotten personalities from the past makes this book such an interesting read. Priced at Rs. 1250, it's published by Who's Who Publications, Pannipitiya (Mobile 0775820715/0718393744).