---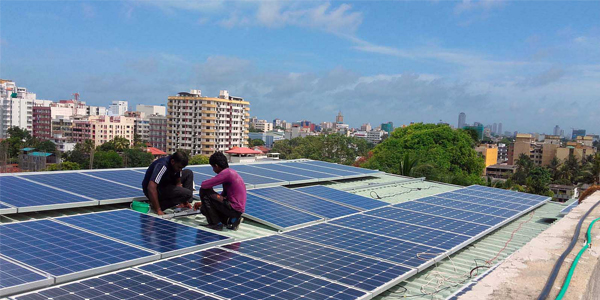 Solar panels may seem to appear as new devices which will soon be installed in many households in Sri Lanka. Although this concept is not so new to Colombo and its suburbs, effective usage of solar panels would be beneficial for users on the long run.
Here's an insight in to solar panels and what you need to know when using them:
A solar panel refers to a panel designed to absorb the sun's rays as a source of energy for generating electricity or heating. They are made of photovoltaic (PV) cells, which turn sunlight into electricity. This electricity can then be fed into your home's mains electricity supply. A photovoltaic (PV) module is a packaged, connect assembly of typically 6×10 photovoltaic solar cells. Photovoltaic modules constitute the photovoltaic array of a photovoltaic system that generates and supplies solar electricity in commercial and residential applications.
Most solar modules are currently produced from crystalline silicon (c-Si) solar cells made of multicrystalline and monocrystalline silicon. In 2013, crystalline silicon accounted for more than 90 per cent of worldwide PV production, while the rest of the overall market is made up of thin-film technologies using cadmium telluride, CIGS and amorphous silicon.
Facts about solar panels / solar photovoltaic systems
Solar panels have been around for a long time : Solar panels are a well-proven technology first invented in 1954 by scientists at Bell Labs. Today, solar panels are installed in many homes around the world and in Sri Lanka as well.
High durability : Solar panels are made of tempered glass and is designed to withstand rain and windy atmosphere. Since there are unpredictable weather patterns in Sri Lanka this is a great advantage for users. They can even extend the life of your roof by protecting it from daily wear and tear.
Could be installed anywhere : Sri Lanka is a country that receives sunlight all year round and therefore solar panels could be installed anywhere in the island.
Long lasting period :Most solar panel manufacturers offer a 25-year power production warranty guaranteeing that their solar panels will continue to generate electricity at a certain capacity for the warranty's duration.
Decrease carbon footprint : Installing solar panels can decrease your household's carbon footprint by an average of 35,000 pounds of carbon dioxide per year.
Recycling process :Most parts of a solar module can be recycled including up to 95% of certain semiconductor materials or the glass as well as large amounts of ferrous and non-ferrous metals.
United Tractors is one source that provides a fully integrated approach to electric power in Sri Lanka. As means of conserving energy, many large scale buildings and industrial facilities are powered by Cat Generators while five star hotel chains and hospitals rely on Cat power.
By Kamanthi Wickramasinghe