---
Victims of identity theft are seldom aware of their plight. Thakshila Sumanasiri from Kandy alleges that a former housemaid has stolen her identity card to make a new passport and obtained Singapore citizenship. She told Daily Mirror that the authorities have failed to establish her identity and restore her identity rights. She has therefore placed her confidence elsewhere to conduct unbiased investigations to establish her identity so that she could travel unhindered.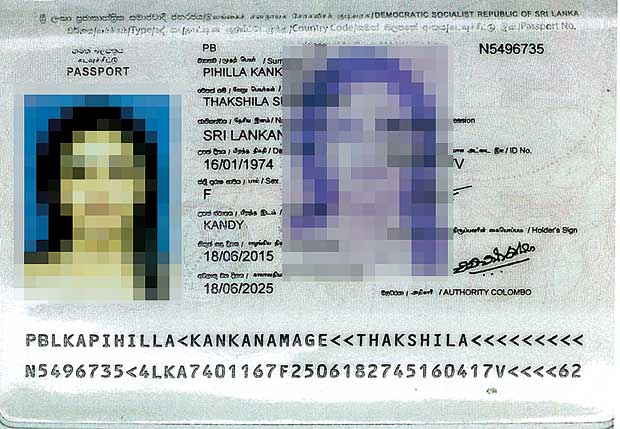 NIC Stolen
Thakshila's story dates back to more than twenty years ago. In 1993 her half-brother requested to accommodate Ruwani Nimalka, a housemaid who worked in Singapore. He was involved in transferring goods belonging to housemaids and had met Ruwani at the airport. Thakshila says that she does not know why Ruwani stayed at her house avoiding her own family members. However, Ruwani was treated as another member of their family. She was called by her nickname Rajji.
During the three months Ruwani stayed in Thakshila's house, Thakshila lost her National Identity Card (NIC). "There was another housemaid called Renuka with us. She told me that she had seen my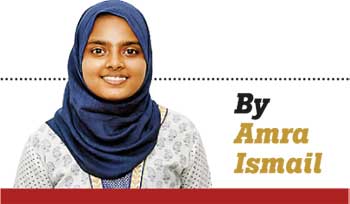 NIC in Ruwani's bag," said Thakshila. Thereafter Renuka had called Ruwani outside her room while Thakshila checked her luggage. To her dismay Thakshila found her NIC in a pocket of the bag.
When Ruwani was questioned she had flippantly told Thakshila that someone would have hidden it in her bag in jest. The incident was soon forgotten and Ruwani subsequently left the house. There was no cause for alarm as the NIC had been recovered.

Anonymous calls
Afterwards there were rumours that someone had impersonated Thakshila. It 1995 Thakshila received anonymous calls informing her that Rajji (Ruwani) had impersonated her, had made a passport under her name and was currently residing in Singapore. At this point in her life Thakshila herself had not obtained a passport.
"I informed the Balagolla Police about the calls. They said that if my NIC was lost I could make a complaint. But I was in the possession of my NIC and I had no evidence to prove the allegations,"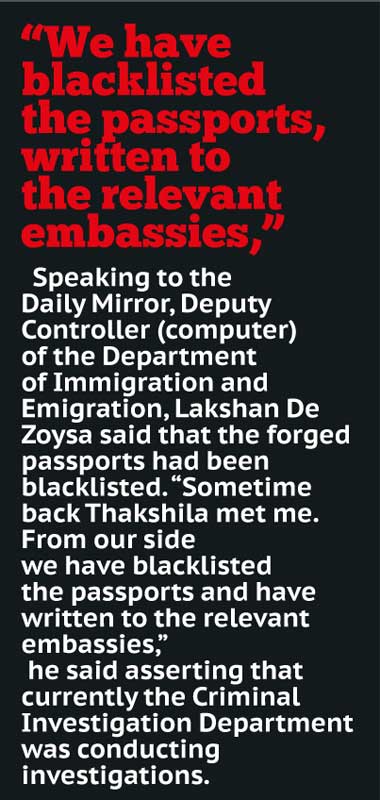 said Thakshila. However, Thakshila was yet in the dark as to who gave her the initial tip but believed that it was someone who resided in close proximity to her.
Her family members were afraid that she would be arrested for impersonation and requested her not to make a passport. She also feared for her three children who were very young at the time. Hence she gave up on her dreams of going abroad to pursue a course in bridal tailoring. Thereafter Thakshila had opened her own bridal tailoring shop in the country.

Obtains a passport
In 2008 the police had informed her that she should inquire from the Department of Immigration and Emigration. "I narrated the whole story to a head I met at the Department and told them about my miserable fate of not being able to obtain a passport," recalled Thakshila. After four hours at the Immigration Department she was informed that there was a fault in the system which would be rectified. Consequently she was given a passport on the same day.
"On my way out another Immigration Officer approached me. Out of concern for me he asked me not to investigate further as I may face detrimental consequences. I explained to him my situation and he handed me two printed sheets," said Thakshila. The Immigration Officer had rushed her outside and she had no time to look at the sheets of paper.
Later she realised that the Immigration Officer had given her two sheets that contained Ruwani's photograph but Thakshila's details. It was a copy of the details of the forged passport. Thakshila immediately contacted the Immigration Officer who had given his number. He requested her not to take action as he may fall into trouble. She had been advised to use the printed sheets when a dire situation arose. He had further asked her to keep her ID, Birth Certificate and the printed sheets with her at all times.
"I have a recording of the meeting with the Deputy Controller. I don't know if it is legal or not. But I've come to a point where I can't trust anyone and now I have to depend on such evidence"

Threats
"I started getting anonymous calls threatening me. They knew that I had obtained a passport. They asked me not to go to the police. If I did, they said that I would face the consequences," Thakshila recollected. She also felt that she was being followed and as a result had to move her salon which fetched high profits by then.
"One day someone rang the bell late at night. I was hesitant to open the door and did so gradually. But two people rushed in. One of them grabbed me by my hair. My little children started crying. Despite my disabled aunt's pleas they threatened me," Thakshila said.

Revisits the Immigration department
In 2009 she had revisited the Department of Emigration and Immigration and had met the same Department head who informed her that it had been an issue in the system which would be rectified.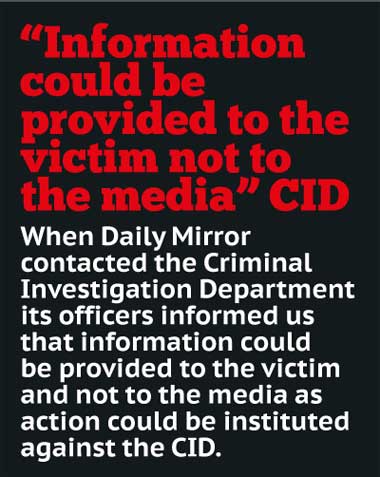 "I told him that I have evidence and showed him the sheets of paper. I pointed out that the photograph and signature did not belong to me. He asked me if I was crazy to investigate the matter and asked if I wanted to get arrested," Thakshila said. The head had taken the sheets away from her but Thakshila retains copies of them.

CID Investigation
In 2011 Thakshila flew to India and did not face any unnecessary interrogation or detention. Later the same year she was asked to come to the International Unit of the Criminal Investigation Department on September 13, 2011. "I met the OIC. He showed me a file with copies of an ID, birth certificate which the Singapore Interpol had sent. He informed me that there was a petition against Ruwani in Singapore," Thakshila said. When asked as to how Singapore Interpol started investigating she said she believed that the anonymous caller had informed them.
The OIC had asked her to verify that she was the genuine Thakshila. Fingerprints were obtained and further documents were gathered. She had to provide a certificate by the Gramaseva as well. The OIC promised Thakshila to send them to Singapore Interpol. He had also told her that he received calls asking to close the case. However, he had asserted that justice would be delivered.
That day when she returned home Ruwani had called her. "She apologised and she said she has two daughters. She offered me money but I refused. I asked her why she did it. I told her that I wanted my freedom," Thakshila recalled.
Thakshila was later informed by the OIC that the case was closed and Ruwani will be deported and arrested. Thereafter Thakshila had flown to Bangkok and Singapore, and did not come across any difficulty.

US visa rejected
However, in 2014 Thakshila was denied a visa to Japan. When she applied for the US visa it had been rejected as well. "At the interview I was told that I had flown to the US before from Singapore. I told them that wasn't me and that I had never flown to the US. Though they didn't specifically state the reason for denying a visa I think they thought that I had a forged passport," Thakshila said.

Investigations halted
Thakshila had gone to the CID once again and was notified that the OIC whom she had met before was abroad. "I spoke to an officer who was working in his place. He looked at the file and informed me that investigations have halted halfway through," recollected Thakshila. An argument had ensued afterwards and Thakshila had blamed the CID. The officer had asked her to write a complaint demanding the matter be solved.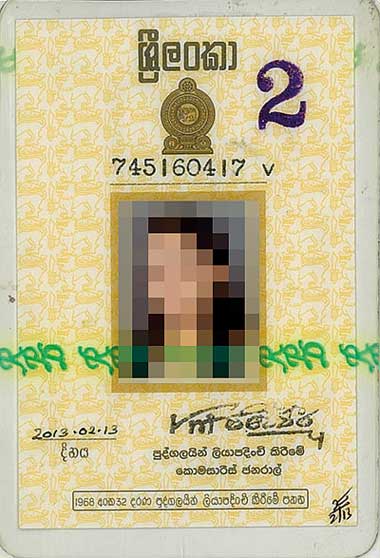 When Thakshila inquired from the CID later on, she was informed that the CID was awaiting a response from the Singapore authority. Then the CID had asked her to go to Singapore and inquire from the authority. "I was not allowed to enter the bureau. So I placed a complaint at a police station in Singapore. I gave them the reference number but they didn't give me information as I was from Sri Lanka. But they gave me a letter stating that I came to the police station and placed a complaint stating that someone has used my name and NIC to make a passport and obtain visas to other countries," Thakshila said.
"I started getting anonymous calls threatening me. They knew that I had obtained a passport. They asked me not to go to the police. If I did, they said that I would face the consequences"

Thereafter when she inquired again the CID informed her that nothing could be done. In 2015 she had written to the President as well. Subsequently a friend suggested to place a complaint at the passport section of the CID. Though the first complaint was ignored she received a response to the second letter. The letter asked her to come to the CID.
"The OIC of the passport division asked me to meet the Deputy Controller of Immigration. When the Deputy Controller, Mr. Lakshan [n1] was checking my information on the computer I saw the printed sheets I had received before, displayed on the screen," Thakshila said. She had explained to him that she was unable to go to any country that Ruwani had visited. He had asked her to provide a written complaint certified by the Gramasevaka, so that she could be directed to the Legal Department. The very next day she travelled back to Colombo from Kandy with the documents.
"I have a recording of the meeting with the Deputy Controller. I don't know if it is legal or not. But I've come to a point where I can't trust anyone and now I have to depend on such evidence," she said.

Travel ban and arrest warrant
Thereafter she was informed by the CID in writing that investigations were carried out by the section responsible to prevent illegal immigration. The letter notified her that there was a travel ban obtained from the Colombo Magistrate's Court against Ruwani. [n2] It further stated that Thakshila would be informed about the progress of the investigation once the alleged impersonator was arrested.

Migrated to Australia
Meanwhile, Thakshila conducted her own investigation. Her half brother who had initially brought Ruwani to their house had met a friend coming from Singapore. Thakshila said that the case had gained some notoriety in Singapore that they were all on the look out for anyone coming from the country so they could inquire about it. Thakshila found that Ruwani was married to Dissanayake who was related to the friend the step brother met at the airport. Thakshila alleges that Ruwani had flown to Singapore under her identity after she left her house in the 90s. According to Thakshila, Ruwani had befriended an Indonesian Tamil called S.Nadaraja alias Ricky whom she married and later divorced.
"On my way out another Immigration Officer approached me. Out of concern for me he asked me not to investigate further as I may face detrimental consequences. I explained to him my situation and he handed me two printed sheets"

The friend of the step brother, whose name Thakshila did not disclose to us, knew Ruwani as Thakshila. The friend has told her that though they did not know that Ruwani had stolen someone else's identity, there had been instances which raised concern about the family. Ruwani and her husband did not move about well with the people whom they had associated long time back, who presumably knew about Ruwani's background.
Disanayake had borrowed Rs. 1.2 million from the friend to migrate to Australia as his business in Singapore was declared bankrupt in 2011. As the family had obtained Singapore citizenship (in 2008) they were able to move to Australia smoothly.

Two passports one identity
The friend had recollected how Ruwani had renewed her passport at the Department of Immigration and Emigration in 2008. "This was after I made my passport. Ruwani had gone to the Immigration and Emigration Department with the wife of the friend who was in the car while Ruwani went in. Ruwani had come back saying that someone had made a passport under her name. However after she called Disanayake and informed him about the incident, her passport had been renewed consequently," Thakshila said.
"Officers of the Immigration Department had clearly detected the falsehood. They could have arrested her. If they were still unsure they could have immediately arrested both of us, and interrogated us to verify who was genuine," she added.
According to the friend they have migrated to Australia in 2012. Disanayaka had not returned the money and allegedly threatened the friend. Thakshila also alleges that Disanayaka was an influential person which was why they were able to bypass being arrested and brought to justice.

Plot to arrest the culprit
The friend had provided Thakshila with photographs of Ruwani and her husband, and the address of their residence in Australia. The friend also informed her that they were coming to Sri Lanka in April this year for an alms giving.
He notified her that Ruwani and her family would come to Kegalle on April 09. She had provided this information to the CID OIC and as they had obtained an arrest warrant, Thakshila depended on them for support. The friend had given Disanayaka's number as well which Thakshila had given to the police so they could trace him. The CID had promised to arrest Ruwani. When she contacted the CID again they have told her that they were busy with New Year Celebrations. She had requested the duty be passed over to the Kegalle Police. However, no arrest was made until April 11. "In the meantime I called the CID but no one picked up the phone. Later when the OIC did pick up the phone he asked how he could know who the genuine person was. If that was the case he should have arrested both of us and held an inquiry. Ruwani has left the country on the 13th though she was supposed to leave at the end of April," she said. Thakshila suspects that Ruwani left the country because the CID informed her that Thakshila was after her.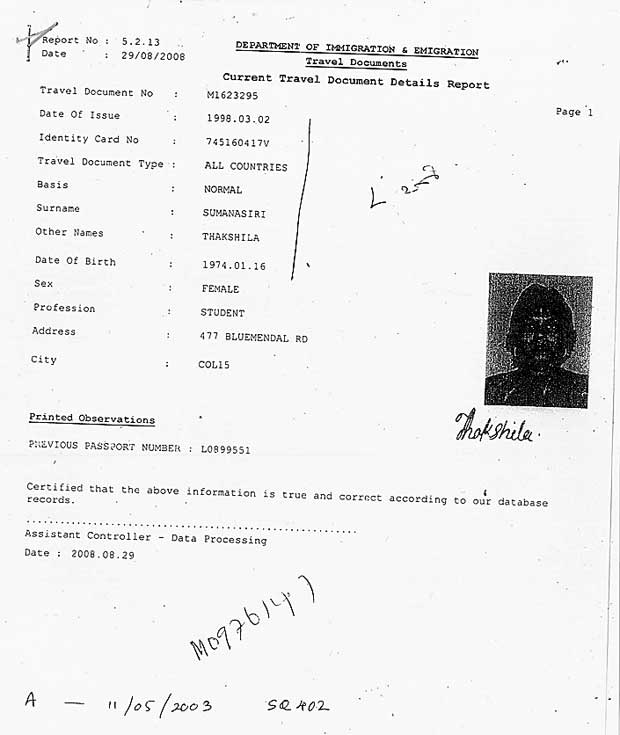 The friend of her half brother had also given her information of a friend Ruwani befriended in Australia called Ayomi. After some digging Thakshila found that Ayomi was from Bentota and that they managed a hotel. Thakshila had created a fake facebook profile posing as a New Zealand girl and had befriended Ayomi's brother. She had chatted with him and somehow convincingly obtained the address of the hotel. Thakshila visited the hotel and obtained Ayomi's house address. "Ayomi told me that she had been suspicious of Ruwani when Ruwani asked them not to post her photographs on facebook. Ruwani has told her that she had not wanted her relatives back home feel jealous of her looking at her successful life. Ayomi has also heard rumours about the impersonation, which she had not given much thought, as she trusted the Disanayake family," Thakshila narrated.
"Ayomi also said that the Disanayakes always shift from one hotel to another and never stayed with their families. Ruwani hasn't introduced her parents to Ayomi's family," Thakshila added. Ayomi had informed her that Ruwani's family and Ayomi'family were supposed to leave together at the end of April, but that Ruwani had left hurriedly before the due date.
"I was not allowed to enter the bureau. So I placed a complaint at a police station in Singapore. I gave them the reference number but they didn't give me information as I was from Sri Lanka"

"I became suspicious of the CID and didn't give them any further information I found," said Thakshila. Thereafter she had complained to the Human Rights Commission.
"Someone told me that the current director of the CID was just and fair. So I went back to the CID. The OIC who promised to arrest Ruwani was absent. I gave him Ruwani's address in Australia. He said that he would write to the Australian Embassy," she said.
We asked Thakshila if she suspected her half brother to be part of the plot. "I suspected him. I was not on talking terms with him for a while. But later he explained himself and cleared all the doubts. He has been very supportive," she said.
As her efforts to pursue justice through local authorities failed, Thakshila appealed to International authorities to look into the matter. Daily Mirror withholds information on current investigations on the request of Thakshila, so that fair and uninterrupted investigations are conducted.
"I have been deceived many times. Now I have no faith in our country's law which supports corruption," Thakshila expressed.