---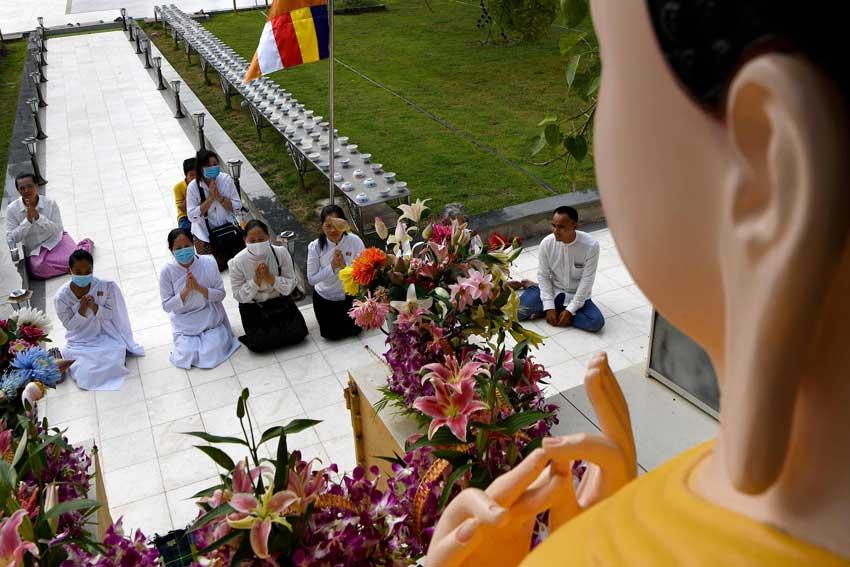 The Buddha's teachings are aimed at helping followers to deliver themselves from Dukkha or suffering (AFP)
He broke down mind and matter into its ultimate elements
Rabindranath Tagore called him "the greatest man ever born"
He showed most convincingly the impermanency of mind and matter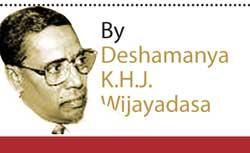 Gautama Buddha was a human being. As a man he was born, as a Buddha he lived and he passed away as an enlightened being. Though being a human he became an extraordinary man owing to his unique qualities and distinctive characteristics. It has been said of him that there was no religious teacher who was "so godless as Lord Buddha, yet none was so god like." In his own life time he was highly venerated by his followers, but he never arrogated to himself any divinity. He taught that man can gain his deliverance from the ills of life and realise the eternal bliss of Nibbana without depending on an eternal God or a mediating priest.

The Buddha's teachings have only one aim; to help followers to deliver themselves from Dukkha or suffering. To prove that existence means Dukkha; the Buddha started by analysing a living being into its five component factors namely; matter, consciousness, perceptions, feelings and mental formations which together constitute mind and matter or Nama-Rupa. He then further explained that these five components; which he called the five aggregates were impermanent (Anicca); subject to suffering (Dukkha) and without soul (Anatta). He broke down mind and matter into its ultimate elements; even beyond the stage of atoms into energies itself and showed that there is no permanent immutable entity or soul present. He went further and showed most convincingly the impermanency or terminability of mind and matter and also of everything else in the universe. This rationalisation exemplifies the fact that the Buddha undoubtedly was the greatest human being that set foot on planet earth. Quite fittingly, Philosopher Sri Radhakrishnan called him "a master mind from the East". The great Poet Rabindranath Tagore called him "the greatest man ever born". The Buddha's first advice was; "do no evil". His last words were; "strive with diligence".

Worthy of homage
"Nava Arahadi Budu Guna" or the nine unique qualities of the Buddha have been epitomised in the following Pali stanza which all of us professing the Buddha Dhamma have been reciting almost every day from our early childhood. "Itipiso baghava, Arahan, Samma – Sambudho, Vijja – charana – Sampanno, Sugatho, Loka – Vidu, Anuttaro, Purrisadhamma – Sarathi, Satta – deva – manussanan, Buddho – bhagavati. This stanza reads as follows in English. Itipiso – baghava means; for these reasons the Buddha is worthy of homage and worship. Arahan means that he has got rid of impurities or Kllesa. Samma – sambuddho means that he is fully self – enlightened. Vijja Charana – Sampanno means that he is endowed with clear vision. Sugatho means that he has good manners and habits. Loka – vidu means that he has gained full knowledge of all worlds. Anuttaro means that there is none greater than the Buddha. Purisadamma – Sarathi means that he is possessed of the highest super human powers. Satta – Devamanussanan means that he is a Teacher of both gods and men. Buddho – bhagavati means that he has realized the Four Noble Truths and rid himself of Sensuality (Raga), Hatred (Dosa) and
Delusion (Moha).

Arahan
The Buddha is called Arahan because he has got rid of all impurities or Kilesa. Accordingly, he is worthy of the four requisites of a monk namely robes (chivara), food (pindapatha) , medicine (gilana – paccaya) and shelter (senasana). His supreme quality is that he will not do any evil even in secret. It is said that out of all those who attained Arahatship he is the only Arahat who has got rid of Vasana – kilesa or the bad habits of the past.

Samma – Sambuddho
The Buddha is called Samma – Sambuddho, because he was the fully enlightened one; who knew all things rightly and by himself. What had to be known in detail; he knew in detail. What had to be known in parts and sections; he knew that too in parts and sections. What was not profitable; He either avoided or discarded. He knew what was profitable; especially how to develop the mind and attain concentration through meditation or Bhavana. Above all; he discovered the Four Noble Truths or Chaturarya – Sathya; the Noble Eightfold Path or the Arya – astangika – Marga and the five aggregates; Karma, Rebirth, Conditioned genesis (Paticca – Samuppada) , No soul (Anatta) and mindfulness (Sathipattana).

Vijja – Charana – Sampanno
Vijja – Charana – Sampanno means endowed with clear vision and virtuous conduct. Here vision is knowledge and refers to the three – fold – knowledge namely ability to recollect past lives or Pubbe – nivasanusathi;; the divine eye or Dibba – Chakkhu which includes ability to see beings appear and vanish and reappear in different sentient states, according to their Kamma. All this is capped by the understanding of the law of dependent origination or Paticca Samuppada in all its aspects.

Sugato
Sugato means sublime. Among the many unique qualities of the Buddha, there are a few which are extraordinary: His manners were pleasant, His manner of getting about was exemplary and above all he had reached the highest possible state called deathlessness or Nibbana.

Loka –Vidu
Loka – Vidu means knower of world. The Buddha knew all about the three worlds, namely; Kamaloka or Sensual planes; Rupa – Brahma – Loka or form planes and Arupi – Brahma – Loka or formless planes. He also referred to Sankhara – Loka or the world of formations; Satta – Loka or the world of beings; and Okasa - Loka or the world of location. He spoke of three kinds of feelings; pleasant, unpleasant and neutral. Also the Buddha knew of four nutriments; Ahara or physical food; Phassa or contact with the outside world; Sankhara or the mental volitions that arise upon contact and Vinnana or consciousness which keep beings tied to the wheel of existence. The Buddha knew all about the five aggregates or Panchaskhanda. The Buddha knew all about the different planetary systems or Chakkavalas. Moreover, He knew about the different spheres of existence.

Anuttaro
Anuttaro means that, there is none greater than the Buddha, or none to be compared with him. He is incomparable for he surpasses all in virtue, understanding and knowledge. For in virtue he is without peer, without his equal; and with never a double. Only another Buddha could be his equal.

Purisadhamma – Sarathi
Purisadhamma means to be tamed. Sarathi means to be guided. Accordingly, Purisadamma Sarathi means; "He tames, He guides, while He disciplines." He tames non-humans too. For him all beings; however wild; however uncontrollable ; however stubborn; they must all bend; if that be his will.

Satta Devamanussanam
Satta – Devamanussanam means the teacher of both Gods and men. Satta has a deeper meaning; the teacher of all that is to be known; of the here and now of the life to come; and the ultimate goal of human striving. It is the Buddha who brought home the caravan of men across the wilderness of birth and death; He did so like a caravan leader who brings home his caravan in safety across a robber infested wilderness; a wild beast infested wilderness; or a foodless wilderness or where there is no water for miles on end. Accordingly, the Buddha was called Satta – Devamanussanam; for he was the teacher of all gods and men; for he was the teacher of all that is to be known.

Buddho – Bhagavati
Buddho – Bhagavati is the ninth unique quality which means the Enlightened One as well as the Blessed One. The Enlightened one as well as the Blessed one. The Enlightened One had comprehended fully; of Himself and by Himself the Four Noble Truths. Everything, that had to be known, everything that can be known; he had comprehended; he had discovered. Therefore, he is Buddho; the fully Enlightened One. That is why he was called Bhagava or the Blessed One.
(The writer at one time held the position of Secretary to the President)