---
Unselfish, unruffled, Ubeypale Orugamage, gentleman extraordinary,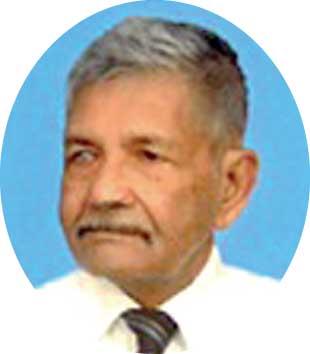 Benign lad, hailed from Baddegama, Galle, self-made man, exemplary.
Endeavoured to keep everybody happy, duty-conscious sans excitement,
Youthful Guraa, commenced career at Colombo Municipal Council, attached till retirement.
Par excellence, fulfilled duties, devoted husband, loving father, grandpa, friend, exceptional,
Alma mater, Wanduramba Central, excelled at studies and sports, all-rounder, punctual.
Large family, eight siblings, three girls, five boys, second on line, never lost temper,
Extremely devout, Buddhist parents, lived in luxury, yet simple of rare calibre.
Generous Guraa, ranked class one, clerical officer, epitome of sincerity,
Unbowed, unafraid till demise, righteous social worker, unquestionable integrity.
Ruggerite, indispensable in college team, loyal athlete, trustworthy,
Ubeypale's wedlock with Indra, ideal mate, almost half a century.
Guraa fortunate gifted with two pleasant daughters-in-law Rumaali and Geethika,
As pillars of strength, blessed with two sons, Executive Officers, Gaurika and Dinuka.
Marital happiness with dedicated wife Indra, loving duo, residing in Kottawa,
Among associates wherever present, prominent figure Guraa.
Guiding star, sterling qualities, fruitful life, smooth lucid plan,
Eight long decades and nine healthy years well past biblical span.
Octogenarian, significant milestone in life, passed away peacefully,
Fondly remembered, sadly missed, beacon of light to family successfully.
By virtue of sky, high meritorious deeds, accumulated path to Nirwana be paved,
Ailing for a brief period, breathed your last calmly, may your wishes be granted.
Dearest Guraa, our family, friend, may whatever you desired in Samsara be acquired pleasingly,
Departure, lacuna created, irreplaceable lost to four admirable grand ones, sad, surprisingly.
Embodiment of truthfulness, the fragrance will linger for many generations,
Guraa eschewed publicity, executed temple duties with lavish donations.
Amicable amigo, reminiscences too many to recall down memory lane of Guraa and Indra,
May your journey in Samsara be swift and short till you attain the Supreme bliss Nirwana.
At this grief-stricken moment I extend my deepest sympathy to all bereaved family members.
Kumari Kumarasinghe Tennakoon,
Kelaniya