---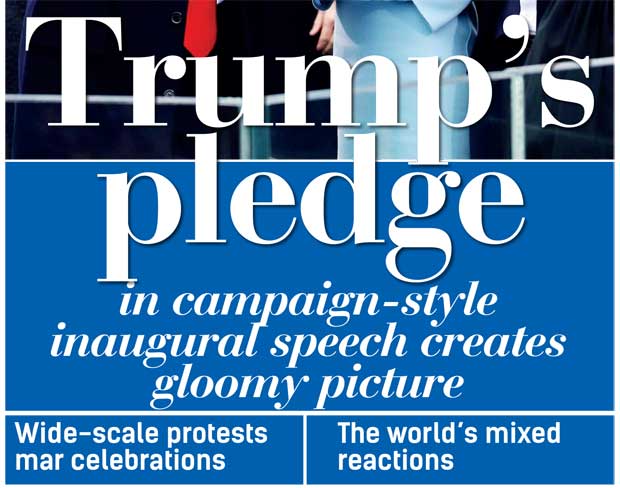 The weekend saw the United States of America enter a new phase in history. Thirteen minutes before noon on Friday, January 20, 2017, Donald Trump was sworn in as the 45th President of the United States as the US Supreme Court Chief Justice, John Roberts Jr. administered the oath at the country's 58th inaugural ceremony on the steps of Capitol Hill.
Protesters walk during the Women's March on Washington, with the U.S. Capitol in the background, on January 21, 2017 in Washington, D.C.
Most of the world watched
Just two and a half months ago, having been literally been on his intense US Presidential campaign trail, we observed at close range- especially at the Concord political meeting- how he aimed straight at those who lost jobs in the Industrial zone with his rhetoric on the doom and gloom of America. That gathered speed, breaking even on the opinion polls with just days to go for the election. He raced on the last lap to an astonishing finish that had us in the media in a twirl. The results showed the strategy won.

Most of the world was stunned
At the historic power transfer ceremony, Republican Senator Roy Blunt quoted Thomas Jefferson and Abraham Lincoln about national unity, reminding the crowd the event was "not a celebration of victory, but a celebration of democracy." A week before a Gallup found just 44% of those questioned approved of the way the incoming President had handled his transition, compared with 83% approval for Barack Obama's transition. 61% approved of Bush's transition.
President Trump takes over power at a time when the country appears to be deeply divided. He enters the presidency with historically low approval ratings. According to a new Washington Post ABC News poll, he takes office as the least popular President in 40 years. Forty percent of Americans view Trump favourably, which is 21 points lower than the rating with which Obama will leave office.

Most of the world observed
The three days scheduled for celebrations in Washington DC kicked off on the January 19 with the wreath-laying ceremony at Arlington National ceremony where Trump and Vice President elect Mike Pence honoured the country's veterans at the US military cemetery in Arlington, Virginia. This was followed by the first inaugural event that included a concert and rally, with popular Trump slogan, Make America Great again – a welcome celebration at the Lincoln Memorial.

The Speech…
The events that unfolded during the celebrations from the Arlington cemetery to the parade down Pennsylvania and the evening balls expected to unfold with pomp and pageantry, were described to be less glittery than on previous inaugurations. However it was the Inaugural speech that was the main focus of attention.

Most of the world listened.
His address was totally consistent with his campaign rhetoric, where he painted a very dark picture of a suffering American people and an America where the Washington Establishment had created a land of lost jobs and struggling families. "Mothers and children trapped in poverty in our inner cities", "rusted out factories scattered like tombstones across the landscape of our nation", "an education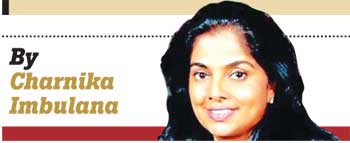 system that is flushed with cash but leaves our young and beautiful students deprived of all knowledge", "and the crime!" he emphasized, "and the gangs and the drugs, that have stolen too many lives and robbed our country of so much unrealized potential."
"This American carnage stops right here and stops right now." he gushed. "For too long, a small group in our nation's capital has reaped the rewards of government while the people have borne the cost," he said. "Politicians prospered – but the jobs left and the factories closed. The establishment protected itself, but not the citizens of our country."
He pledged a greater America, "the time for empty talk is over, now arrives the hour of action". Trump reiterated campaign pledges to completely eradicate "radical Islamic terrorism" from the face of the earth and vowed to bring power back to the people.
The real estate mogul and reality TV star turned politician, now the President of the United States, said his vision was of "America first". It is clear, after the inauguration speech, that President Trump intends to govern as he campaigned.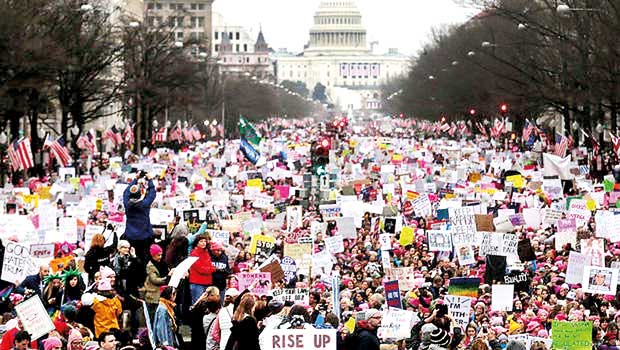 Trump is reported to have had tweeted previously that he began drafting the speech three weeks ago. He had been receiving advice and counsel from advisors such as his campaign speech writer Stephen Miller as well as from historians, especially regarding the length of his speech. Incoming Press Secretary Sean Spicer is reported to have said the words were fully Trump's. That certainly rings true, it is unlikely anyone would doubt that.
In his inaugural address, he further promised to be the voice of the "forgotten people", ignored by Washington politicians.Today, he said was "the day the people became rulers of this nation again"."I will fight for you with every breath left in my body and I will never ever let you down," said President Trump."America will start winning again, winning like never before." "We will bring back our jobs, bring back our borders, bring back our wealth and we will bring back our dreams." Some analysts feel he let America down with his description of a broken country before he could even begin his administration.
Outgoing President Barack Obama and wife Michelle, together with Presidential candidate Hilary Clinton and former Presidents Bill Clinton, Jimmy Carter, George W. Bush and his wife Laura were in attendance. The absentees were 92-year-old George Bush Senior, who is in hospital being treated for respiratory problems, and his wife Barbara.
Inaugurations, like campaigns are mostly talk, but governing is judged through results.
Trump's swearing-in gives Republicans control of both the White House and Congress for the first time since 2006. However, more than 50 House Democrats had refused to attend the ceremony in protest.

Widespread protests….
Just as it was during his controversy-riddled campaign and following his win, the inauguration was held amidst widespread protests and incidents of violence. Police arrested 217 people protesting against the inauguration and six officers suffered minor injuries, according to the Washington DC Police Department. Many were apprehended for "vandalism and destruction of property", police reports revealed.
Earlier, about 150 protesters dressed in black marched through Washington, smashing windows and rolling rubbish bins into the street to form blockades. The Women's March took place in Washington on Saturday, for racial and gender equality and other issues perceived to be under threat from Mr. Trump's administration. Similar protests took place in various parts of the world.

First Official Actions…
Shortly after the ceremony, President Trump was seen signing his first official documents as the 45th President. He also signed into law a waiver allowing retired Marine General James Mattis, his pick for Defence Secretary, to fill the post. The Senate has voted overwhelmingly to approve retired Marine General John Kelly as his Secretary of Homeland Security. The change of hands was reflected on the White House website, in which Mr. Obama's policies were replaced with President Trump's new agenda.
The Trump administration has only listed 6 issues on the website: energy, foreign policy, jobs and growth, military, law enforcement and trade deals but there was no mention of civil rights, LGBT rights, healthcare or climate change.
He sent his Cabinet nominations to the Senate as well as a signed a proclamation for a national day of patriotism, according to Press Secretary Sean Spicer. He also signed his first executive order as President, ordering federal agencies to ease the regulatory burdens associated with Barack Obama's healthcare laws, known as Obamacare, as the US Congress determines how to repeal and replace them.

The world reacts….
The transfer of power prompted many messages for the newly sworn in President from dignitaries and people around the globe, who weighed in on US President Donald Trump's inauguration on Friday, anticipating how his policies would play out on the international stage. The messages ranged from congratulatory to not so much.
Pope Francis said he was praying Mr. Trump's decisions would be guided by the "rich spiritual and ethical values" that have shaped America's history." At a time when our human family is beset by grave humanitarian crises demanding far-sighted and united political responses, "under your leadership, may America's stature continue to be measured above all by its concern for the poor, the outcast and those in need" he added.
British Foreign Secretary Boris Johnson also offered his wishes and the Canadian Prime Minister said he looked forward to restoring "prosperity to the middle class on both sides of the border"."Аfter Mr. Trump's inauguration, his meeting with President Putin will be the most important event in world politics. A defining moment in history," tweeted Alexei Pushkov, an outspoken Russian senator and former chairman of the Parliamentary Foreign Relations Committee.
About 200 people were reported to have marched on Friday against Trump in the Philippines' capital, Manila. Demonstrators burned a mock paper US flag before setting alight an actual one. Chants included: "US troops out now!"
People also held signs with messages such as "Donald Trump, pull out US troops in the Philippines".
Earlier in the day, a UK-based protest group used signs and bridges across the country to convey a less celebratory message. Huge banner reading "Bridges Not Walls" on the iconic Tower Bridge over London's River Thames on Friday morning was one of more than 150 such strips that the group planned to display on bridges across the country. "Fight Trump. "Resist fascism and imperialism" was the message on banners or signs displayed on some of London's other bridges, including Waterloo and Blackfriars Bridge.

Mexico's President, Enrique Peña Nieto congratulated the new leader and expressed a desire to strengthen the relationship between the countries. However, Former President Vicente Fox an outspoken critic of Trump's pledged to have Mexico pay for a border wall, tweeted: "Speaking of allegiance, Trump? Speaking of greatness? America was already great and successful, then you happened!"
Outspoken Mexican Sen. Armando Rios Piter said "happiness is a good thing to work on and Mexico and the United States should be working in that way, not in the way Donald Trump has been talking about". Protesters calling Trump a fascist, racist and xenophobe gathered at the roundabout marked by Mexico's Angel of Independence carrying signs that said "Make America human again" and "Love trumps hate". Protesters chanted "Get out Trump."
Israel's Prime Minister Benjamin Netanyahu tweeted "Congrats to my friend President Trump. Look fwd to working closely with you to make the alliance between Israel & USA stronger than ever." His relationship with President Obama is reported to have deteriorated rapidly in its final weeks.
Chinese Foreign Ministry spokeswoman Hua Chunying spoke on constructive bilateral relations between the two countries to "propel further development of China-US ties at a new staring point. "We would like to join hands with the new US administration to uphold the principles of non-confrontation, non-conflict, mutual respect and win-win cooperation," Chunying said, at the beginning of a contentious bilateral relationship between the world's two largest economies, with Trump having vowed to renegotiate trade agreements and propose imposing tariffs on Chinese imports.
In his inaugural address when he said "we must protect our borders from the ravages of other countries making our products, stealing our companies and destroying our jobs," was a hint to China.
The main concern on the minds of many in attendance was the future of the nuclear agreement among Iran, the US and other nations, aimed at curbing Iran's nuclear ambitions in return for sanctions relief.
Trump has called the agreement a bad deal and said he wants to renegotiate it. Iran's government has rejected the idea and Iranian President Hassan Rouhani has insisted that one man cannot repeal the deal or change its terms.
Prime Minister Shinzo Abe on Friday extended his "heartfelt congratulations" to Trump. Abe was the first Asian leader to congratulate him after the election win.
"Looking forward to working with President @realDonaldTrump to further deepen India-US ties and realise the full potential of our cooperation," Prime Minister Narendra Modi tweeted, soon after the inauguration.

Messages from Sri Lanka…
Meanwhile,"Congratulations on your inauguration as the 45th @POTUS. Looking forward to working with you to strengthen the US-#SriLanka partnership," President Sirisena tweeted. Last month saw new US Vice President Mike Pence telephone President Sirisena and had spoken on further strengthening US-Sri Lanka relations, maritime security and disaster management under President –Elect, Donald Trump. President Sirisena was assured of a meeting soon.
Last November, President Sirisena said he hoped Trump would grant Sri Lanka redress by not pursuing human rights accountability charges against the country. The UN Human Rights Council (UNHRC) in Geneva has adopted three anti-Sri Lanka successive resolutions against Sri Lanka between 2012 and 2014, with the US taking the lead for which the Obama Administration was seen to adopt a softer line on Sri Lanka since President Sirisena took office in 2015. In Sri Lanka too, while Trump was being inaugurated as the US President, a small but vociferous group gathered outside the US embassy, carrying placards and chanting slogans denouncing Trump's comments on issues including the environment, war and immigrants. Siritunga Jayasuriya, leader of the United Socialist Party, explained, "We are showing our solidarity with people throughout the world taking part in protests against President-elect Trump,"
However, one of Sri Lanka's Buddhist organisations placed a full-page newspaper advertisement wishing him long life!



Watch the future…
This won't be the first time the world reacts to Donald Trump and it will not be the last.
After more than a year of turbulent campaigning, 26 primary and General Election debates and countless press conferences, attack adds victory speeches, public apologies and early morning twitter rants…Trump won the election and has squarely landed in the White House. So this was his day. The stage was his and the country he had sought to command would be his, at last. Governing however will be judged by results. The United States of America stands politically a deeply divided nation and two words constantly used by analysts to describe the way forward are unpredictable and uncertain, yet there is optimism that the change will be for the good. Trump defied all polls and analysts and took the world by storm in his unprecedented win of the Presidency.
The question remains whether he will do the same with his four year presidency.
The world will now have to continue to watch.