---
I was only 10 years old when I first started sailing. As a young boy, I watched the Sunday sailing races at the Ceylon Motor Yacht Club on Bolgoda Lake. I soon learnt that Uncle Jeremy was one of the best sailors at the club. Not just his sailing skills, but his friendly personality and willingness to help us beginners was outstanding. He loved single-handed sailing even in strong winds, and enjoyed doing crazy stuff like sailing his boat backwards and without a rudder. He simply loved sailing!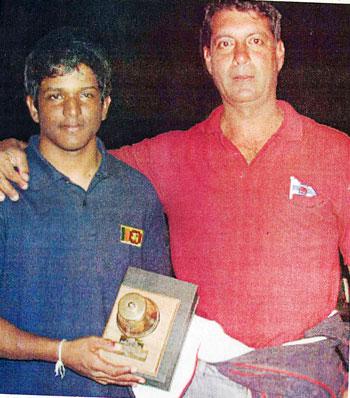 He was always happy to share his knowledge, always in the friendliest, most fun-loving sort of way. Although he was 30 years senior to me, he was always a teenager at heart, always smiling, and able to interact with any age group.

At the age of 16, I was encouraged by Uncle Duncan to participate in the GP14 Worlds at Abersoch, Wales. This was too tempting to refuse, besides which I always love a challenge! As I needed an experienced crew, I asked Uncle Jeremy whether he would like to team up with me. The answer was an unhesitating "Yes!" He was happy to yield the helm to a much younger sailor. We both concentrated on our fitness, but unfortunately never had the opportunity to do sea-sailing practice though we did have few practice sessions at Bolgoda.

The weather conditions in Abersoch were totally unexpected. Although it was the height of summer, we found the August weather in Wales terribly cold. Sailing for the first time in the Atlantic Ocean was truly an experience. We raced in a fleet of 106 boats and were placed 31st overall. I was delighted to be placed first among the youth helms, winning the GP14 Youth class trophy. I could not have wished for a better crew than Uncle Jeremy! Shortly thereafter, we teamed up again and emerged victorious at the Shackle Trophy and RCYC TRINCO Blu Regatta, which we took very seriously though it was a lot easier than Abersoch.

Uncle Jeremy, you always said "Enjoy while you are young." We will always remember you: the smile on your face will never fade from our memories!
Devin Goonewardena