---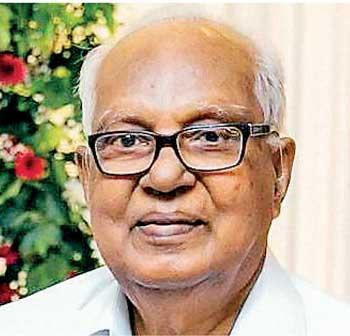 Dr Neville Fernando,Maama,Aiya , Seeya or Uncle to diverse family members, left on his onward journey leaving his family in shock and grief, as Covid 19 took him completely unexpectedly. Even at 89, he was planning to make his next big dream come true. As the elder statesman in our large family circle, he was adored by one and all due to his magnanimous and loving nature.

His smile spoke a thousand words. He was the 'go-to' person for many members of the family for sound and genuine advice because he was a man who was able to be happy seeing the happiness of others. All these qualities and more simply make him a wonderful human being, beyond all else!

Neville Uncle and Swarna Aunty for me were an exemplary couple, who apparently had a roaring love affair before they tied the knot, juicy details of which we used to hear as kids from my mother and grandmother, who had supposedly supported their romance discreetly!

While there are many kudos and achievements credited to him, for me, he embodied the true essence of being a wonderful family man. His life's partner of 65 years, Swarna Aunty, will vouch for this while constantly complaining that he was a 'stubborn man'!

I would call this trait 'fearless and gutsy' and loved this fighting spirit he embodied in the face of injustice and adversity. Needless to say, he was a force to reckon with even as a husband, a father and a grandfather, because his zest for life I believe was incomprehensible to many.

As a doctor who served the rich and poor alike in Panadura for many years was sought after by his patients clearly for his well-known athgune (healing hands). I believe this is where he earned his loyal fan base to venture into politics.

Panadura was richer for the innumerable services he rendered as a Member of Parliament; a position he secured by obtaining a landslide victory against the formidable Leftist politician, Mr Leslie Gunawardene, who represented Panadura in Parliament for decades.
This was a landmark victory for the UNP in 1977. As the MP, Dr Fernando lost no time in using his political clout to provide to the people of Panadura what we treasure to date.
Dr Neville Fernando was one fearless and principled man who stood up to the inimitable President Jayewardene, by opposing JR's proposed motion to take away Mrs Bandaranayake's Civic Rights as he never wanted to compromise on his basic human values for politics

Amongst many fetes he achieved for us in Panadura, establishing the much sought after Kethumathi Maternity Hospital; the only one of its kind outside of Colombo, helping Sri Sumangala Girls' school's expansion programme by adding the Swarnagiriya mansion to its school complex, starting an Industrial Zone in Modarawila in Panadura, where thousands of youth have found employment to date, starting Agamathi Girls' School and Janaadhipathi Boy's School, as alternates to the Sri Sumangala Girls' and Boys' schools, self-funding the Sri Saugatha Vidyala Pirivena building at Rankoth Viharaya Temple are a few of the noteworthy contributions he provided his hometown, Panadura, as a representative of the people of this coastal town.
As a proud Old Boy of Sri Sumangala College, he had the foresight to donate the first computer lab twenty-five years ago and provide two acres of additional land to expand the school, which is spoken with gratitude by the students of his Alma Mater even to date. He gave magnanimously and honourably, with no expectation in return.
Dr Neville Fernando was one fearless and principled man who stood up to the inimitable President Jayewardene, by opposing JR's proposed motion to take away Mrs Bandaranayake's Civic Rights as he never wanted to compromise on his basic human values for politics.

Sadly though, this is a man our society later crucified as a traitor and a businessman who was a political schemer. None of which is true. I was amused to see his Facebook account which I visited today, where he had shared all the brickbats thrown at him by media and social media. He was blasé to all this as he knew that he did what he did with a clear conscience and a vision for the country, even though the misinterpretation of it all was politically and professionally motivated.
He was maverick par excellence, an entrepreneur extraordinaire and an astute businessman to boot, with foresight that is not too common today.

As one of the pioneers in the hospitality industry, he built Hotel Swanee (aptly combining the two names Swarnamalee and Neville!). Decades ago, he started JF&I, one of the most modern printing presses the country has. With Fernwood, he pioneered a porcelain export company and in later years purchased Asha Hospital, which he sold to build Asha Central; a better hospital with a convalescent care facility.
He subsequently exchanged this dream for a bigger vision for the country by starting the SAITM Private University. When the government went back on their word to provide a hospital for clinicals for SAITM Medical College, he built the Neville Fernando Teaching Hospital.

Ironically, this 'one thousand bed' hospital in Malabe which was taken over by the government and now houses Corona patients, was his largest investment and was planned to be a gift to the country once he was no more.
These were all passion projects visioned by him, which culminated with SAITM. This gave him both immense pride and a lot of pain. However, after he was socially and politically crushed due to SAITM, he started a small 'bakery' to keep himself occupied! I was amused when he shared this idea one day with me and chuckled like a child saying "I will make it better than the Salgado Bakery!" That's Neville Uncle for me.
At 89, he was an avid Facebook warrior and used to keep abreast of what was going on in the Social Media space and would never miss an opportunity to share a post if he thought it would interest me. He was always interested in being in the know of others' wellbeing.

Writing about this unique human being cannot be limited to a few words. His life is an epic story with mega dreams, that unfolded over eight decades.

I hope someday, somebody will do justice to Dr Neville Fernando, by writing his True Story, as he was mostly misunderstood and misinterpreted by those who had small minds and a tunnel vision for this country.
May your journey in Samsara be a short one, Neville Uncle. Until then, make heaven a better place for the others there with you, just like you did on this earth for a lot of us!

-Sandya Salgado