---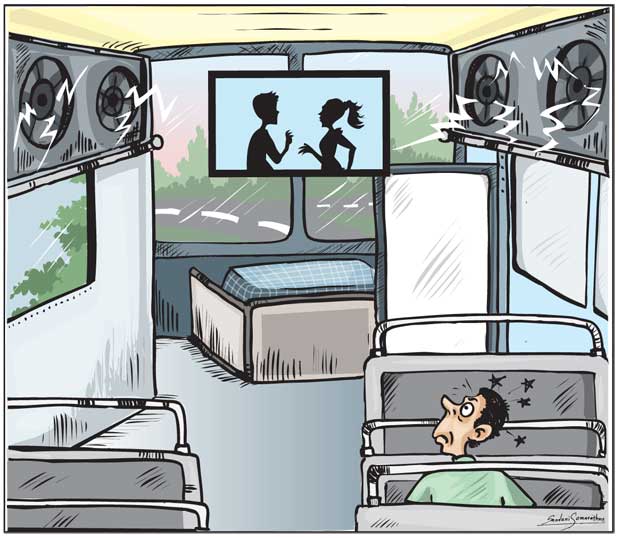 When commuting in a bus jam-packed with hundreds of passengers smelling of sweat and struggling to maintain their balance, what tests our patience more than these inconveniences is the deafening music that blares from the vehicle's stereo set-up. The question posed by many annoyed commuters is 'who needs this music?' Conductors or the bus drivers are sure to enjoy the music played for their entertainment. But such music rarely comes close to what passengers might wish to listen to when travelling by public transport.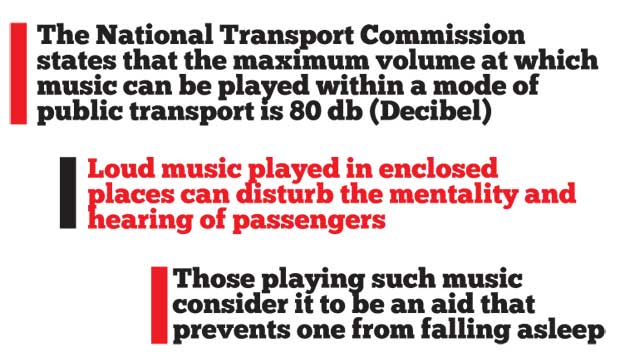 Any passenger travelling in a bus has experienced at least once such annoying music. People listen to music for pure enjoyment and to relax. If music played within a bus is disturbing, it indicates in no uncertain terms that someone has stepped over the line. There are songs from the past that can soothe the listener, regardless of the place and the mentality the listener is in. Some of those golden oldies are still played only in a handful of buses in Sri Lanka. The music played in buses at present-which borders on noise rather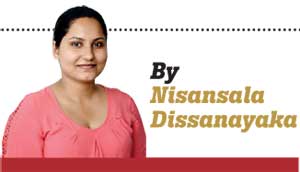 than the sound produced by a combination of vocal and instruments- shows the poor taste for music of bus drivers and conductors.
The National Transport Commission states that the maximum volume at which music can be played within a mode of public transport is 80 db (Decibel). Then it's questionable how buses (especially the ones travelling long distances) install Hi-Fi buffels within a bus. Often these buffels are installed in many places within the bus which goes on to tell how deafening the music can be inside such vehicles.
When such blaring music is played, commuters can hardly converse. Such music has the potential to trigger a heart attack in a person who has a defective heart. How unhealthy is such music to passengers? The Daily Mirror spoke to medical experts and accomplished individuals in the field of music to obtain their views on the subject.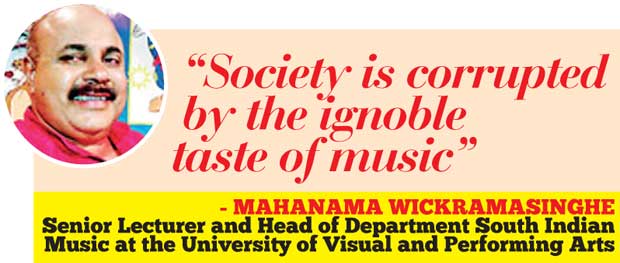 There are no standards related to the human mentality and hearing with regard to public transport. It has been scientifically proven that when sounds reach a figure above a certain decibel they can cause damage to the human ear. Deafening, senseless and distasteful songs played within modes of public transport distort the minds of passengers. Whatever the passengers' mentality, they are forced to keep listening to the audible junk while travelling in private buses or three wheelers (tuk tuks). Hence passengers are subject to stress as a result of the repugnant songs. Most of these songs aren't welcome at any electronic media channel. Some of these songs are played on buses plying on the popular Matara-Colombo Highway. According to a survey done by undergraduates such songs are demanded by passengers commuting on buses on this popular highway. Most bus drivers and conductors are innocent and are lured to do so by promoters of such songs in return for benefits. There have also been occasions when drivers prefer such loud music because it keeps them awake during long journeys. Inadequate sleep is a health issue that has to be dealt with separately. Playing loud music and disturbing the peace of commuters certainly isn't the solution for this issue.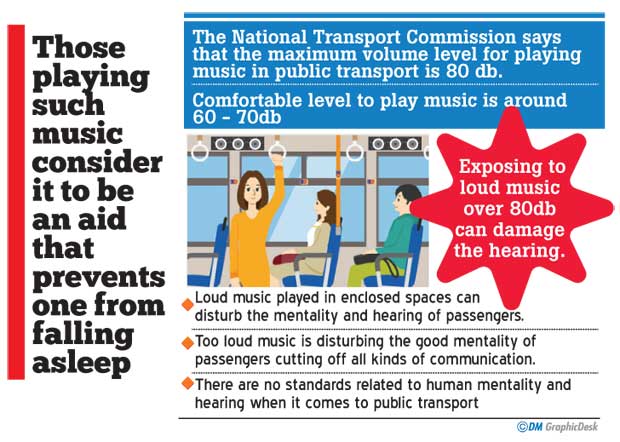 "The present generation of children is exposed to such blaring music at home and when using public transport, hence it's a challenge trying to familiarize such individuals to have a taste for classical music. Such efforts are taken during school hours. A large section of the society has been made corrupt by the ignoble taste for music. The rivalries that exist among private radio and television channels have also contributed to this social problem.
"We too attended musical concerts during our childhood, but the experience was totally different compared to today. We could enjoy the melodious music and meaningful lyrics. Even the Baila songs had a depth and the singers and the bands were more disciplined.
"The chaos caused due to the present trend in music is partially a result of subjects like literature and history being removed from the school syllabus. This has promoted a degrading taste for music, something which has caught up in popularity. Decision makers in the country should never count the heads present at a musical show while taking decisions related to culture," Wickramasinghe stressed.
Commenting on the music played in buses he added, "Any music played within a mode of public transport has to conform to the specifications regarding the length and width of the vehicles. This is with regard to the sound that can be borne. This issue demands government to be involved and the public must stand up against this public nuisance.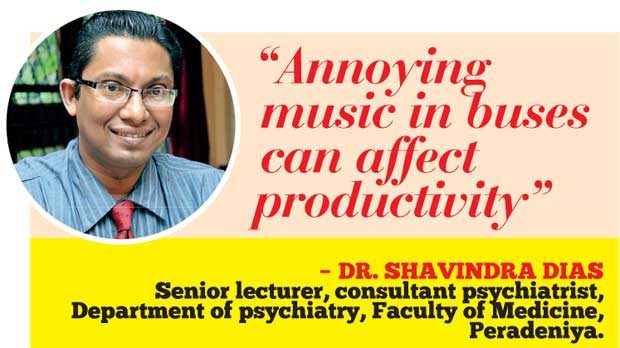 The annoying music played in buses, in the morning, can affect a person's productivity at his or her workplace. If smoking is prohibited in selected areas in public places, the public will oppose if someone smokes. But nobody is interested in taking action against the mental abuse caused by bus drivers or the conductors using loud music. Loud music disturbs the sound mentality of passengers and hinders communication.
"Long distance buses travel while playing extremely loud music. Those playing such music consider it to be an aid that prevents one from falling asleep. Yet they have conveniently forgotten the rights of the passengers. In Sri Lanka the rights of passengers are simply disregarded. Passengers have to simply bear such an inconvenience. In countries like England, it's prohibited to play music in buses. In such countries earphones producing too-loud music is treated as a contravene.
This is how other countries are protecting the rights of commuters. It has been proven that words, and how they are pronounced, can influence humans in a good or bad way," said Dr. Dias.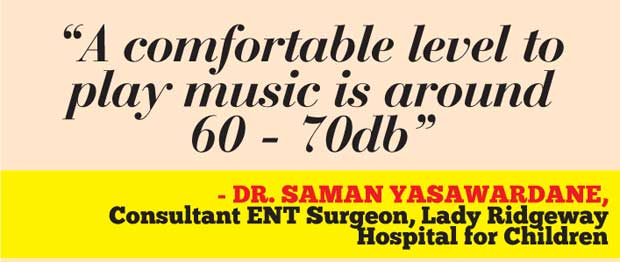 Loud music played in enclosed places can disturb the mentality and hearing of passengers. The comfortable level to play music is around 60-70db. Playing loud music, which is over 80db, can damage hearing. When exposed to very loud music daily for prolonged periods, it can permanently damage hearing. Some passengers insert plugs to their own ears to block messy music. To do this they increase the volume of the music of their choice, which causes more harm in the process."
Dr. Yasawardane suggested measuring the level of volume using apps to figure out whether the levels are just right or exceed healthy limits. He also reminded people that ones' capacity to hear can be tested by undergoing an Audiogram test.