---
It is hard for me to make sense of the loss of my aunt, my "Loku Nanda," Dr. Thilokasundari Kariyawasam in terms of what she achieved and how she lived her life. Indeed, there are certain truths about her most people would agree upon. She was a formidable lady, an expert in her field of educational psychology, and that of her intellect, her determination and drive saw her advance from a school teacher to the Director General of National Institute of Education.
Most will acknowledge that she helped a thousand people. She authored dozens of books, hundreds of articles, numerous radio and television interviews, and made a countless number of speeches at events. She was able to manage all this while being a wife, mother, sister, cousin, friend, an aunt and a grandmother, radiating inspiration.

It is important to state that Loku Nanda was a constant presence in our lives. She was steadfast, strong, loving, kind and generous to a fault. Her home, her personality, became an eternal core to our lives.

My Loku Nanda was the eldest girl in a family of seven. She was unique from the start as she was named Thilokasundari. The name of a queen of Sri Lanka. A name denoting the aspiration of two school teachers who later became principals had for their daughters.
It is important to have the drive and determination to succeed, but it must be coupled with compassion and kindness

Our grandparents hailed from Gampaha. They wanted their children to study well. So they left Gampaha to reside in Punchi Borella. The boys attended Ananda and the daughters Visakha and subsequently Peradeniya University.

Loku Nanda had achieved a number of firsts, becoming a principal at the age of 29 to go abroad and obtain a doctorate. These achievements themselves are astounding at a time when women were expected to remain as housewives. While most people try to get the best of the minutes in a day, she managed to balance marriage, motherhood and her job and still had time for creativity. A prolific writer, her books on early childhood education, Buddhism, psychology and children's novels reflected the complexity of her interests. The admired photographs of her family and the numerous awards received for her work were given pride of place on top of her China-cabinet. What I wish to emphasize is that I loved her and will continue to do so. I adore my Loku Nanda being the daughter of her 'Panditha' malli, Prof. Wanasinghe. She and my father were very close from childhood. In fact, they were best friends.

My earliest memory of Loku Nanda was her compassionate, gentle and twinkling-eyed smile. That was on a trip to Yala, one which most likely she organised. I recall Loku Nanda had a number of sayings, the most persistent was "lack of communication" during trips. She was a stickler for schedule.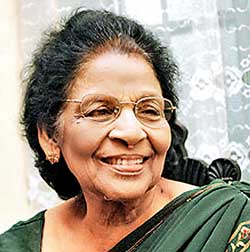 What needs to be highlighted in this brief note is that despite all her accomplishments, she was not a dimensional person. She joined all her brothers and sisters to sew and cook anything, from 'Pol Sambol' to 'Biryani.' She had a photographic memory which she made good use of. Her jokes were many and her laughter was rich. I recall her singing songs from the 1950s and 1960s together with her sisters, brothers and in-laws. She lived her life in Colombo but was a village girl at heart, from the food she loved to her understanding of the challenges faced by ordinary people. I recall during 1987 to 1990, when shops were closed and people frightened, Loku Mama welcomed visitors with a table laden with food and kindness. Once, a couple who had come from afar to visit a relative at the General Hospital came to see her. While entertaining them, she gently inquired about the well-being and needs of the hospitalised patient. The couple left after meals with a packet of milk and sugar for their relative at the hospital. She was that kind of person.
She was steadfast, strong, loving, kind and generous to a fault. Her home, her personality, became an eternal core to our lives

She became more remarkable with three wonderful children – Vidya, Haran and Miuru, who themselves made her proud with their achievements. Her work ethics were exemplary. She would wake up at 5.00 a.m. and write articles, or even an editorial. But the most significant thing I learnt was that while it is important to have the drive and determination to succeed, it must be coupled with compassion and kindness. She wanted all of us to nurture our natural abilities instead of becoming someone we were not. She always encouraged us – her children, grandchildren, nieces, nephews and their children – to be united as a family unit. She was proud of our achievements and was equally upset if any tragedy befell them. She remained as a rock, strong enough to carry victory and defeat.
These memories, which made Loku Nanda so wonderful, will remain forever.

By Maneesha S. Wanasinghe – Pasquel
(PhD George Mason, USA, MA, Notre Dame, USA)
Head, Department of International Relations,
Colombo University