---
The Cumaratunga Munidasa Sisuvarama, organised by the Cumaratunga Munidasa Foundation, was held for the sixth consecutive time on July 25 (Tuesday) at the Lakshman Kadirgamar Centre in Colombo.
Poetry strikes us in roughly the same way that the movies strike the Americans. In both instances, we are so overwhelmed by the first time we heard or saw them; which American can't think of their archetypal saviour, the cowboy, without remembering the films of John Ford (The Searchers), and which Sri Lankan can't think of the rabbit, probably the most cartoonish animal out there, without thinking of Cumaratunga Munidasa's "Ha Ha Hari Hawa" and the many renditions of it?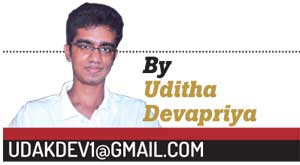 The great achievement of a movie, I think, is the great achievement of a poem; both take us back to those triumphs, defeats, broken hearts, and so much more besides that we had undergone when we first encountered them. A film is like a language, after all; it's built, sustained, sometimes even improved on through nostalgia. But nostalgia alone isn't enough. What is needed, now more than ever before, is a set of discerning people to transform that nostalgia into a living, breathing entity. The Sinhala language is a case in point. It nourishes us, and then appeals to us to perpetuate it.
I know, have talked with, and have conceded to those doomsday prophets (whose numbers are increasing, disturbingly) who predict the end of the Sinhala language as we know it. Underlying their prediction are certain irrefutable facts, prime among them being the virtual erasure of its spoken/written dichotomy by popular culture.
It's one of the greatest ironies of our time, but when mass media (journalism, advertising, television) discovered our mother tongue, it wasn't liberated. It was stunted. Rather badly. Probably that's why it's hard to come across young poets writing in Sinhala, not because they don't have the ideas but because they don't read. It's a contemporary dilemma, since by refusing to read, they refuse to take forward what underpins all those poems which nourished their childhoods.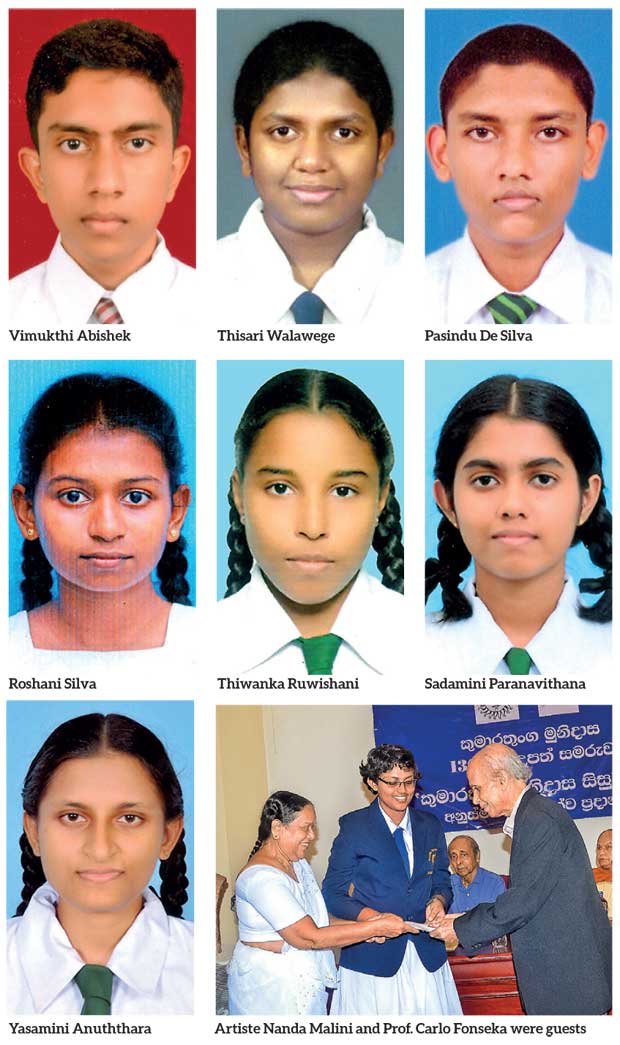 For that reason, a scholarship program aimed at recognising academic achievement in Sinhala has to take note of certain realities. Firstly, not every student who achieves distinctions in that subject actually continues to "study" it. More often than not, these students are compelled to take to another subject once they reach their A Levels (with science and commerce being the preferred options). Secondly, the scholarship as such, while monetary at the outset, must aim for more than the usual incentives such schemes are built on, not least because a language can't be limited to academia and is probably the only subject that lives and breathes on its own outside academia.
In 2012 the Cumaratunga Munidasa Foundation began one such program. That year was special; it marked the 125th birth anniversary of the Foundation's figurehead. Together with the National Savings Bank and Ada Derana, each winner was given a monthly bursary of 1,000 rupees, a 100,000 rupee bank deposit, and a laptop. Named Sisuvarama, the program was unique for one reason. It targeted the Ordinary Level exams, knowing that not all high achievers at that stage in their education follow it up as the years pass by. The organisers of Sisuvarama were spot on there, since almost all the scholarship winners have subsequently moved into other harder subjects.
That was five years back. Five years later, more specifically two weeks ago (July 25) at the Lakshman Kadirgamar Centre in Colombo, the Foundation held its scholarship ceremony for the sixth time, in commemoration of Cumaratunga Munidasa's 130th birth anniversary. It was an ill-chosen day: the petrol strike was on. Such a mundane issue, however, couldn't overwhelm what I took from this Sisuvarama.
"The problem with the contemporary world is that it separates the academic from the social. We are goaded into categorising the likes of Cumaratunga as writers, poets, forgetting that they were less the intellectuals they are cut out to be"

The stories behind this year's winners merit mention here. Of the seven, three come from Galle, two from Panadura, one from Minuwangoda, and one from Colombo. The three winners from Galle (Sandamini Paranavithana, Thiwanka Ruvishani, and Yasamini Anuththara) all attended Sanghamitta Balika, and all three come from backgrounds which, while certainly not cosmetic or extravagant, nurtured their love to read and to write. Roshani Dhanushika (from President's College, Minuwangoda) took an interest in the subject after she began to be taught by capable teachers from Grade Eight. Pasindu Buwaneka de Silva (from Isipathana College), had to write his paper while recovering from dengue at the Infectious Diseases Hospital in Angoda. Vimukthi Abhishek (from Nalanda College) started entering essay competitions from Grade Three, while Thisari Walawage entered her present school (Visakha Vidyalaya) from the Grade Five scholarship and studied in the English medium thereafter.

Of the people who spoke that day, Professor Wimal Dissanayake struck me the most. In the space of half an hour, Professor Dissanayake dwelt on an otherwise hackneyed topic: the place for modernity in tradition. Mercifully, he wasn't concerned about bringing modernity to tradition, rather the other way around and that by delving into how the man at the centre of the event ensured that we did not forget who we were while engaging with the rest of the world. "Aluth aluth da nothanana jaathin lova nonagi," Victor Ratnayake quoted Cumaratunga Munidasa for me as he lamented how today's composers have forgotten the past. What's true for our composers is true for those who will wield our mother
tongue tomorrow.
The problem with the contemporary world is that it separates the academic from the social. We are goaded into categorising the likes of Cumaratunga as writers, poets, or the more derogatory deshiya buddhimathun, forgetting that they were less the intellectuals they are cut out to be than the national revivalists they actually were. "Reading 'Kumara Gee', I cannot help but conclude that Cumaratunga Munidasa, much as he loved the language of the Sinhalese, loved it less than he loved his nation and his people," Malinda Seneviratne wrote, and I agree. To me, and to my countrymen, his legacy can't be rationalised by linguistics or semantics or sociology. He was more, much more, than anything those terms can ever convey.

When Nanda Malini resurrected not just Cumaratunga but also Tibet S. Mahinda and Wimalaratne Gamage in her collection Handahami, she gave out some of the most memorable lyrics we had heard as children. I could feel a thin film of tears across my eyes as she sang "Ha Ha Hari Hawa", that romantic tribute to the rabbit which Titus Thotawatte took as the title song of his version of Bugs Bunny. The film opened up when I realised that Titus had been an ardent follower of Cumaratunga; as a member of the Hela Havula, he was the first in our cinema who tried to do away with those Sanskrit impurities his guru had strived to erase. It opened up even more when I remembered that my childhood had been adorned by a popular culture (including Dosthara Honda Hitha) which stood for what my country spoke, in one voice. That voice went back to one person, one name. The connection was hard not to make.
That is why Sisuvarama is so important to me, to my country, to everyone interested in Sinhala. A language, by its definition, sweeps across demographics and social barriers. It survives despite them because it's a living, breathing entity. But I am upset by how we tend to our own language less and less, particularly those of us who are entranced by modernity and the modernist discourse on nationality.

The fact is that we don't read our own books, our own stories. The fact is that we market our "aptitude" for our language without nourishing ourselves in our literature. By forgetting grammar and syntax, artists dabbling in Sinhala today are doing a disservice to our language. They are little more than anchorless ships, a point which crops up when considering that they are hailed by some as "revolutionaries." Well, so were James Joyce and Jean-Luc Godard, but unlike their counterparts today, they were aware of the work done before them, which prepared them for what they did.
All this is rooted in a rotten circle that goes around and around; those who grow up in Sinhala-speaking families lose their interest in it, enchanted as they are by pop culture, while those who grow up in a more westernised environment abandon it to devote themselves to English theatre and literary circles. (This strange dichotomy, between those who neglect Sinhala despite their vernacular backgrounds and those who take to English because of their non-vernacular backgrounds, baffles me.) But by that I don't bemoan modernity, as some do. The truth is that modernity and nationalism can and do cohere, and as scholars like Benedict Anderson have observed, the latter can be more unifying than the cosmopolitanism we teach our children today.
The Cumaratunga Munidasa Foundation has clearly taught us some lessons in that respect. Relevant for our time, relevant for all time. What they are, we know. All we need to do is take a leaf from them, and from those seven students who won this year, and try to define ourselves based on how much we understand what defines us. It won't be easy, but my guess is that it won't be too difficult either.