---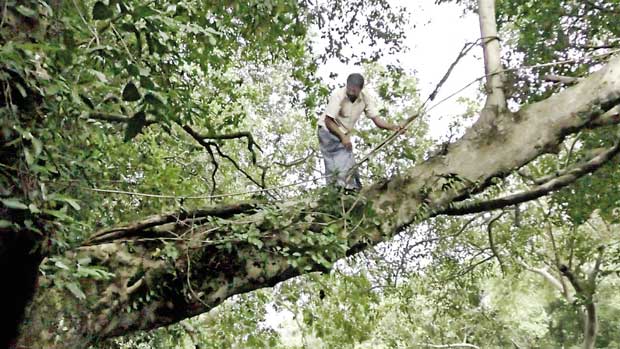 Pics by Nadeeka Daya Bandara
Dandenikumbura in the Meemure Division in the district of Kandy could perhaps be the only village in Sri Lanka with a population of one man. It's a village deserted by the people for want of minimum facilities in a human habitat.

The members of more than 30 families had left the village about 15 years ago and settled in other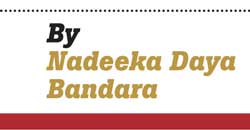 areas as their last resort when their continual representations to successive Governments since independence, regarding their hardship, had failed. All houses vacated by them have been left to the mercy of
the jungle.

The only man living in the village, an Aryurvedic physician, is Mahagedara Heenbanda (70). He pointed out that several houses had collapsed and others had been encroached by the jungle.

"The people did not have the basic facilities including an access road, a school, a hospital, or even a sub-post office. They had to make a long trek of more than five kilometers through hard terrain, wading across the river to reach the closest town of Meemure. They carried their produce on foot or used pack bulls. They had to wade through Heenganga on their way to the nearest village of Sulugune which was about eight kilometers away. They had to wade through Divigolleoya river to reach Meemure. More than 200 acres of terrace paddy fields that provided them livelihood is now covered with shrub jungle. None of the children had a school in the village to attend and they had to walk five kilometers to attend the closest school. When Divigolleoya and Heenganga overflowed during heavy rain the children remained at their homes for weeks. The people in more than 30 families deserted the village and settled in Meemure, Sulugune, Galamuduna, Hettipola and Godaulpotha villages. However, they obtain treatment from me. I inherited indigenous medicine from my father. My two sons are practicing Aryurveda in Meemure. I provide treatment free of charge. My sons visit me once a week." Heenbanda said.

He said he would not leave the village and that his main duty is to serve alms to the Buddhist monk living in seclusion to practice mediation.

"The village is being encroached by the surrounding thick jungle. My parents lived in this village and I will live here until I breath my last. The buffaloes left by the villagers have turned wild and raid the village and destroy crops. It is a matter of serious concern that the authorities who boast of development ignore the condition of this historic village. A project to construct a road from Kiulwadiya to Batalawatta has been completed. This new road should run from Meemure through Dandenikumbura to Batalawatta to make it a human habitat again. Politicians come, when an election is around, stay for a couple of days planning development projects and leave. This is how they cheat the people.