---
Deshamanya Mrs. Sivagamie Verina Obeyesekere or Siva Obeyesekere as she is popularly known was born to Amybelle Charlotte Valerie Corea and Louis Robert Clifton Dassenaike on the 7th of May 1929.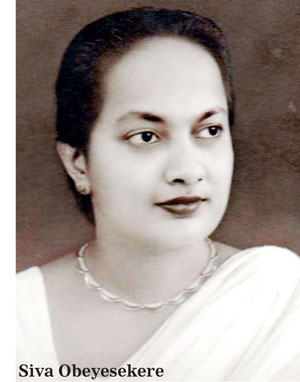 Educated at CMS Ladies' College up to the Senior School Certificate, Siva was a hostel prefect, games captain, and captain of the netball and tennis teams from 1943 to 1948. She married Senator Deshamanya James Peter Obeyesekere, the only child of Maha Mudliyar, Sir J.P. Obeyesekere and Lady A.E. Obeyesekere in 1948. James Obeyesekere, having schooled at Royal College finished his education at the University of Cambridge and piloted his own airplane back to Ceylon in 1946. When S.W.R.D. Bandaranaike broke away from the UNP to form the SLFP in 1951, James and Siva were among the first to join him. James, was the Member of Parliament for Attanagalle, a Deputy Minister of Health, a Deputy Minister of Finance and a Senator. He was conferred the national honour of Deshamanya by President Mahinda Rajapaksa. The Obeyesekeres have two children, Peter and Chantal. Chantal, who has donned her parent's mantle and continues to work towards the development of indigenous arts and crafts and promoting local talent. Married to Dijen de Saram they have two children, Dhevan and Chiara.

Siva Obeyesekere, can be most appropriately referred to as the Lady with the Midas Touch. Her sincerity of purpose and her boundless capacity for hard work and producing results brought her into the limelight, being a woman of matchless vision. Behind every successful man there is a woman and needless to say Siva was a force to reckon with supporting James to the hilt!

During the period 1960 to 1965, when James was Member of Parliament for Attanagalle, Siva organized Community Health Programmes in 127 villages located in the Attanagalle electorate and actively began to develop handicraft and handloom centres as well. Appointed the Chairperson of the Small Industries Board in 1961, she organized sewing centres and traditional crafts centres, reviving the District Cooperative Unions in handloom textiles.

In 1963, she was appointed the Chairperson of the Accommodation Committee and a Member of the Tourist Development Council and was responsible for the drafting of the Tourist Development Act. In 1964, Siva inaugurated "Laksala" the first Government Cottage Industries Emporium and was the Chairman of its Advisory Board. She established the Craftsman's Association of Sri Lanka and promoted the Master Craftsman's Apprenticeship Scheme. Elected President – National Artisans & Craftsman's Association in 1973, she inaugurated "Lakpahana" a private sector organization for the promotion of local handicrafts. In 1991 she was the first woman to be awarded the "Deshamanya" (Pride of the Island) for her services to the nation by President Ranasinghe Premadasa and was elected the first President of the World Craft's Council affiliated to UNESCO and in 1996, was elected the first President of the Asia Pacific Region of World Craft's Council. In 1993, she was the first foreigner to be awarded the "Kamala Saamaan" in memory of Kamala Devi Chattopadyayi of India for the development of "Laksala". In 2006, she was appointed as National Consultant to the Ministry of Rural Industries and Self-Employment Promotion. She was also the Presidential Advisor to His Excellency the Former President Mahinda Rajapaksa.

A founder member of the SLFP she worked tirelessly for the party from the age of 22. A devout Christian, Siva Obeyesekere broke tradition by challenging the UNP at the Parliamentary election in 1965 by contesting the Mirigama seat, which is a UNP stronghold dominated by a Buddhist population. Although her opponent underestimated the chances of this 36 year old Christian from winning she beat the more experienced Wijayabahu Wijesinghe by an overwhelming majority. In 1970, her opponent was Prof. W.S. Karunaratne, Professor of Buddhism and a Sinhalese who was an eloquent speaker. The crowds, in large number also came to see and hear Siva who was able to reach out to the people with her brand of oratorical skills. Elegantly attired in her signature dress, made of homespun Sri Lankan handlooms and batik sarees, people came from near and far to see and hear Siva mesmerizing her listeners. She won the seat and almost immediately got down to nursing her electorate with a determination to alleviate poverty.

She was appointed Deputy Minister of Health and later Minister of Health. She introduced the National Family Health Programme which was adopted by the United Nations as an international model and for this effort she was given a special award of appreciation by Senator
Edward Kennedy.

Between the years 1973 and 2003, Siva Obeyesekere represented Sri Lanka at several international conferences. In 1973, she was elected Vice President "Status of Women in Family Planning" in Djakarta and led the Sri Lankan delegation to the World Population Conference in Bucharest. In 1977, she led the Sri Lanka delegation to the World Health Organization (WHO) in Geneva and was the first Asian woman to be elected as Vice President. From 1977 to 1987, she was a delegate representing Sri Lanka at ESCAP in Bangkok on Population related conferences and conferences relating to indigenous Crafts in Japan, Austria, Malaysia, Indonesia, Bangladesh, India and Pakistan. In 2009, she was appointed to the S.W.R.D. Bandaranaike National Memorial Foundation by
President Rajapaksa.

In addition to her official commitments, Siva Obeyesekere was also a trustee of the Boy Scout Movement and was intensely involved with the Sri Lanka Cancer Society and as a Past President she established branches in Kandy, Galle, Batticaloa and Jaffna. She also played an active part in the School for the Deaf and Blind, Wathupitiwela Home for the Elders and The Attanagalle Childrens' Home and was a popular fund raiser for educational institutions such as S. Thomas' College, Mount Lavinia and her alma mater, Ladies'
College, Colombo.
Sangabo Corea.