---
It is one year since the friend and mentor of so many, Leslie Dharmaratne, departed this earth on that fateful day - 3rd March 2017.

Leslie after an illustrious career at his Alma Mater – Kingswood College Kandy– joined that exclusive agency George Steuart & Company Limited and soon made his mark as a planter. After a spell in Uva, Leslie moved over to the Dimbula District where he spent the rest of his days as a planter.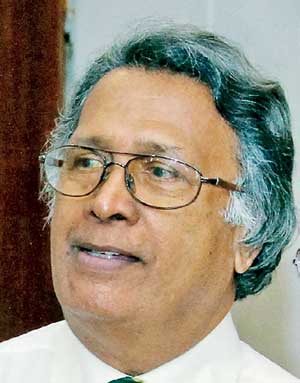 Leslie's ability as a planter was recognized by the late Upali Wijewardena when he was handpicked to be the Superintendent of Derryclare Estate, Kotagala from where he moved on promotion as Manager to Drayton Estate, Kotagala. When he was on Drayton, estates were nationalized and Leslie's employer thus became the Janatha Estates Development Board (JEDB).

Soon after nationalization Wijewardena was able to succeed in litigation whereby all estates which were owned by him were re-vested with him. This resulted in Leslie being requested by Wijewardena to take over some estates on his behalf. The JEDB was not in favour of this request which resulted in it initiating disciplinary action against Leslie. The Government of the day also enacted legislation nullifying the ruling of court that Wijewardena should be handed back the estates previously owned by him, which left Leslie in a spot.

Wijewardena immediately stepped in and employed Leslie, providing him with more that he was entitled to and received as a planter. Shortly thereafter Wijewardena launched Upali Newspapers Ltd and appointed Leslie as its founder Managing Director.

As a 'Newspaper Baron', Leslie immediately became a VIP, but his simplicity never left him. Though there are many instances to justify my contention, one instance

stands out. The year was 1992 and Leslie was at the height of his power. I was then in-charge of some estates in Pundaluoya and was driving back there from Colombo when I noticed my Chairman, Stanley Unamboowe and G. C. Wickremesinghe, who was Chairman of Aitken Spence, on the road with their vehicle stopped due to a puncture in the tyre. I immediately stopped my vehicle and while assisting them, a BMW and a white Pajero, which were serving as back-up vehicles, whizzed past.
The BMW and the Pajero having passed us, and obviously having seen us, stopped, reversed up to where we were and lo and behold who alights from the BMW – none other than dear Leslie. He had seen me standing on the road and assumed that my vehicle had given trouble. Though Leslie learned that the problem was nothing, but a flat tyre, he however stayed behind till the tyre was replaced chatting amiably with Unaboowe, Wickremesinghe and myself.

After his tenure at the Upali Group ceased, Leslie ventured into the field of education and was the founder of the British School in Colombo.

Leslie and I were Freemasons and we both derived immense pleasure and joy in participating in the activities of Freemasonry.

Leslie's generosity and his steadfast belief to help those in distress knew no limits.

Leslie was also instrumental in getting employment for over 450 persons as well getting over 50 children enrolled at reputed schools, all of which he was able to do with the influence he wielded. He also being a great believer in benevolence to the needy and supported many people in making their lives easier and more comfortable.

He was a very popular personality who enjoyed socializing and was a member of many clubs in Colombo – the Capri Club and the Colombo Swimming Club being his favourites.

Leslie was also elected as the President of the Association of Ex Planters – Sri Lanka in 2000 and he steered the affairs of the Association with his inherent efficiency for two years thereafter. He also the distinction of being invited to be Chairman – Pro Tem at the 53rd Annual General Meeting of the Ceylon Planters Society in 1989. In his address the message he conveyed to all planters was "all of you who have chosen planting as a profession will accept that, this is the time for all in our profession to stand up and be counted, to set about a rehabilitation of the industry and its restoration to its past glory." Words of Wisdom indeed!

When the post of Secretary of The Mascots (an Association of Ex Planters of the Maskeliya & Upcot Districts) fell vacant, the unanimous choice was Leslie. He was elected at the Annual General Meeting on 25th February 2017 and was brimming with ideas on future activities for the association. Sadly, this did not turn out to be a reality as he was cruelly taken away from us just 6 days later.

Leslie also served as the Basnayake Nilame of the Kotte Raja Maha Viharaya, a post he held with much distinction and acceptance.

No words on Leslie would be complete without mentioning his beloved wife Dhakshini and their two sons, Shanker and Dulan who were all a tower of strength to him through good times and bad. They were a complete family, complete in every way! Leslie's greatest joy in his latter years was spending time with Dhakshini, Shanker, Dulan, his daughters-in-law Chandi and Sonela and his beloved grandchildren Anitra, Shayah and Aiden Leslie, enjoying every minute of their company.

May his soul rest in eternal peace!
Devaka Wickramasuriya