---
The Taj is indeed a flawless gem, a timeless wonder that has inspired many a poet and artiste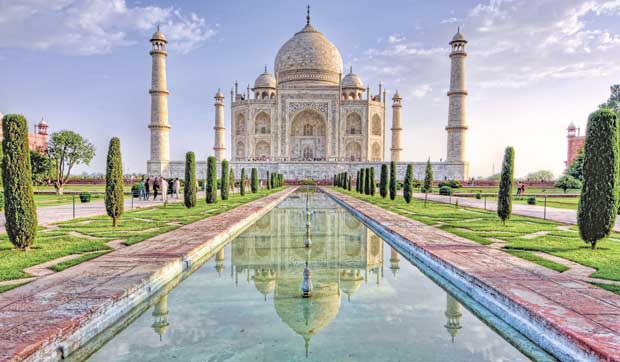 hen a grieving Shah Jahan, the fifth Mughal Emperor, built the timeless wonder of marble as a tribute to his wife Mumtaz Mahal, it was more than just art and architecture- it was a great eulogy to sublime love.
Visiting Agra was by chance. I happened to be in New Delhi for a conference and was able to squeeze in a little time for sightseeing.
As the distance between New Delhi and Agra is around 200 kms it was nearly impossible for anyone to get back by lunch.
But we hired a Taxi and made the journey in the wee-hours of the night to reach Agra by the crack of dawn. There we were hoisting ourselves lazily out of a cramped Alto. It was winter in Delhi - the temperature as low as 4 degrees.


Porters and camel attendants were stirring in their lots, waking up, as we stumbled to the ticket counter that had just opened.
It was too early to get to know the party, and without much questioning the man at the counter issued us tickets at the local rate.
The Taj Mahal (Meaning the Crown of the Palace) is a white-marble mausoleum on the South bank of Yamuna in Agra. It was commissioned in 1632 by the Mughal emperor, Shah Jahan to house the tomb of his beloved wife, Mumtaz Mahal. Described by Nobel laureate Rabindranath Tagore as 'The tear-drop on the cheek of time' the Taj Mahal is universally acclaimed to be one of the Wonders of the World.
The entrance to the Taj Mahal is through a fore-court leading to an imposing red sandstone gateway. Framed by this gateway with calligraphic inscriptions is the beautiful Taj Mahal appearing in the far distance dream-like, a jewel bathed in pink, dazzling and glowing in the soft morning light.
An impressive lush green garden is laid out in the front like a Persian Charbargh, with trees, red sandstone pathways, water channels fountains and a marble pond in the middle.
The water reflects the Taj in all its glory. Seated on a red stone bench right there we photographed ourselves against the beautiful backdrop.
"As the Mughal rulers were passionate about growing flowers it is natural that there is an abundance of flower motifs in the decorations of Taj. Visitors are overwhelmed by the stupendous decorations all around. "

Beyond the garden the Taj Mahal soars to a height of 75 metres, yet appears to be delicate and fragile. The unusual octagonal tomb stands in the middle of a square marble plinth. The four facades of the tomb are flanked by main arches, which are followed by smaller arches.
Also adding to the balance of the tomb are four tall and tapering three-storeyed minarets.
The crowning glory of the Taj is its ingeniously designed bulbous white double dome nestling among four marble cupolas which lie above the central octagonal. Directly under the sheltering dome is the main cenotaph chamber, the heart of the entire monument.
The tomb stone of Mumtaz Mahal lies at the centre of the octagonal hall while that of Shah Jahan is on the right.
Both lay side by side enclosed in bejewelled caskets done in exquisite floral designs inlayed with tiny precious stones. The tombs are enclosed with splendid marble screens, embellished with delicate filigree work giving out a fascinating interplay of light and sparkle into the chamber.
As the Mughal rulers were passionate about growing flowers it is natural that there is an abundance of flower motifs in the decorations of Taj. Visitors are overwhelmed by the stupendous decorations all around.
On either side of the Taj standing in contrast to its white architecture are two red stone structures - one on the right is a mosque, where prayers are offered every evening at sunset. The identical building on the left is a guest house.
The Taj is indeed a flawless gem, a timeless wonder that has inspired many a poet and artiste.
As Tagore said - here on this dusty earth, it keeps death tenderly covered in the shroud of memory