---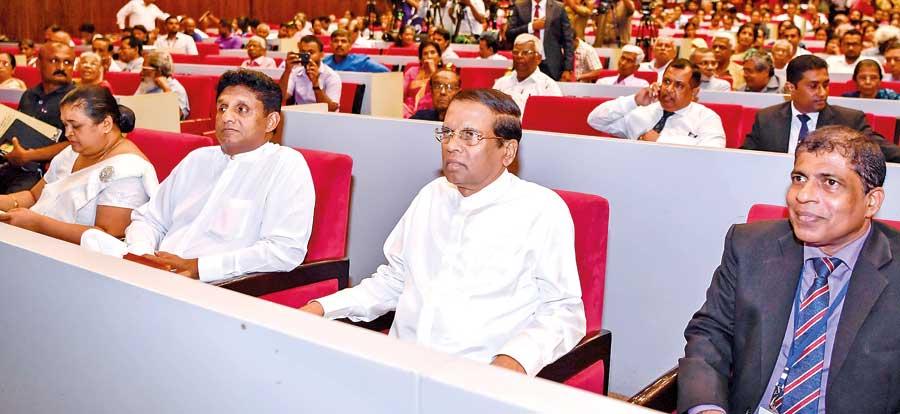 A Buddhist monk, two Catholic priests, politicians, professors, housewives and even a young girl with a white cane were among the cream that received awards at the 62nd State Literary Awards held last week at the BMICH. With President Maithripala Sirisena as the Chief Guest and Sajith Premadasa as the Minister of Housing, Construction and Cultural Affairs in attendance, 42 writers from varied fields and in all three languages, emerged winners at this highest national platform that recognised literary excellence. While the 2226 selected literary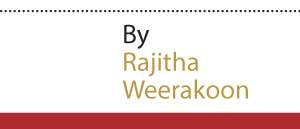 works published in 2018 offered a rigorous exercise for the panel of 180 judges, the Chairman, State Literary Advisory Board, Prof. Samantha Herath and his able team made sure that the best prevailed.
The event, with some expressive cultural performances interspersed, as customary, felicitated three outstanding literary figures with the "Sahithyaratna," – the once a life time award. The first recipient was Prof. Walter Marasinghe who had contributed towards the enrichment of the Sinhala language and literature through the Sanskrit language and literature. His translations of Sanskrit Dramas earned him State Literary Awards. He had been decorated with Presidential Award "Vidyajothi" and DLitt by the Universities of Sri Jayawardenepura and Pali and Buddhist Affairs.

Aiyathurai Shanthan, a Civil Environment Engineer and lecturer in the same field, is a bi-lingual writer of English and Tamil. The first Tamil writer to have won State Literary Awards for English Creative Literature as well as for Literature in Tamil and English, his novels have brought him recognition both here and abroad.
Kamala Wijerathne who taught in rural schools as an English Graduate teacher, proceeded with higher studies offering English as a second language here and abroad. A prolific writer of poetry and short stories, her literary creativity had won her State Literary Awards many times. Her skills have been well recognised as she has been a regular invitee to present academic papers at international fora.
The event itself, reflected the active interest of the older generation in literary pursuits while a lack of interest among the young writers was quite evident. How they could be inspired and immersed in literary activity need to be focussed on. Making up for the lapses were women writers who were in full flight. They carried away the 6 prime awards in the Sinhala Section which included "The Best Novel" (Makaranandaya – Vivajini Tennakoon) "The Best Novel in Translation"

(Ran Varalath Liya – Niluka Kadurugamuwa), "The Best Collection of Short Stories" (Manussa Yantara –Piyaseeli Wijemanna), "The Best Literary Work for the Youth" won by Chitra Amarasekere along with Part 1 and 11 of Children's Literary Works.
Women held sway in the English section as well winning "The Best Collection of Short Stories" ( I Exist- Therefore I am – Shirani Rajapaksa). "The Best Children's Literary Work Part 1 and Part 11" which went to "Wardha's Wonder Boxes" written by Zarina Mohideen Hizbulla and "Pandit Amaradeva" of which the writer was Abigail Jayasuriya, a young girl with impaired vision. The award for "The Best Poetry" won by the late Jean Arasanayagam, who probably won the most number of awards in the English section during her lifetime, was carried away by her daughter.

In the Tamil section, "Novel in Translation" was won by yet again a young girl – Anusha Sivalingam for her "Thara Shiamali Kumaraswamy"
The much sought after category "The Best English Novel" was won by Elmo Jayawardene, a Sahithyaratne recipient for his "Kakiyan" and "The Best Tamil Novel" was won by A. Uthayan for his "Aluvakarai."Prof. Vini Vitarana's "Gira Sandesaya" won the Award in the category of "The Best Poetry in Translation." Last year, he won the same Award for "Kav Silumina."
Sarath Amunugama whose "Lion's Roar" earned him an Award in 2017, carried away yet again this year an Award for his "Dreams of Change." "DS: Sri Lankawe Prathama Agramathya" won a past "Sahithyarathna" recipient, K.N.O. Dharmadasa an award under the "The Best Literary Work in varied Subjects: in Translation." Another recipient of "Sahithyarathna,"Ariya Rajakaruna (deceased) won the Award for "The Best Translated Drama" for his "Madhyakaaleena Japan No Natya."
Deshabandu Sirisumana Godage for the 34th time received the Award for the publication of the most number of nominated books selected for the State literary Awards.
State Literary Awards Ceremony - 2019 - List of Winners
English
Best Literary Work for Children in English Category (I) Wardha's Wonder Boxes – Zarina Mohideen Hizbullah
Best Literary Work for Children in English Category (II) Pandith Amaradeva - Abigail Jayasuriya
Best Poerty in Translation (English)
GiraSandesa- ViniVitharana
Best Short Story collection in translation (English)
Taking to Flight - R. H. Stephen
Best Literary Work in Varied subjects – (Social Sciences) English
Sarath Amunugama ‍- Dreams of Change
Best Literary Work in Varied Subjects – Humanities : English
Yantra Drawingson Palm Leaf -L. S. D. Pieris
Best Academic and Research Publication in English
Arabs in Serandib - Rohitha Dasanayaka
Best Collection of Poetry -English
An Island's Watcher - Jean Arsanayagam
Best Short Story Collection English
I Exist. Therefore I am - Shirani Rajapaksa
Best Academic and Research in Translation- English Gauthama Buddha - W. A. Abeysinghe
Best Novel – English
Kakiyan – Elmo Jayawardena
Tamil
Best Novel - Aluvakarai – A. Uthayan
Best Poetry – Muhil enakku Thukil – V. Vadivalakaiyan
Best collection of Short stories – Kanavulakam – Junaitha Sheriff
Best Drama – Manavairam – S. Ambalavanar
Best Children's literary work – Amma Kozhi Appa Seval- Rev. S.Anburasa
Best Research work – Shabi Marrikar Cinthanaiyum Pankalippum – A.M. Nahia
Best Book in varied subjects – Ella Pookkalum Azhagu - A.S.A.Kiyas
Best Youth literature – Saamy – Rev. S. Yosua
Best Novel in translation – Thara Shiamali Kumaraswamy – S. Anushia
Best Poetry in translation – Suthanthiram – K. Srighanesan
Best collection of Short stories in translation – Mahara Thoranam – Swaminathan Vimal
Best translation varied subjects – Mihapperum Aayutha Kanavu – M. Ponnambalam
Sinhala
The Best Novel – Makaranandaya - Virajini Tennakoon
The Best Collection of Short Stories – Manussa Yanthara - Piyaseeli Wijemanna
The Best Poetry – Kshana Niyama - Nandana Weerasinghe
The Best Literary Work for the Youth – Pasu Nobasimi - Ranjit Dharmakeerthi
The Best Literary Work on Lyrics – Thisa Wewa Langa Ralapanawe – Nayanasena Vanninayake
The Literary Work on Drama – Nathuwa Bari Minisek – Rajitha Dissanayake
The Best Literary Work for Children 1 – Hari Pudumai, Hari Pudumai – Thanuja N. Ayagama
The Best Literary Work for Children 11 – Mutti Gedera – Kanthi Samaradiwakara
The Best Literary Work on Science – X – Susitha Ruwan
The Best Literary Work on Cinema and Rupavahini – Pavuru Walalu – Tony Ranasinghe
The best Academic and Research Work – Peradeniye Gurukulaye Upatha, Nageema ha Binda Wateema – Sena Thoradeniya
The Best Literary Work on varied Subjects (Social Sciences) – Deshapalana Ha Samaja Chinthanaya – Gamini Samaranayake
The Best Novel in Translation – Rath Varalathi Liya – Niluka Kadurugomuwa
The Best Collection of Short Stories in Translation – Piyariya Pissu Vatuneya – Upul Ranjit Hewavitarana Gamage
The Best Literary Work on Poetry in Translation – Yansi Kavya Nadee – Parakrama Kodituwakku
The Best Literary Work for Youth in Translation– Amavaka Nimawee – Chitra Amarasekera
The Best Literary Work for Drama in Translation – Madhyakaaleena Japan No Natya – Ariya Rajakaruna
The Best Literary Work on Varied Subjects in Translation – D.S. Shri Lankawe Prathama Agramaathya – K.N.O. Dharmadasa
The Best Creation of the Cover Page – Avasaana Kunchanaadaya – Saman Indika Lokukaluge
The Book with the Best Page Arrangement & Appearance – Colombo Sketch Book – Weerakkodige Vasantha Perera