---

Death is inevitable in our lives. Although it is so, certain incidents that occur in our lives can be avoided if we are mindful. If we analyze the causes of a number of deaths reported daily, the root cause for them is negligence. A large number of deaths reported in Sri Lanka relates to aquatic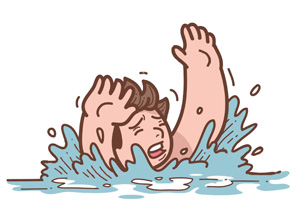 related activities. Drowning is a significant cause of death worldwide. Even WHO highlighted drowning as a major cause of death in the Global Report on Drowning (2014). People spend their leisure hours in an atmosphere which is surrounded by water. But they hardly give thought to the tragedies that water can bring to the lives of people.

At times the sea looks so calm that it seems fascinating, but at times it is so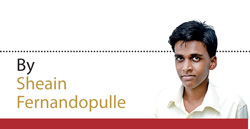 rough and threatens to bring death to a few lives. Thus, it is indeed essential to be vigilant when
h
anging around the sea, rivers, lakes and canals. The latest tragedy in water was reported from Thelgam
u Oya, Laggala, Matale where eight people, including children from two families, were drowned.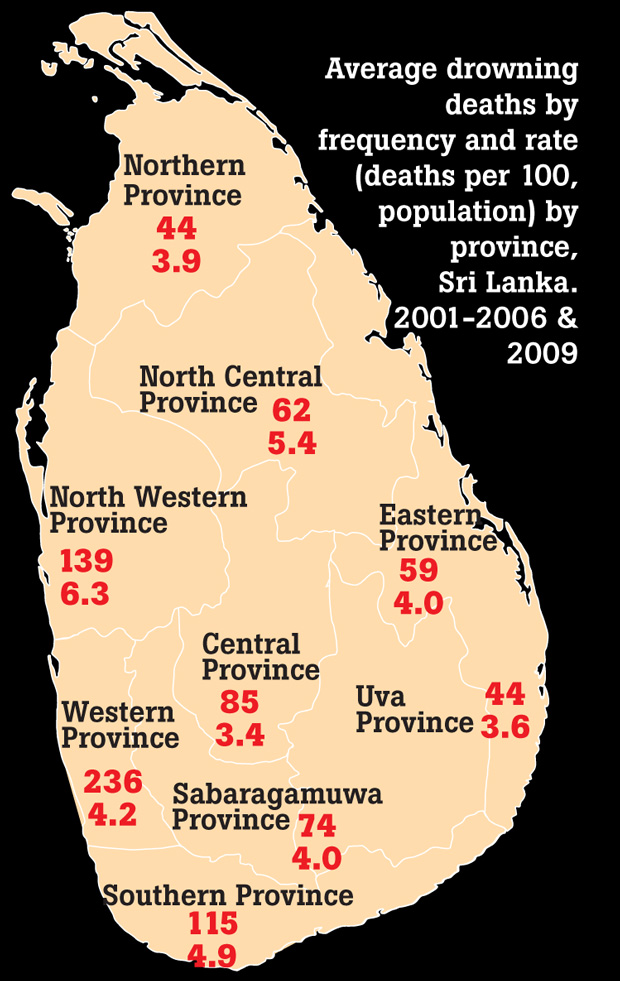 Extract from the inaugural Drowning prevention Report for Sri Lanka Published in December 2014
Police Media Spokesperson ASP Ruwan Gunasekara told the Daily Mirror that 373 deaths had been reported between January to June (2017). According to him 877 deaths had been reported in 2016.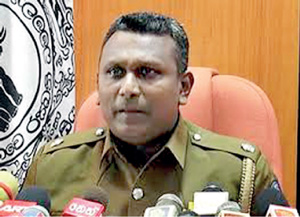 "700 Males aged between 19-25 formed the highest number of deaths through drowning while only 177 females died due to water related incidents in 2016. Out of the death total in 2017, 299 deaths were of males while 74 were females," ASP Gunasekara said.
There have been a series of water related accidents that have been reported on. One that came under the spotlight is the tragedy where eight deaths, two being families, was reported in the Thelgamu Oya, Laggala, Matale.

Speaking to the Daily Mirror, the President of the Life Saving Association of Sri Lanka Asanka Nanayakkara told that on average, 900 people drowned in Sri Lanka each year adding that there was a drowning rate of 4.5 deaths per 100,000 persons.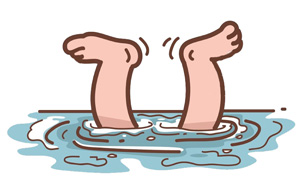 "Sri Lanka has one of the highest drowning rates globally and is placed 12th among 61 countries where death figures are high through drowning. Sri Lanka is placed 10th highest among 35 low and middle-income countries (LMIC) where death figures are high through drowning.

Nanayakkara said that the Drowning Prevention Report is compiled by the Life Saving Association of Sri Lanka and Life Saving Victoria with the support of the World Health Organization.This is the first report to study the extent of the drowning problem in Sri Lanka.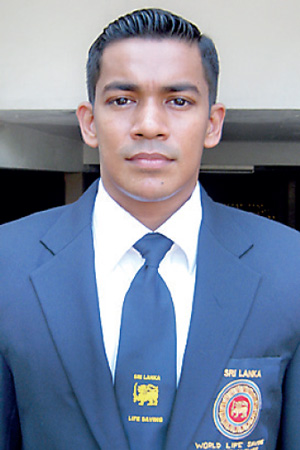 "According to the Drowning Prevention Report, males are at higher risk of drowning compared to females. Sri Lanka has a higher drowning rate across all age groups compared to the average drowning rate in both LMIC and high-income countries (HIC). Lakes were reported as the key location for drowning incidents in Sri Lanka," Nanayakkara said.
"Sri Lanka being an island surrounded by water and with a large number of waterways, rivers, waterholes, lakes and tanks suggests its citizens must possess the ability to swim or acquire basic life saving skills," the head of the Life Saving Association affirmed.

Nanayakkara stated that the association's strategy is to make drowning prevention activities more widespread starting from the school level. He added that his association was working in collaboration with the Ministry of Health, Social Service, Health Disaster Management, Defense, Education, Sports & Tourism, International Life Saving Federation and Commonwealth Royal Life Saving UK to address the issue of drowning in Sri Lanka.
Adults aged between 25-44 most vulnerable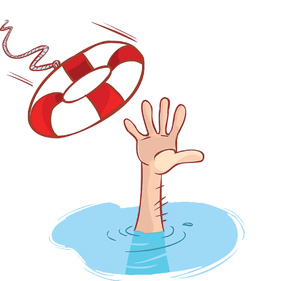 Adults aged between 25-44 years formed the group where the highest number of drowning deaths were recorded. The group where the deaths through drowning were recorded as the second highest included those aged between 45-64 years. However, those aged over 65 years had the highest age-specific drowning rate (8.25 deaths per 100,000), followed by those falling between the ages 45-64 years (5.38 deaths per 100,000). The drowning rate was low in the 5-14-year age group (1.94 deaths per 100,000). The male to female rate ratio was high among those belonging to the age group 15-24 years (7.5) which is closely followed by those aged between 25-44 years (7.0). The ratio was close to 1 in those aged between 0-4 years (1.8) and over 65 years of age or older (1.9). (References were made from the Drowning Prevention Report 2014)
Armed forces personnel deployed as lifeguards
"Lifesaving services are being carried out across the island. A lifesaving service comprises trained lifeguards who are on duty with rescue and First Aid equipment. Lifesaving services are a key solution to address deaths through drowning in open water environments such as beaches, rivers, lakes and reservoirs/tanks. There are 51 lifesaving service locations in Sri Lanka with a total of 1,400 qualified lifeguards performing duties. Over 400 rescues are reported annually by lifeguards. This amounts to 400 lives saved," he said.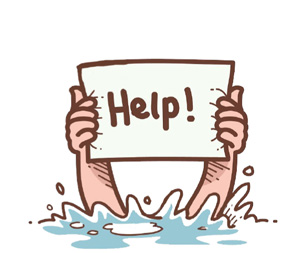 The Drowning Prevention Report states that since the end of the civil war in Sri Lanka, in 2009, many personnel from the armed forces have been deployed as lifeguards in Sri Lanka. This has helped boost the safety of local communities and tourists alike. From a tourism perspective, lifesaving services help better utilize natural waterways in Sri Lanka and offer an untapped opportunity for promoting the country.

Drowning is preventable and the key areas to focus on are recommended in the report as follows:
Target school-age children and adults aged between 25 to 44.
Develop nationally recognized learn to swim programme guidelines for swim schools and swim teachers.
Incorporate minimum water safety and rescue skills into learn to swim programmes.
Incorporate student-instructor ratios, appropriate for the skill level and water conditions.
Increase access to learn to swim programmes for children in low socioeconomic families.
Source: Registrar General's Department
In conclusion, it should be noted that tragic incidents related to aquatic activities can be prevented if only we become a little more conscious of the phenomena around those areas. Otherwise, valuable lives get vanished from the earth in vain. As the experts said, the fundamental ground for these tragedies is negligence. Therefore, we have to think of this issue seriously so that these types of unfortunate incidents would not take place in the long run.