---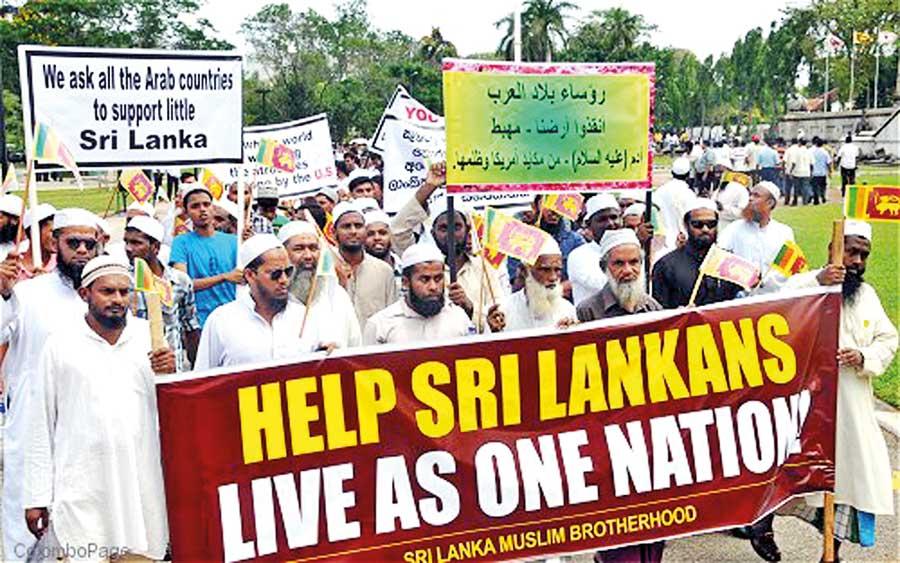 Lawyers in Mawanella and Badulla refused to represent Muslims. This was one of many incidents where Muslims were discriminated
Attacks on and discrimination against minorities in Sri Lanka have been widespread for years. Following the April 21 attacks such incidents, especially against Muslims, saw an increase, and were even condoned by politicians and religious leaders. A discussion on anti-Muslim harassment was held recently, where panelists Bhavani Fonseka of the the Centre for Policy Alternative (CPA), Dinushika Dissananyake of Amnesty International (AI) and Vidura Munasinghe of the Law and Society Trust (LST), shared their views on the myriad challenges facing minorities in Sri Lanka.

Structural intolerance
The panelists noted that three laws had been systematically abused against minorities. These are the Prevention of Terrorism Act (PTA), the International Covenant on Civil and Political Rights (ICCPR) and Emergency Regulations (ER). "Most arrests after the Easter Sunday Attacks came under ER, PTA and ICCPR. Over 2000 people were arrested, 1800 of whom Muslim. The police arrested first and asked questions later, which interfered with due process,"said Ms. Fonseka. She added that Human Rights Watch (HRW) had observed that the PTA facilitated "torture and other abuse".
Meanwhile, the Human Rights Commission of Sri Lanka (HRCSL) discovered that lawyers in towns like Mawanella and Badulla had refused to represent Muslims. This was just one of many incidents where Muslims were discriminated against, while authorities largely neglected the issue. For instance, on June 24 Wennappuwa PS Chairman K.V. Susantha Perera prohibited Muslim traders from entering the local market. He had claimed this was necessary to "maintain a peaceful atmosphere" and that he was merely responding to complaints from non-Muslim traders and market-goers. His actions were defended by fellow Sri Lanka Podujana Peramuna (SLPP) members.
The HRCSL, HRW and the media have reported many occasions where Muslim mothers and children were denied access to courts and schools due to wearing headscarves. Such discrimination occurred in government and public buildings too. On May 29, a Government Circular outlined women's clothing in public buildings, specifying that they wear sari or osariya. The rules applied to all staff and visitors to government offices. The HRCSL concluded the rule was "irrational and arbitrary and is in violation of equal protection of the law guaranteed by Article 12(1) of the Constitution."
The media
The panelists noted that mainstream media also helped sideline minorities. "They started telecasting more and more Buddhist sermons and discussions. Then they started telecasting history programmes. All of them embedded this tone of Sri Lanka being a Sinhala Buddhist country," said Munasinghe, adding that this led to more radicalization among Sinhala Buddhists. The panelists further emphasized that in most cases anti-Muslim hate speech on social media went unpunished.
Police inaction
HRW has repeatedly urged an end to "arbitrary arrests and other abuses against Muslims," in Sri Lanka, and to "protect the community from violence." It added that "Muslims and other religious minorities face ongoing threats and violence from ultra-nationalist groups." The HRCSL found that the government failed to protect Muslims during communal riots in May. They found the police had repeatedly failed to act properly or prosecute perpetrators. For instance, the manager of a Muslim-owned business which was attacked claimed the police did not make any arrests despite CCTV footage identifying the perpetrators. HRW has even documented lawyers saying the police had justified detaining citizens for such reasons as "keeping money at home", "having English lecturer docs" and "Arabic song in laptop."
Another case was the arrest of a 47-year-old woman in Kolongoda on May 17 for wearing a kaftan with a ship rudder image on it. The police had mistaken it for a dharma chakra. In a Fundamental Rights (FR) petition, the victim had asserted that her arrest was arbitrary and malicious, and that she had suffered degrading treatment while in custody and had been "singled out and subjected to hostile inimical discrimination based on both grounds of race and religion."
Mob violence
Several days of mob violence against Muslim homes and businesses took place following the April 21 attacks, during which one person reportedly was killed. An HRCSL investigation found: "There appeared to be no preventive measures taken although retaliatory violence against the Muslim communities was a distinct possibility after the terror attacks of April 21." The commission also found that villagers had called the police prior to the incident seeking protection, but no preventive measures were taken. In a letter to the Inspector General of the Police (IGP), HRCSL Chairperson Dr. Deepika Udugama noted that this was unacceptable as "vulnerable civilians had to fend for themselves." Even when CCTV footage revealed the perpetrators' identities, leading to their arrests, they were often prematurely released and had reportedly made threatening calls to victims.
Refugees
Discrimination against refugees from Pakistan and Myanmar was also condemned by the panel. Dissananyake said on the afternoon of the Easter bombings mobs had converged on refugee homes in the Negombo area and threatened them. After the refugees were evacuated to several local community centres the mobs had continued their attacks, resulting in the refugees being relocated to safer areas, where they have lived since. Dissanayake expressed her disappointment, saying, "These mobs have not been held accountable. Enough is enough."
Inciting hate
Allegations have also been made against politicians and Buddhist monks for inciting hate and leading attacks against Muslims. According to Fonseka, some politicians were seen in police stations getting the perpetrators released after the 2018 Kandy riots. She deplored this as "the deliberate undermining of the rule of law by elected representatives." The role of some members of the Buddhist clergy in inciting hatred should also not be overlooked, she noted. Monks, including Ven. Galagoda Aththe Gnanasara Thera, have been accused of inciting violence during the 2018 anti-Muslim riots and after the April 21 attacks, calling for boycotts of Muslim-owned businesses and threatening activists. According to Fonseka, their popularity is based on their racism and hate, and they are not held to account. For example Ven. Gnanasara was pardoned by President Maithripala Sirisena earlier this year, having served just one year of his six-year sentence for threatening activist Sandya Ekneligoda and being held in contempt of court. Fonseka opined that the prelate's other actions required at least an investigation.
MMDA reform
The panelists also discussed the urgent need for reform and the inclusion of Civil Rights within the Muslim community. They said the Muslim Marriage and Divorce Act (MMDA), in its current form, allowed for several human rights transgressions that would be illegal for members of other religions in Sri Lanka. For example, underage Muslim children are allowed to marry and women cannot be appointed to high positions in the Quazi court system. "Is it unfair to ask that girls as young as twelve are not married? Why is it so difficult to have women as Quazi judges?" Dissanayake asked. She stressed that those seeking reform were demanding "basic things."
Secular state
The discussants also stressed that communication and association of people of different religions was paramount for peace in Sri Lanka. Munasinghe emphasized that though every community had extremists, they were a minority. "Moderate Buddhists should stand with moderate Muslims and moderate Tamils," he said. "Throughout our post-independence history, our three communities. Sinhalese, Muslims and Tamils, have not been able to unite as a country. This kind of divided nationalism is a colonial legacy. We developed different types of schools, sports clubs etc. The only way out of this would be to make our country a secular state. We must propagate, demand and fight for a secular state. That is the only way to avoid this type of violence in the future," he added. A secular state is a state that is neutral in all matters of religion. Many countries, such as the UK and Germany, have embraced secularity to guarantee equality.