---
Death is certain in this short span of life. We come into this world with nothing and depart the same, but the imprints we leave behind will be cemented among those whom we meet in life. Our lifelong friend and colleague Sanjeewa Abeygunawardena passed away six days prior to Christmas on December 19 last year. His funeral in accordance with his last wish was held within 24 hours of his passing.

Life seems to be cruel to a gentleman as he was snuffed out at the age of 48 under tragic circumstances. Whatever the religion we follow, there is always a larger plan for us and it is left behind to accept this stark reality and keep forging ahead. It is true and transparent that the end is certain to every good mortal but still makes one feel desolate about losing a beautiful soul, companion and above all, a true gentleman! Sanjeewa Abey as he was affectionately known was that to so many who loved him.
It is true and transparent that the end is certain to every good mortal but still makes one feel desolate about losing a beautiful soul, companion and above all, a true gentleman!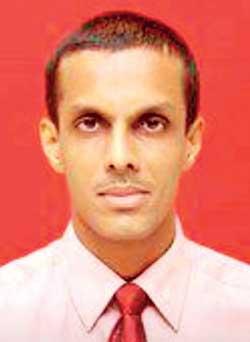 Abey was a unique friend. He was reserved among people but vivacious and serious among allies. He was ethical in his dealings and honest to his fingertips which are refreshing qualities. In most instances, my experiences with him have been "black or white" and no sitting on the proverbial fence. In our association for nearly three decades as close friends and workmates, Abey looked somewhat old-fashioned in his thinking which is at a personal level but in general stood firm as a pillar of strength. I bet everyone who ever had the opportunity of working with him would agree that he wasn't the easiest person to work with as he was extremely straightforward and outspoken.

Abey was a Trinitian to the letter and he loved his alma mater which he considered his second home. A celebrated athlete in his school days, Abey captained the college athletics team in 1990. He was rewarded by his school when he was invited as the Chief Guest to the Junior Athletics Meet held in 2017. Abey loved Royal-Trinity rugby encounters and was disheartened as Trinity had to forgo the coveted Bradby Shield to Royal College for the past five years.

He was in the habit of teasing me about the annihilation Josephians suffered at the hands of "Lions" in Bogambara where St. Joseph's were thrashed 55-0 in 1987. Although a teetotaller, Abey was a happy-go-lucky bloke among his peers with whom he used to dance, sing and scream from the bottom of his lungs. This was very much evident when both of us were keen spectators of the rugby encounter between St. Joseph's and Trinity played over the years either in Colombo or the Hill Capital. He bagged many medals at Trinity and continued athletic prowess at his workplace only to rise in fame for championing his favourite event, the 100-meter dash!

Whenever he used to be in the company of my colleagues at social gatherings, I used to introduce him as "Kandyan Express" from Trinity, but an embarrassed Abey would defend himself saying "No, no, its history!"

I recount with affection and gratitude his late parents, Uncle Edmond and Aunt Indrani, who predeceased him a few years ago. I also share the grief with his elder sibling Darshie. He left behind his beloved wife Shelrene, adorable son Ravindu and little daughter Shanella whom we are always ready to assist! May God's blessings shower upon all of you abundantly! There is always a reason why God chose your loved one. I am certain he is in a better place!

Abey, you will be missed but not lost in our minds! You will be remembered as our friend, gentleman and a beacon of light to all of us! Rest in peace my dear friend! May you attain the supreme bliss of Nirvana!

Respice Finem!
By Supun Perera