---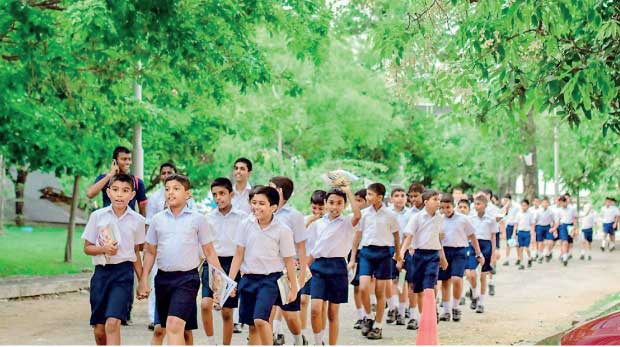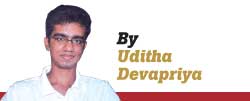 Mrs Marini Fernando, who taught us in Grade Eight, was the best English teacher I ever had. She had that ability to inspire passion in us, particularly those of us who took to her period less for her lessons than the intricate ways in which she got us to love them. She was particular about dictionaries. I remember when we couldn't guess the meaning of a particular word, she'd get us to peruse the Big Book. I can't remember a time when we didn't have it open. It was all part of her ramrod, but gentle-hearted nature. She could get us to do what she wanted, the way she wanted, without chastising us too much.
Looking back, I believe she was responsible for my subsequent passion for reading and writing, not least because she was behind various schemes in our school to improve our reading habit. She opened a class library, appointed library leaders, and lent us books from her personal collection. Because this was outside the syllabus, she didn't emphasise on the dictionary: "Just read through them carefully" was what she told us. Added to that was her weekly book report session, where she would make us write capsule reviews of the books we borrowed from the main library.
Whatever funds we raise, we plough back to refurbish and modernise it
Years later, when I discovered my love for writing, during that difficult period in our youth- when we don't know what to do after we leave school and start looking for jobs- I credited her for having inspired me. I had always been an avid reader, having progressed through those inevitable stages we readers encounter, from Aesop and the Grimm Brothers to Enid Blyton and Richmal Crompton and to the Hardy Boys, Agatha Christie, and (as of now) everyone else. Reading helped me become a better writer. Writing helped me become a better reader. It worked both ways. I suppose that's the greatest lesson Mrs Marini taught me.
Now it doesn't take much time to read, but it takes a lot to create the love reading. Because of the effort entailed in it, we become lazy. Part of the reason for that, I think, is that we hang on to our textbooks so much that we don't care about the worlds outside them; we think that everything we need to know is contained therein. This is a misconception as far as retaining and applying knowledge is concerned. We don't visit our libraries enough, simply put. We should. Not because it's a miracle cure, but because libraries are a good index of the way we think ahead, as a nation and a people.
The Library Readers Association (LRA) of Royal College is the oldest club in that school (established in 1846) and probably the only club of its kind in any school in the country. Age, however, hasn't diminished its vitality, which is why it's set to organise a series of events highlighting reading (and writing). Among them, their flagship project will be held on July 31 and August 1. Because these are no ordinary feel-good campaigns, I am interested. This piece is hence about that project, Royal Bookland.
True to its title, Bookland will feature an exhibition involving bookshops from across the country. But the LRA has been handling such exhibitions for the last few years. What's special about it this time are two other events that are to be held alongside it; a quiz and a short story competition. The latter will be categorised according to language and age. Much of the history behind those two and the club can be rooted in a rather determined committee headed by two boys: Rajitha Abeysinghe (Chairman of the Organising Committee of Bookland) and Sanura Kulanaka (Chairman of the Association). I managed to talk with both.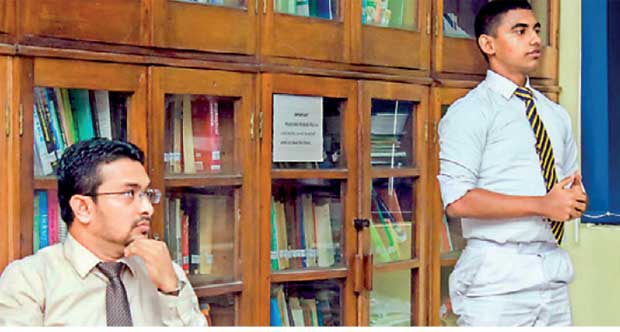 I first spoke with Rajitha, rather he spoke to me. The decision to go beyond an exhibition this year, he explained, was based on LRA's mission; to transform the Royal College Library into the leading institution of its kind in Sri Lanka, not just for its students, but also for their community. "Whatever funds we raise, we plough back to refurbish and modernise it. However, we felt that it wasn't enough. That is why we began organising a series of seminars, attended by leading writers." Apparently the short story competition had been the result of one such seminar, held about three weeks ago during school hours. That seminar had been headed by Malinda Seneviratne and mooted by the Chairman of the LRA, Sanura Kulanaka, whom I spoke with. "We organised it within three days. The important thing is that we didn't force anyone to come. We just announced that students were welcome. In the end it had a turnout of 138 students, all of whom were entranced by what Mr Malinda said. Naturally, one thing led to another, and soon the Association was organising a competition based on the seminar. "So far, we have received 20 submissions, of which 17 are in Sinhala and three in English,"Kulanaka said.
What interests me here is how the Association has strove to keep the entire project (the culmination of their annual Library Week) as out-there as possible. The quiz competition, on that count, will involve outside parties, all of whom will get a chance to patronise the exhibition. "It was actually an afterthought of ours. We entered into an agreement with the Royal College General Knowledge Club and invited more than 50 schools," he said. Underlying all these has been the LRA's efforts to uplift the habit of reading among their students, efforts which will spill over at Bookland.
"We came up with class libraries and organised several reading camps. We got our students to do more than just skim through a book. We asked readers from lower grades to pour out their feelings about them through drawings, while readers from upper grades were asked to write short reviews. It was, I daresay, a success, not least because small children love to draw and children in general love to stand out from the others in what they write." It has also aided in maintaining discipline; ever since those camps and class libraries began, students have been shouting less in their classrooms. Rajitha interjected here, "We stand by the principle that if we don't read, we can't write, and if we don't write, there won't be any readers." Aptly put.
We give our students time to read their books, because it's not about meeting the authors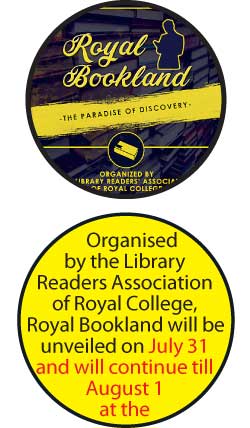 These haven't been their only projects, of course. Nena Pahana, a joint effort by the LRA and Edex, donates books to rural schools annually. Several reading sessions have supplemented it. This gives students the opportunity to meet contemporary writers. "Last year we featured Dileepa Abeysekara over his translation of Shehan Karunatilaka's Chinaman. This year we featured Dr Susith Ruwan over his Ravana Meheyuma cycle of novels. We give our students time to read their books, because it's not about meeting the authors. It's about asking questions relating to craft, creativity, and even certain flaws which crop up in their work." A field trip this year to the National Library ("Kiyawanna Purudu Wenna! Pothak") and several joint projects with the General Knowledge Club have further enriched their activities. Aiding these efforts, moreover, have been the teachers behind the Association. "We've been helped by our teacher in charge, Mrs Yugantha Liyanage, also the Assistant Principal at our school. Our librarians have always been a source of strength for us, particularly their head, Mrs Hemanthi Wijesundera. And in one sense we have to be grateful to our mothers and fathers too." There was much more that I gained from these two boys when I was talking with them, particularly Sanura. I sense a writer's streak in him, though I will withhold comment. Except, perhaps, for one point; he is quite outspoken about what he is doing and has done, the kind of outspokenness which can win both friends and foes. To this end I asked him as to where he wants to take the Association to, and he replied, "I want to take them to the Public Library, the British Council Library (if time permits), organise short story competitions and also enter into competitions organised by other institutions. In fact with the 20 or so stories we have collected so far, we can come up with a collection which can be published, even submitted.
So what will we see during these two days? The quiz competition, consisting of five rounds of 10 questions each, will be held from 3 to 6 pm on July 31 at Royal College Union Skills Centre. This time will also be used to conduct the awards ceremony for the short story competition (open to any student from any government or international school, and judged by a panel consisting of teachers and "experts in the field"). The exhibition will continue the following day, from 8 am to 12 pm. What the final outcome will be, we can't predict. Frankly, I don't think I am meant to. All I know is that I've been looking forward to an event of this nature ever since I left Grade Eight and the best English teacher I got. That explains my enthusiasm, naturally.
UDAKDEV1@GMAIL.COM
Photos courtesy of the Photographic Society of Royal College.