---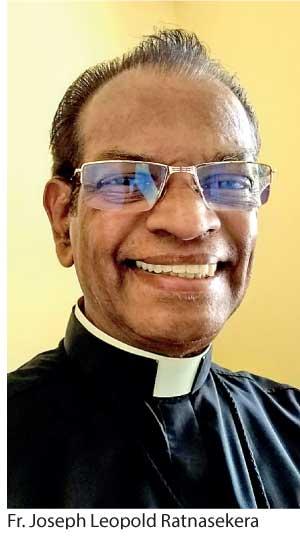 Jubilee bells will chime this month for Rev. Fr. (Dr) Joseph Leopold Ratnasekera of the Congregation of the Oblates of Mary Immaculate (OMI), who celebrates the diamond jubilee of his religious life. He had already in October 2016 celebrated the golden jubilee of his Priestly Ordination. The Diamond Jubilee celebrations were held in his home-parish of Batagama at St. Anthony's Church on Friday September 13 (Poya Day) with a festive Mass at 9.00 am. Priests and Religious who hail from Batagama joined him in the celebrations.

Fr. Ratnasekera is the eldest in a very devout catholic family of three children and only son of late Mr. Isidore Ratnasekera and Catherine Moraes and was born in Kandana on March 3, 1941. He had his complete secondary education at the hands of the Christian Brothers at De Mazenod College, Kandana over a period of 10 years. He then decided on becoming a priest entering the Oblate Minor Seminary in Nugegoda in 1957 at the age of 16 and on August 15, 1959 made his first vows at the OMI Novitiate at "Mont Eden" Kalutara. He had been sent to the 0blates by Fr. Fernand Moyse OMI who was the saintly parish Priest of Batagama for 23 years. As a young boy, he was a junior legionary and sang in the Church choir where his father was organist and choir master for nearly 30 years.

Fr. Ratnasekera proceeded to the Oblate Scholasticate in Ampitya, Kandy and the National Seminary for his primary training for the Priesthood and Religious missionary life, a period that lasted seven years. In 1962 he made his perpetual profession. He remembers with gratitude all his superiors, spiritual directors and professors who accompanied him these long years of his religious life. After his ordination, following his first assignment to the house of Oblate Preachers at Wennappuwa, he was called back to Ampitiya for formation work of the young candidates to the priesthood and to oblate missionary life. His teaching career in National Seminary at Ampitiya was to last nearly 25 years during which, in the later years, he held office as Superior of the Oblate Scholasticate as well. His post-graduate studies had taken him to Rome where he gained a Licentiate degree in Theology with specialization in Missiology from the Gregorian university. Having won a two-year scholarship from the French Embassy to the Vatican, he proceeded to Paris, where he completed a doctoral degree at the Catholic Institute with honors in Theology, researching into other faiths and their salvific value. Later, he was conferred a Ph.D. by the Pontifical Urban university in Rome for his research on a comparative study of Buddhist ethics in Theravada and the ethics of St. Thomas Aquinas, the 13th century luminary of Scholasticism.
"Fr. Ratnasekera is the eldest in a very devout catholic family of three children and only son of late Isidore Ratnasekera and Catherine Moraes and was born at Kandana on March 3, 1941"

He has taught in the Institute for Consecrated Life in Asia (ICLA) in Manila and later at Aquinas University College in Colombo. In addition to teaching and formation work in Kandy he was involved in the pastoral ministry in the parishes of Ampitiya and later on at Padiwatte (Kundasale) in the diocese of Kandy. As the first Diocesan Director of the Lay Apostolate he helped initiate Basic Christian Communities. At present he is a member of the National Congress of Religions and had been the Deputy General Secretary of the Sri Lanka Council of Religions for Peace International (SLRCP). He has participated in many meetings and conferences in Asia and USA dealing with Dialogue between religions and taken part in consultations of the Asian Bishops' Conferences (FABC).

In administration he has served as the Secretary of his Superior General in Rome and returning to Sri Lanka, was appointed as the Asst. Secretary General of the Catholic Bishops' Conference (CBCSL). At this time, he was also in charge of the Catholic National Association of the Laity (CNAL), the premier lay body of the Catholic Church in Sri Lanka and was entrusted with organizing seminars and study sessions under the auspices of the Bishops' Institute for Orientation Studies (BIOS).
On the invitation of Cardinal Malcolm Ranjith to be the Postulator for the cause of Sri Lanka's first ever Cardinal, the Servant of God Thomas Benjamin Cooray OMI, he saw to the processing of all the important documents pertaining to his canonization. As an Oblate of Mary Immaculate, he belongs to an international missionary congregation that has worked in Sri Lanka since 1847 and is happy to be part of the new ventures launched by his fellow missionaries in the field of Inter-religious Dialogue, work for Justice and peace, counselling and media.

It is with nostalgia and great satisfaction that Fr. Ratnasekera looks back on his 60 long years of life and work as a Catholic priest, a Religious and an Oblate missionary which has been well spent channeling God's love and mercy to others and experiencing in mind and heart the joy of his dedication to God and the Church.