---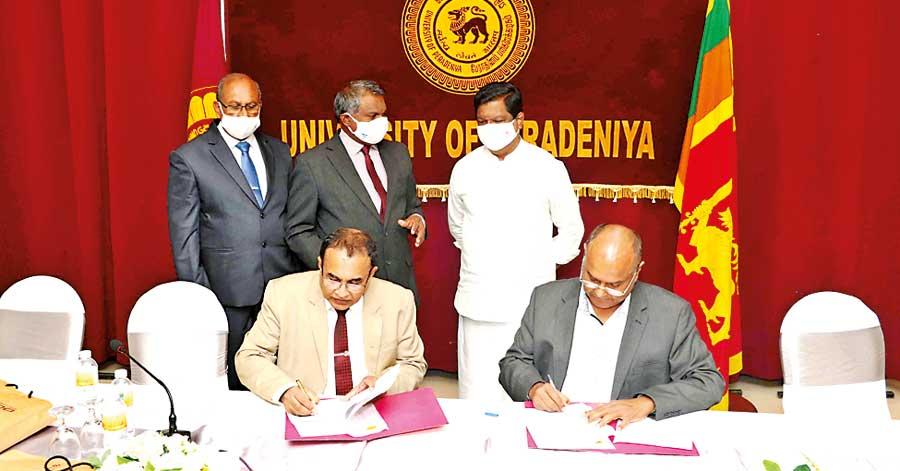 Signing of the Memorandum of Understanding by the Vice-Chancellor of the University of Peradeniya Prof. Upul B.Dissanayake and the Chairman of Sarasavi Isabella
The researchers of University of Peradeniya have produced a face mask 'under Nanotechnology' using pure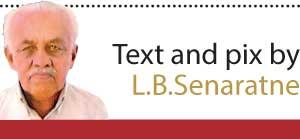 cotton material which could be washed nearly twenty-eight times. A team of researchers had been working on the product for nearly two years and they had a Memorandum of Understanding with a private enterprise "Sarasavi and Isabella".

The face mask will be marketed within the next few months. The price of a mask according to the company, which is producing this technological mask, is around Rs. 200. It is said that the washable mask is reusable.
The launching of this mask, which is produced under the trade mark 'Respirone Nano AV 99', was done in the presence of Minister of Trade Dr. Banduala Gunawardene, at an event held in Kandy.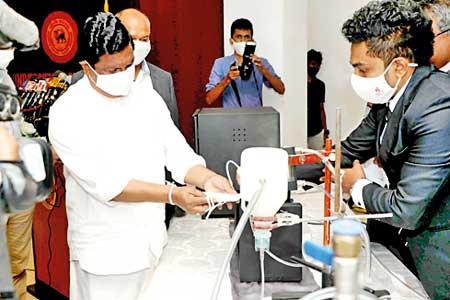 Minister Dr.Bandula Gunawardene tests out a face mask
Minister Gunawardene said that this might be the most advanced face mask that is available in the world. He said that he would as Minister of Trade and the Minister of the Board of Investment propagate the face Mask in collaboration with the Sri Lankan representatives abroad. He said that from the beginning he was following the progress of the mask as Professor Gamini Rajapakse was in close contact with him as to the needs of material for its production. Prof. Rajapakse needed a pure cotton material for the production of the mask.

.Prof. Rajapakse from the Faculty of Science, University of Peradeniya headed the research team. According to Prof. Rajapakse this face mask comprises three layers. The outermost layer comprises a superhydrophobic cotton layer that repels aerosol particles including droplets that can carry viral particles. The middle layer is also a modified cotton layer with Antiviral, Antibacterial and Mechanical properties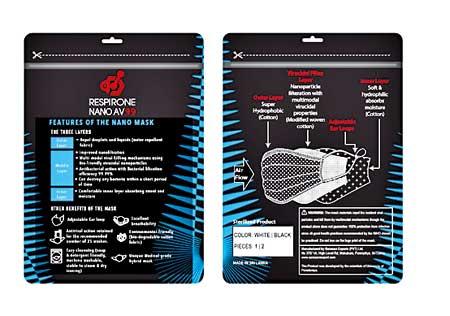 The technical details ( if you are using one)
and filter air using Electrostatic Filtration. The third and innermost layer is a hydrophilic layer that can absorb and evaporate liquid droplets. According to the researchers this face mask can be washed and reused for at least 28 times without compromising the filter quality.

The team involved in this project comprised Prof R.M.Gamini Rajapakse, Consultant Radiologist Dr. Charita Herath, Dr. R.D.S.B.Rajapakse, T.T.S.D.Senaratne, M.G.G.S.Tillekratne,and Nanotechnologist
Nirosha Samarasinhge.