---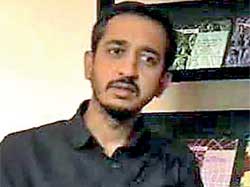 The Collective for Economic Democratisation in Sri Lanka is deeply saddened by the untimely passing away of our comrade Vijay Nagaraj on Friday, August 25.
An erudite and eloquent advocate of redistributive politics and economic democracy, Vijay was an active member of the Collective, leading many initiatives challenging structural inequalities and dispossession of the poor.
He made a significant contribution to an ongoing debate on Economic, Social and Cultural rights within the constitutional reform process.
Vijay's engagement with people's movements in India, principally the Mazdoor Kisan Shakti Sangathan (MKSS), the breadth of his intellectual interests and a razor-sharp intellect, made a unique contribution to activism in Sri Lanka.
He was ardent in his opposition to neoliberalism, and stood firmly for democratic participation of the marginalised. Among his interactions with progressive trade unions in understanding and responding to contemporary challenges, he was most recently involved in struggles against precarious labour and in evolving a broad campaign against privatisation, particularly Public-Private Partnerships.
Vijay firmly believed in the centrality of class politics, but was never unwilling to engage with civil society organisations and activists of contrary persuasion; constantly sharpening his own analysis and arguments while contributing to theirs. When he disagreed with someone, he was at once candid and graceful.
He was a remarkably affectionate person, who formed many close friendships during his time in Sri Lanka. He had a knack for connecting with different people with gusto, becoming part of their families and lives, and accompanying them in their own trials and joys.
Vijay's passing is an irreparable loss to the Collective and to the many other groups and networks in which he was dynamic. We extend our sympathy and solidarity to his family and friends in our shared grief. Rest In Power, Vijay.
Collective for Economic Democratisation in Sri Lanka www.economicdemocratisation.org