---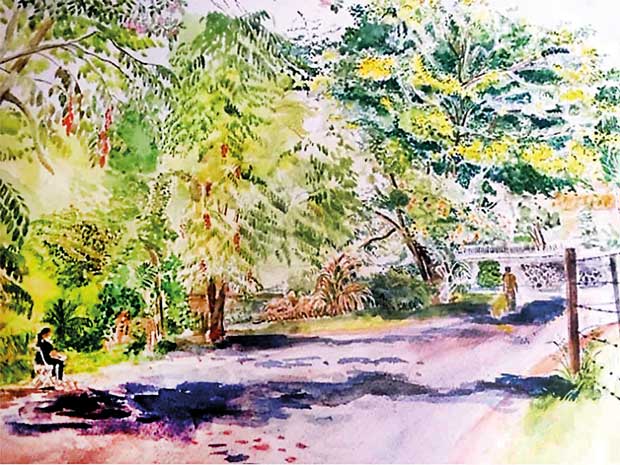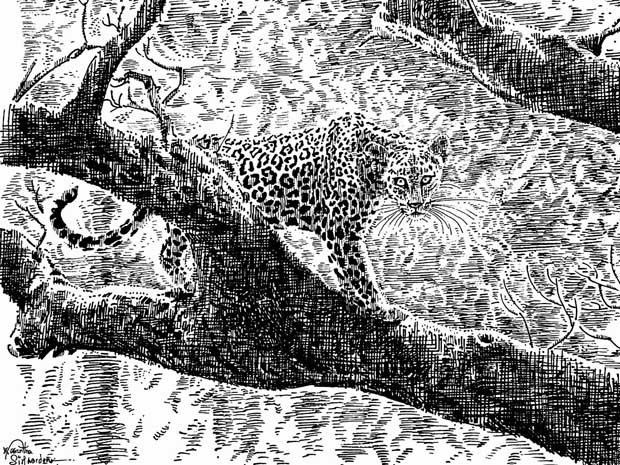 The exhibition will be opened at the Alliance Francaise on April 5, 2018, at 6.00 pm. The exhibition will be open to the public from
April 6 - 9 from 9.00 am to 6.00 pm
Royden O. Gibbs, a gifted artist, has marvellously captured many historical places of Sri Lanka through his art. As an individual interested in history, architecture and humanity he gives us a glimpse of past glories, some of which unfortunately have disappeared over time.

He has an impressive collection of paintings of lighthouses from all across Sri Lanka. He was also the first artist to travel to the north-east during the war, to capture unique perspectives even during such turbulent times. An unassuming individual who makes friends wherever he goes, he is invariably mistaken for a tourist when he travels across the country.

Gibbs has been passing on his passion for art to many students throughout the years. He is helping his current students organize an exhibition of their paintings which will be held at the Alliance Francaise, opening on April 5, 2018, at 6.00 pm. The exhibition will be open to the public from April 6 - 9 from 9.00 am to 6.00 pm.

Below are some of the students in their own words;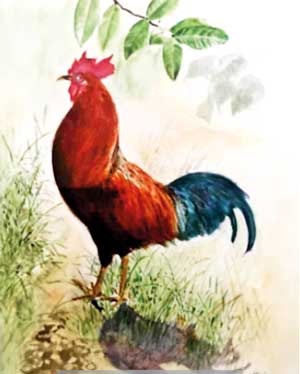 "I am told that I had a love for art in my early school years. About five years ago, I was told that art would help alleviate my stressful lifestyle. After some guidance from great Royden Gibbs, I finally started painting. Did it help with my stress...? Yes... it did. Now that I am retired, I hope to spend a little more time in this pursuit. However, I guess I'll continue to be a dilettante as far as art goes! Let's see where this takes me." - Lal Chandranath

"Coming from a family of artists who dabbled in art at different points in their lives, it was very much instilled in me that I could draw. My uncle, the late Asoka A. Gunawardhana, was my first teacher. Since then I have studied under many great teachers, but never had enough time to settle down to finish a collection of paintings worth exhibiting, until I met my excellent teacher Royden Gibbs.

Watercolour is a wonderful medium and I am thoroughly enjoying myself." - Veeranthi Wijemanne

"The distinctive ability acquired throughout my career as an architect, to feel and perceive inner splendour and reality, inspired me to create this series of landscapes. Besides, I find that sitting still in a site, admiring minuscule details and painting with watercolour on a blank paper for hours is the perfectly tested method of relaxation for myself, as well as the ultimate cure for my soul. Thus, through my work I wish not only to initiate a spark in people's heart to appreciate the genuine inward significance of everything in our lives, but also to gift them a sense of peace and well-being." - Keshani de Silva
I found art as precious and valuable as emeralds and dearer than fine opals. It was a pleasure for me to sit the green and watch the sun in his chariot of gold. Hats off and dearest thanks to my master Royden Gibbs

"Art had been a distant dream for me being a mother of three sons, while working full time. Long have I wished to pursue my dream as an artist, until I was introduced to Royden Gibbs by my friend Ms. Mendis. I was very inspired by him and his work. I joined his class four months ago. I somehow manage to find time for painting and as the old saying goes, better late than sorry." - Renuka Mendis

"In 2017, I won an international award – the Toyota Dream Car silver medal in Japan. That was a wonderful moment in my life. I found art as precious and valuable as emeralds and dearer than fine opals. It was a pleasure me to sit the green and watch the sun in his chariot of gold. Hats off and dearest thanks to my master Royden Gibbs." - Hansaja Devnith

"I have always been very much interested in art, especially watercolours. Under the guidance of my teacher Roydon Gibbs I am learning the use of different techniques and this has been very useful for me since I am doing art as a subject in school. Art has made me look at things from a different perspective. I have learned to be more observant of little things, be it the colour of the sky or cloud formations or shadows etc." - Malinka Samarasinha

"I was interested in art from a very young age. My interest in art was rekindled under the guidance of Roydon Gibbs. I am mainly interested in learning the different techniques in watercolour, which is a very interesting and challenging medium. I have done a few still life and landscapes in watercolour and hope to expand to other mediums in the future. Getting involved in art has made me observe and appreciate the things around me, especially nature, in a more detailed way." - Dharsha Samarasinha

"Over the past 29 years I made a name for myself in the field of print media and have won several awards as a political cartoonist and as a newspaper and graphics designer. One of my childhood dreams was to become a top class painter and to achieve this dream I sought guidance from the legendary painter Roydon Gibbs a few years ago. This marks the first time that some of my work will be on display in an exhibition." - Wasantha K. Siriwardena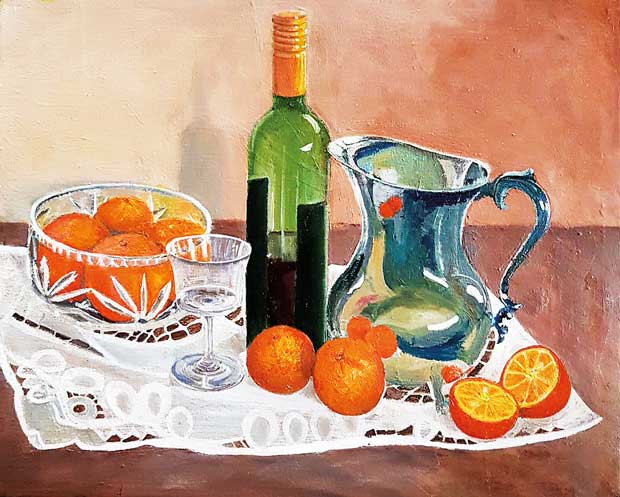 "I have always been interested in art/paint/colour. But I had really never thought about learning it, until my children left home and I had time on my hands. I was introduced to Royden Gibbs by a former student of his. He has encouraged and guided me to paint, and mostly to have the confidence to express myself." - Manel Ratnayake

My very first teacher was Mrs. Lathifa Ismail and I am very grateful to her. While going through a turbulent period in life, art gave me the peace and quiet I needed. I was introduced to Royden Gibbs, who inspired me to improve myself with his passion for art and his enthusiasm. Art is the best stress reliever and gives me lots of joy and happiness." - Dianthi Uragoda
One of my childhood dreams was to become a top class painter and to achieve this dream I sought guidance from the legendary painter Roydon Gibbs a few years ago. This marks the first time that some of my work will be on display in an exhibition

"I had a desire for art from my school days, having won the college art prize in 1961, at S. Thomas' College, Gurutalawa. I continued to further enhance my abilities by joining the then famous Amarasekera Academy of Art. After three decades, I had a fortuitous meeting with Royden Gibbs at an art exhibition. Under his inspiring tutelage I have happily started painting again." - Gamini Fernando

I found that art is a cohesive medium that permeates across geographies, cultures and ethnicities – a common language that binds humanity. My desire to learn to draw stems from a passion to capture and share the extraordinary beauty found in the detail of what cursorily seems mundane and ordinary. I feel blessed to have the opportunity to train under Roydon Gibbs, one of the best water colourists of our time, and is determined to make the best of it." - Lilani de Silva