---
133rd Birth Anniversary of D.R. Wijewardene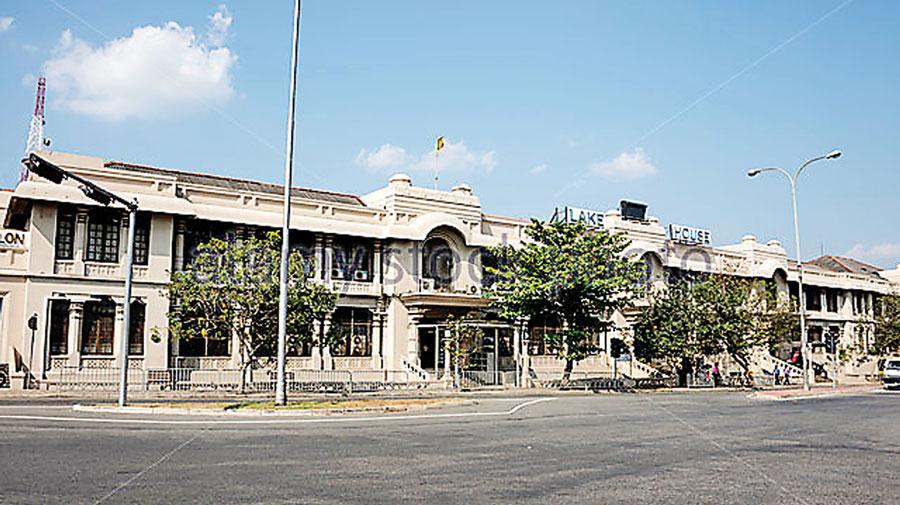 He returned home determined to be free from foreign rule. He organised meetings and deputations demanding reforms, giving lectures in English and Sinhalese. He worked tirelessly as Secretary of the National Association, the Law Library and Social Service league. He also became the Secretary of the Ceylon Reforms League in 1917
Mr. Wijewardene took special delight in giving young journalists scope to develop their talents
Wijewardene is one of Ceylon's great men of this era. There are many yardsticks by which to measure greatness
He was a patriot in action, not in speech. The service he rendered to his country and his people must be determined not by searching for what he said, but by searching for what he did
When the Donoughmore Commission's Report was to be released he took immediate and timely action with a rare boldness.

February 23, of this year marks the 133rd birth anniversary of Don Richard Wijewardene (DR), the doyen of the National newspaper industry in Sri Lanka.
In 1886, he was born at 'Sedawatta Walawwa' in the little reverine hamlet of the historic Kelani Valley. D.R. hailed from a distinguished Sri Lankan family and was the third son of Muhandiram Don Philip Wijewardene and renowned Buddhist Mahopasika Helena Wijewardene Lamatani.

He had his early education at S. Thomas' College Mutwal, and pursued his higher education in London, studying Law at the Cambridge University. Whilst at Cambridge, he had been interested in horse riding and enforcing legislative reforms for the motherland. During the same period Jawaharlal Nehru too, had been at Trinity, while D.R. was at Peter House, Cambridge.

In 1912 D.R. passed out as a Barrister at Law and was called to the Inner Temple in London. Yet, he had already resolved to return home to launch his newspaper campaign to spearhead the Legislative Reforms Movement in Ceylon.

According to his reminiscence of his student life, D.R. once wrote, "My interest in politics began during my undergraduate days at Cambridge. There were kindred spirits from India, Ceylon and other parts of the East. There was a wave of unrest in India and prominent Indian Leaders came over to England and addressed meetings to enlighten the British public on the situation at home.

Among them were Lala Rajpat Rai, a great Nationalist and scholar. Bepin Chandrapal and Surendranath Benerji, generally known as the silver – tongued orator of Bengal.

"There came to England also Gopal Krishna Gokhale a member of the Imperial Legislative Council. I met Gokhale, at the National Liberation Club and had many long and interesting talks with him on political questions of the day. He asked me to accompany him on his great mission to South Africa, as one of his secretaries to support Mahathma Gandhi".
Wijewardene established seven newspapers – the Dinamina (1914), Silumina (1930), Daily News (1918), Observer, Sunday Observer, Thinakaran and Sunday Thinakaran (1932). He organised an able administration and installed printing machinery which could print 20,000 copies per hour in colour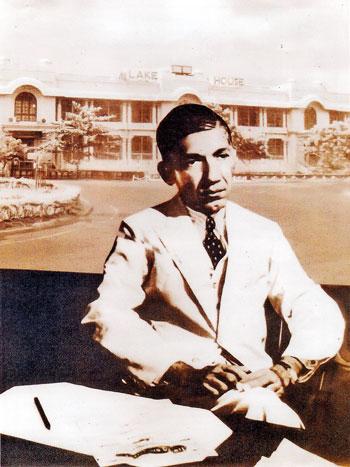 Besides, young D.R.'s political interests were stimulated by F.H.M. Corbet, a Sri Lankan born Englishman practising as a Barrister in U.K.

D.R. had once written those he owed a great debt of gratitude to Corbet. In fact, the only three portraits in his library were that of his father the "Lion Flag" (Royal standard of our last King which he and patriot E.W. Perera rescued restored and brought back to Sri Lanka) and of his mentor F.H.M. Corbet.

D.R. had first met E.W. Perera, who became his lifelong friend at Corbet's chambers in London.

According to D.R. "Every mail from Ceylon brought news of popular discontent with reactionary administration of the Governor (Sir Henry McCallum) Mr. Corbet showed me the ropes in the delicate task of interesting Members of British Parliament in the domestic affairs of a Crown Colony (Ceylon). Among those I was able to interest were Sir Henry Colton, who put the first question in the House of Commons of extending the principle of Representative Government in Ceylon. Having learned the art of lobbying among British parliamentarians to pressurize the colonial office D.R. also organized a deputation to Secretary of State J.E.B. Scely in 1909.

The deputation comprised of H.J.C. Pereira, as spokesman with Corbet, E.W. Perera, J.W. de Silva, Dr. S.G.K. Gomes and Dr. David, Rockword and himself. As a result Sir Ponnambalam Ramanathan, had the opportunity to get elected to the Educated Ceylonese Seat in Ceylon.

Also, it had been Mr. Corbet, who had impressed upon him "the importance of a well informed public opinion for which a free and independent press was a sine que non. Mr. Corbet had even negotiated with Sir Hector Van Cuylenberg, to purchase his Ceylon Independent newspaper on behalf of D.R.

Four years after his return from Cambridge, besides being a young legal professional at Hulftsdorp, D.R. was called up to serve as a Lieutenant of Ceylon Light Infantry (CLI), and was in charge of the platoon.

It was a period of unrest in the Country following 1915 communal riots.

In the meantime 1916 became radiant milestone for D.R., as he entered in to wedlock with Ruby Meedeniya, the second daughter of Adigar Henry Meedeniya.
Even in the Middle of Civil turmoil and personal emotion D.R. managed to retain his simple and sincere qualities. This was quite evident by his letters addressed to his fiancée in 1915. "I am not demonstrative of my feelings. I rather adopt the attitude of allowing one to infer my feelings from my action and behaviour. I know it is a very slow process, but I am inclined to think it is a sure one …… I had to get up very early this morning to catch the 6-10 train to go to Hunupitiya to superintend "the firing" by my volunteers. I am having quite enough of volunteering this week – as, in addition to this, I am orderly officer for the week, which means I have to be at head-quarters every evening. Tonight we are having a dinner at the Bristol Hotel. It is the Voetlight Dinner. The Bar, consisting of the advocates, is entertaining Messrs. Shaw and Sampayo at dinner. We shall have a nice evening and I am trying to induce the Secretary to engage the volunteer Band to play during dinner.
Life is too short and when we get an opportunity in this slow place we must enjoy ourselves. I suppose your father and mother will be attending the wedding of Mr. James Peiris' daughter next week. It will be a nice wedding. I like these social functions."

As recollections of her father's life, Nalini Wickremesinghe, D.R.'s eldest daughter writes:
When my father entered Cambridge University new vistas opened before him, but his thoughts seem to have constantly returned to the land of his birth. News of the reactionary administration at home only fanned the flames of his anger and frustration and led him to the meetings of the Indian nationalists, the chambers of English liberals and finally the Colonial Office.

He returned home determined to be free from foreign rule. He organised meetings and deputations demanding reforms, giving lectures in English and Sinhalese. He worked tirelessly as Secretary of the National Association, the Law Library and Social Service league. He also became the Secretary of the Ceylon Reforms League in 1917.

Ceylon Daily News
It was the final year of the First World War. On the 3rd, January 1918, the Ceylon Daily News (CDN), made its first appearance.
In a welcome message Sir Poonnambalam Arunachalam stated, "The Daily News" is fortunate in the time of its birth. New forces are at work among us, a new era is dawning for the country. She needs the services of all her children, and will, I am confident, find none more zealous than the "Newdaily".
In 1919 – 1931, S.J.K. Crowther became the Editor and H.D. Janz (Leader writer), served D.R. for 50 years continually, J.R. Blaze too joined the team.
D.R. knowing that the CDN, had a newspaper battle with four other English dailies namely Times of Ceylon, Morning Leader and Observer & Ceylon Independent, skillfully recruited a team of remarkable journalists.

In 1923 he acquired the 90-year-old "Observer" and Commercial Advertiser.

Expanding the cluster of Newspapers he published 'Silumina', Sinhala weekly in 1930 and Tamil Newspaper Tinakaran in 1932.

Keeping another step forward he established the Associated Newspaoers of Ceylon Ltd. (ANCL) in 1926. Thereafter, from the inadequate business premises in 2nd Division at Maradana, ANCL was permanently moved to its present palatial premises in 1929.

The rest of his selected staff comprised highly prestigious personnel. O.E. Goonetilake (Later Sir Oliver – the Governor General) briefly held the post of Manager at ANCL. Advocate G.V. Perera was the Manager Advertising, R.E. de Alwis. R.R. Crossette Thambiah (later became the Solicitor General), E.B. Wickramanayake, (later became Minister of Justice and J.H.O. Paulwz, who later became Government Architect.

P.N. Meddegoda was a renowned journalist who worked in the 'Observer' in early 1940s and subsequently rose to high positions as the First Press Information officer at the High Commission of London and Assistant Director Information and Assistant Secretary Ministry of Education.

"My first contact with Mr. Wijewardene was in 1939. After a film show at Regal Theatre, I was standing on the steps leading to eastern lobby of Lake House, seeking shelter from the rain.

Around 10.00 p.m. an austere looking middle aged person clad immaculately in full European dress, followed by a burly valet, appeared at the gateway.

He stopped for a moment and asked me if he could give me lift. I accepted the kind offer. We went down the steps, the valet holding a large umbrella above the gentleman who got into the rear seat of the Mercedes-Benz that was parked in front of the steps. I got into the front seat alongside the driver.

During the journey, the gentleman requested me to instruct the driver where I should be dropped. After getting off at Hedge's Court, off Norris Canal Road, I thanked the gentleman. Little did I guess his identity that he was the man whom the left-wing papers called Beire Gedera Maharala (Baron of Beira House) D.R. Wijewardene, and that he would be my 'Boss' in three years.

Mr. Wijewardene took special delight in giving young journalists scope to develop their talents. D.B. Dhanapala, who himself became a power in the newspaper world, was one of the most outstanding men he recruited. G. Jayanta Padmanabha, younger kinsman of the famous Ramanathan and Arunachalam, was spotted at Oxford's academic groves by Professor J.L.C. Rodrigo and joined Lake House.

Mr. Wijewardene was ever ready to recognise talent. He saw to it that Pieter Keuneman, with his glamour as ex-President of the Cambridge Union was taken on to Lake House's staff. Oxford provided J.L. Fernando, in a class by himself as a Political Correspondent, V.B. Kulkarni, an Indian journalist, was recruited during the war years to improve Lake House Newspapers' news and views on our big neighbour. J. ("Grass for my feet") Vijayatunga was invited to write in the late 1940s, but his connection proved of short duration. The great Lionel Wendt, was for some time in charge of Lake House's Studio, Chitrafoto. Orion De Zylva and Hilaire Jansz blossomed in Lake House as journalist maestros. There were H.A.J. Hulugalle and (in the Sinhala Press) Martin Wickramasinghe.

Before he relinquished control of Lake House Mr. Wijewardene had in fact created a mass media centre.

Martin Wickramasinghe's assessment:
" The passing away of D.R. Wijewardene is the passing away of a patriot and a great man. Some may ask why I regard him as a patriot. His devotion to his country is evident in deeds not in words." This is an assessment from the pen of the pre-eminent figure in modern Sinhala literature. Active for some 25 years in newspapers and literary journalism, Editor of the Dinamina or the Silumina, Martin Wickremesinghe stated.

"He was a patriot in action, not in speech. The service he rendered to his country and his people must be determined not by searching for what he said, but by searching for what he did".

Wijewardene is one of Ceylon's great men of this era. There are many yardsticks by which to measure greatness.

The donation of wealth and service on behalf of others may be utilized to measure the greatness of individuals, but the best measure of greatness is a transformation of a feeble force into a mighty one.

The running of a newspaper is more hazardous than any other venture. If it is successful one may derive sufficient wealth and power to influence a country, a nation, a government. If it fails, the owner will be completely crushed.

Wijewardene established seven newspapers – the Dinamina (1914), Silumina (1930), Daily News (1918), Observer, Sunday Observer, Thinakaran and Sunday Thinakaran (1932). He organised an able administration and installed printing machinery which could print 20,000 copies per hour in colour.

Having overcome the perils of an arduous journey, Wijewadene set about to equip his newspaper group, known as Lake House or The Associated Newspapers of Ceylon.

When the Donoughmore Commission's Report was to be released he took immediate and timely action with a rare boldness. The report was to be released simultaneously in England and Ceylon. Despite the time difference between the two countries it
was released in Ceylon Daily News the following morning.

On a Sunday morning the Japanese in a few planes dropped bombs over Colombo. Though it was a day on which he did not attend office Wijewardene went earlier than usual to the office that day. It was not often that he walked around the building.

With only the editorial staff working on Sunday morning, Wijewardene went upstairs and visited all the rooms, which was different from his usual practice, and ascertained for himself which members of the staff had stayed away from work out of fear and those who came to work disregarding danger.

Realising that it would not be possible to publish the newspapers the following day, he dispatched vehicles to bring those who were absent.

I was one who had the privilege to be employed under the shade of his historic establishment for almost three decades. In gratitude to the great founder, I take liberty of express myself briefly.

In 1970's after I received my letter of appointment at ANCL, the then CEO Mr. W.B. Mettananda, instilled to my mind the procedures and the benevolent principles of its founder. Throughout my stay at Lake House, it was evident that the majority of my colleagues as part of a strong workforce expressed similar loyalty to safeguard the interests of the grand institution. After his demise it is amazing to note how employees respect its founder.

However, after the so-called takeover of Lake House by the government in 1973 and changing of its management haphazardly over the years, seems to have adversely affected its original glamour.

Nevertheless, the progeny of the Wijewardene family rose up to the hour of need to preserve, promote and protect the ideologies of the press freedom. Furthermore by fulfilling the aspirations of the great patriot. D.R.'s favourite nephew J.R. Jayewardene, served the nation as its first Executive President while his eldest daughters son Ranil Wickremesinghe serves the island as its Premier, a position he has held for the fifth time.

May this benevolent son of Sri Lanka, who passed away on June 30, 1950 attain the Supreme Bliss Nibbana! (The writer can be reached at Journalist.nkl@gmail.com)
(The facts of this article are based on H.A.J. Hulugallas "Life & Times of DRW).