---
The ninth Annual Scientific Sessions of the Institute of Biochemistry, Molecular Biology and Biotechnology of the University of Colombo was held on July 7, 2017 with the participation of Prof. Lakshman Dissanayake Vice Chancellor, UGC board members and late Prof. Wijesundera's family members invitees, sponsors staff and students.
The Prof Stanley Wijesundera memorial lecture was delivered by Dr. Ranjan de Silva, Consultant Immunologist, Allergy and Immunology society of Sri Lanka. The title 'Primary Immunodeficiency: Cradle to Grave" which is a current topic that all members of the society needs to be aware of and to find ways of confirming diagnosis and latest treatment options available so as to prevent premature deaths.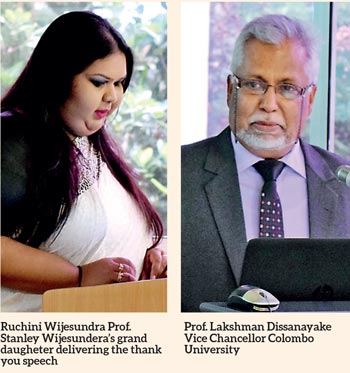 Whilst keeping with traditions Prof. Shiroma Hadunnetti Director IBMBB introduced some changes, Dr. Jagathpriya Weeresena as the Chairperson and the Dr. Narmada Fernando as the secretary.

Stanley Wijesundera, a Professor of Biochemistry was the first Vice Chancellor of the University of Colombo, and served as such for a decade before he was assassinated at his office. He was the Chairman of the Association of Commonwealth Universities from 1983 -1984. He held a Doctorate from the University of Oxford. Due to his vision the University now boasts to be the foremost leading institute for higher studies in Sri Lanka and this institute (IBMBB) was created under his leadership. The Scientific sessions included 4 sessions, 3 presentations a poster session with a total of 23 abstracts. Shalitha, Lakmini and three young members from the second generation of Prof. Wijesundera's family were present, with Ruchini Wijesundera currently an undergraduate in the management faculty and granddaughter of Prof. Wijesundera giving a speech on behalf of the family.
Stanley Wijesundera, a Professor of Biochemistry was the first Vice Chancellor of the University of Colombo, and served as such for a decade before he was assassinated. He was the Chairman of the Association of Commonwealth Universities from 1983 -1984